Usain Bolt, Michael Phelps and Ryan Lochte all left indelible marks on the 2012 Summer Olympics, winning a combined 14 medals, nine of them gold.
But you can count the winners by more than the medals. TheWrap has picked the biggest winners and losers from the London games. And yeah, Hollywood's on the list.
Winner: NBC. Media pundits disparaged NBC for tape-delaying the games (more on that later), but guess who laughs last?
According to Nielsen, 219.4 million Americans watched the London Olympics, the most ever. Over 17 nights, NBC averaged 31.1 million viewers in primetime, the most for a non-U.S. Summer Olympics since 1976.
Also read: Olympics Break Viewership Record
It wasn't just NBC that benefited either. NBC rebranded Versus as NBC Sports Network in January, identifying the Stanley Cup Playoffs and Olympics as critical to luring those viewers loyal to ESPN. NBC Sports Network recorded 11 of its 12 most-watched days during the Olympics.
"No matter how you cut it NBC came out a huge winner," Pete Moran, CEO of media analytics for General Sentiment, told TheWrap.
Score one for 30 Rock.
Loser: Ryan Seacrest. The sappy Idol host made viewers rethink the meaning of unwatchable. He secured face time with some of the games' biggest stars, including Phelps and his coach Bob Bowman. So what did Seacrest talk about with the 22-time medal winner? A race at the Beijing Olympics in which water flooded Phelps' goggles.
"He's superfluous to this kind of coverage," Dan Durbin, USC director of USC's Annenberg Institute of Sports, Media and Society, told TheWrap. "He has a great personality, but it's not an absolute personality. He's not going to fit in every venue and every situation. He's getting away with overexposing himself, but that's part of who he is."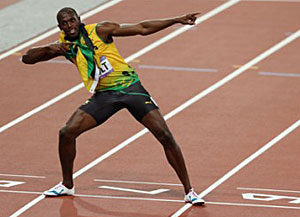 Winner: Usain Bolt. He defended his titles in the 100-meter and 200-meter races before anchoring the Jamaicans world record run in the 4×100 relay.
Bolt took his acclaim to new heights. He trashed American icon Carl Lewis and got away with it. Bolt called himself a living legend.
Who are we to disagree?
Loser: Jordyn Wieber. We didn't want to pick on anyone, least of all a teenager. But the one U.S. gymnast with the most to lose lost it.
After entering the games as the favorite to win the gold medal in the individual all-around, she did not even qualify for the event. Instead, teammate Gabby Douglas earned the gold and millions of fans.
Wieber didn't just miss out on the hardware, but also her chance to score million-dollar endorsements.
Also Read: Snoop Dogg's Bachelor Party Gift to Prince William (video)
Winner: Fox Sports/Yahoo. Both FoxSports.com and Yahoo set online-audience records with their coverage of the Olympics. According to Yahoo's own measurements, its coverage reached more than 150 million people around the world while Fox drew 74 million in the second week – the best week ever for the site.
Adding to their triumph, both Yahoo and Fox Sports drew larger audiences on certain days than NBCOlympics.com, the official site for the games. For those keeping score at home, Fox and Yahoo beat NBC without paying for video rights. Huge audiences at far lower costs? Cha-ching.
Loser: ESPN. Make no mistake that "The Worldwide Leader" was bummed to miss out on rights to the Olympics (even if NBC overpaid). It deprived ESPN of the rights to a limitless reservoir of clips — the lifeblood of SportsCenter. You try recapping a swimming meet with only photos — it ain't pretty.
"It's really hard to make a compelling story in a video medium with a photo or a still," Moran told TheWrap. "They have an audience that is expecting that."
It doesn't help that ESPN tends to give less coverage to events that it does not hold the rights too, which meant more preseason football. And NASCAR!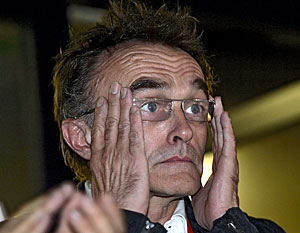 Loser: Danny Boyle. Boyle is a great British director and an Academy Award winner for "Slumdog Millionaire." Yet coming off the wondrous spectacle that was the 2008 opening ceremony, his homage to sheep, cricket, smoke-stacks and the Beatles that opened this year's games seemed uneven and, at times, just plain weird.
NBC didn't help, but maybe Rio will be better.
"I get a feeling from Danny Boyle that you either have someone who watched too much Pink Floyd, or that Great Britain is a little embarrassed about having once been an empire. They were trying to say 'we did all this, we're embarrassed and here are the bad parts,'" Durbin said.
Winner: Guy Adams. Adams, a Los Angeles-based reporter for the British newspaper The Independent, was one of the loudest critics of NBC's coverage over the opening weekend. NBC didn't take well to being called "clowns," and Twitter soon suspended Adams' account. In doing so, the social network turned Adams into a martyr, a symbol of NBC's reviled decision to tape delay the games. Few on this side of the Atlantic had ever heard of Guy Adams before. Now he has almost 20,000 followers.
Also read: Olympics Critic Guy Adams Gets Twitter Reinstated, Still Complains
Winner: Ryan Lochte and Michael Phelps. Was there a single day during the Olympics where you didn't hear about Lochte? First there was his performance in the pool, where he won five medals. Then there was his mom going on about her son's one-night stands.
Then there were his appearances on NBC's "Today" show, where he revealed his desire to appear on reality TV shows. Now he's got a spot on "90210." This just the beginning, especially since Lochte plans to race again in 2016.
The same goes for Missy Franklin, who also had a golden Olympics. She won five medals, four of them gold, and the 17-year old should be the talk of the town in Rio. But it's not her time just yet, especially since as an amateur she's unable to reap monetary gain from her breathtaking performances.
As for Phelps, he cemented his status as the most accomplished Olympian in history. According to General Sentiment, which uses data tracking mentions of people and brands online to estimate media value, Michael Phelps led the pack by a mile.
"Phelps was the killer," Moran said. "He ended up with almost $63 million in earned media, which is almost double what Bolt did.
Paging Fat Joe, Phelps has a license to make it rain.
Loser: Rafalca. Rarely has so much attention been lavished on a horse competing in dressage, but one of its owners is Mitt Romney's wife Ann. The media is part of the problem in this case, devoting too much coverage to the horse and its medal chances. Rafalca fell short, missing the medal round. The U.S. team finished sixth, well out of medal contention. Fortunately for Ann Romney, her husband can finish no worse than second in November. But he'll need a first place finish for any medals.
Winner: Twitter (and Facebook). Once again Twitter proved to be a primary conversation mover during a major event, offering news, snark and oodles of photos. Facebook received prominent promotion during the games, a result of its partnership with NBC.
"The message should be getting out that social media is driving other media now," Durbin said. "If people are tweeting all day about Usain Bolt destroying a record, of course everyone wants to see it — even as clumsy as NBC's work was."
Also read: Usain Bolt Wins Most Olympic Mentions on Twitter, Facebook
Loser: NBC. What? NBC twice? NBC may have scored in the ratings department, but it misfired plenty. Its decision to tape delay the games left the media (and some Twitter-obsessed fans) irate. It edited out a tribute to those who died in the 1972 terrorists attacks at the Munich games to air an interview with Phelps. It interrupted the closing ceremony to air an hour-long preview of "Animal Practice." It interviewed swimmers and runners after races when they could hardly breathe. It employed Seacrest.
Next time, NBC may be forced to air it live. If only that were the sole problem in 2012.
Winner: London/Great Britain. Despite Mitt Romney's initial worries about safety and traffic, London pulled off a successful Olympics. There were no lamentable incidents and the country got to showcase some of its most famous venues, from Wembley Stadium to Wimbledon.
And, if that weren't enough, its athletes earned the third most gold medals of any nation.
"You cant get a better travelogue for the tourist information board," Moran told TheWrap. "London showed beautifully and NBC did a great job of showing the town. London was a big winner because it can leverage so much of the good will and good footage for years, and translate that into huge tourist dollars."
Capitalism at its finest.