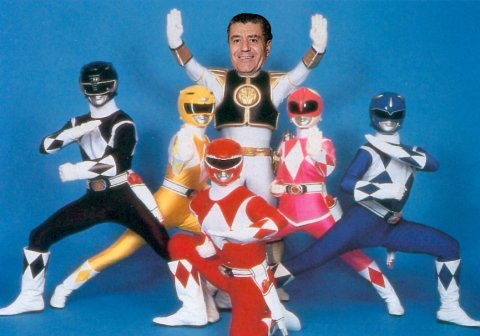 One week after announcing the formation of his new licensing division, Haim Saban has acquired its first major property: the "Power Rangers."
Acquired from Disney by Saban Brands, the deal marks a coming-home of sorts for the property, which was created in Japan by the Toei Company and adapted to the U.S. market by Saban in 1993 with the launch of the "Mighty Morphin Power Rangers."
Saban has selected Nickelodeon as his television partner, with the "Power Rangers" moving onto the kids channel for its 18th season starting.
Bandai Namco will remain the exclusive toy licensor.
The Nickelodeon deal brings the forthcoming 18th season (20 new episodes) of "Power Rangers" to the networks' Nickelodeon and Nicktoons channels starting in 2011, with the catalog of 700 episodes launching on Nicktoons later this year.
Power Rangers marks the first property for Saban Brands, the recently formed subsidiary of Saban Capital Group, Inc., which was created to manage and license entertainment properties and consumer brands across media and consumer platforms throughout the world.
Former Fox merchandising president Eli Dekel is in charge of the new unit.
After Saban adapted the program for the Fox Kids Network in 1993, "Power Rangers" quickly became one of the most popular boy shows on TV, a distinction it enjoyedfrom 1993-1997.
The series – about a team of crime-fighting youngsters with deft martial-arts skills and funny outfits – was acquired by Disney in 2001 as part of the conglomerates purchase of Fox Family Channel, a deal that included Saban Entertainment and its library of kids' shows.
To date, "Power Rangers" has aired in over 60 countries, while the property's licensed products and promotions have generated well over $5 billion worldwide.
Follow Wrap senior writer Daniel Frankel on Twitter by clicking here.