On a night when "Argo" was thought to be vulnerable, Ben Affleck's drama did the same thing it has done ever since Affleck was snubbed by the Academy's Directors Branch: It won.
With a surprising victory at Sunday night's Screen Actors Guild Awards in the crucial ensemble-cast category to follow its recent victories at the Producers Guild Awards, Golden Globes and Critics' Choice Movie Awards "Argo" showed that it is indeed the film to beat in this year's awards race, its Oscar misstep notwithstanding.
"I am really amazed and stunned," said Affleck, whose film had not really been expected to contend for the SAG ensemble award — it had only one individual acting nomination, to three for fellow nominees "Silver Linings Playbook" and Lincoln" and two for "Les Miserables" — but who is now in an enviable position in what had been a wide-open, unpredictable, competitive awards year.
Also read: SAG Awards 2013; 'Argo' Wins Best Ensemble
Then again, Affleck might not want to start counting his Oscars quite yet: The first time the SAG ensemble award was handed out, it went to 1995's "Apollo 13."
Like "Argo," that film had also won the Producers Guild Award, and like "Argo," its director, Ron Howard, was not nominated by the Academy. "Apollo 13" went to the Oscars that year as a slim favorite, but lost to "Braveheart."
The SAG ensemble award is not one of the most reliable Oscar precursors, going to the Best Picture winner eight times in the 17 years it has been handed out so far, and only once in the last three years.
The win by "Argo" also means that the nearly 100,000 eligible SAG voters have opted for the largest nominated ensemble for the last five years in a row. "Argo" had 13 listed cast members, to 12 for "Les Miz," eight for "The Best Exotic Marigold Hotel," seven for "Lincoln" and six for "Silver Linings Playbook."
In recent years, the award has gone to Oscar winners "The King's Speech," "Slumdog Millionaire," "No Country for Old Men" and "Crash," but also to "Inglourious Basterds," "Little Miss Sunshine" and last year's winner, "The Help."
Also read: SAG Awards 2013: Complete List of Winners, Nominees
In the individual acting categories, Daniel Day-Lewis reinforced the belief that his performance in "Lincon" is probably unstoppable in this year's awards season – and he also had the night's best line in an acceptance speech when he noted, "It occurred to me that it was an actor that murdered Abraham Lincoln, and therefore somehow it's only fitting that every now and then an actor tries to bring him back to life again."
Day-Lewis hardly needed more good news in an awards season that has seen him winning almost everything, but SAG leading-male-actor winners have gone on to take the Oscar in 14 out of the 18 pervious years, including the last eight years in a row.
"Silver Linings Playbook" star Jennifer Lawrence, meanwhie, seized a little momentum in her battle with "Zero Dark Thirty" star Jessica Chastain by winning the SAG Award for Outstanding Performance by a Female Actor in a Leading Role. At most previous awards shows, Lawrence had won in the comedy category and Chastain had done so in the drama category – but at SAG they went head-to-head, with Lawrence coming out on top.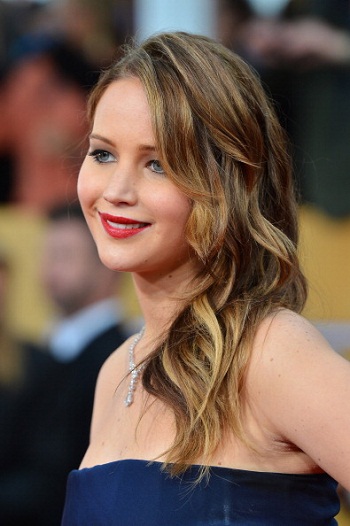 (On the other hand, SAG voters did not receive screeners of "Zero Dark Thirty," which could have hurt Chastain's chances given the huge number of voters.)
In the leading-female-actor category, the stats aren't quite as dominant: SAG and Oscar winners have matched 12 out of 18 years, though only twice in the last five years. Last year, for example, Viola Davis won the SAG Award but Meryl Streep (with the backing of Harvey Weinstein, who this year is in Lawrence's corner) won the Oscar.
Also read: SAG Awards 2013: Best Lines of the Night
In the supporting categories, SAG almost always sticks with the favorites, and it did so again by opting for Anne Hathaway, a commanding frontrunner for "Les Miserables," and Tommy Lee Jones, a slight favorite in a more competitive supporting-actor field for "Lincoln."
And on the television side, the spectacle of yet another awards body lining up behind "Modern Family," "Homeland," "Game Change" and "Hatfields & McCoys" was wholly predictable and wholly unexciting.
Still, SAG's inabiity to envision voting for anybody other than Alec Baldwin in the comedy-TV actor category will mercifully draw to a close after seven consecutive victories, because "30 Rock" is going off the air.
And the TV voters did throw in a couple other changes of pace, notably by giving the drama-ensemble award to "Downton Abbey" on its first nomination and first year of eligibility in the category.
It also give Bryan Cranston his first SAG award for "Breaking Bad" a few year after he'd won three Emmys for the role. Cranston later became the night's only double winner, since he is also a member of the winning ensemble for "Argo."
He looked surprised both times he came onstage – but then, surprises have been common for everybody associated with "Argo" over the last couple of weeks.