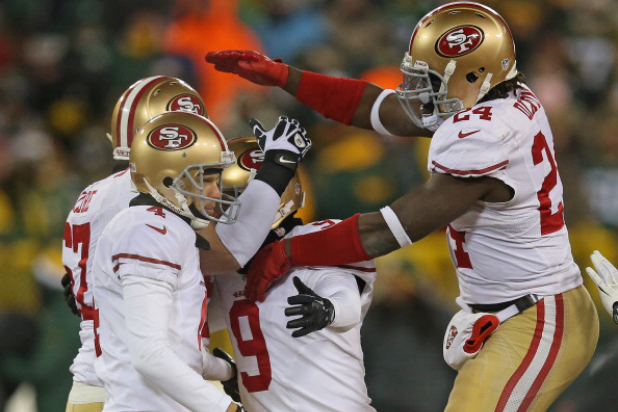 Sunday's NFL playoff game between the San Francisco 49ers and Green Bay Packers truly put the "wild" in Wildcard, and was subsequently rewarded as the highest-rated game of its kind in more than 26 years.
The game ended in favor of San Fran on a successfully converted field goal as time expired, roping in 47.1 million viewers in the process. The 25.8 household rating is the highest NFL Wildcard Weekend game since 1988.
The NFL didn't even come to Fox until six years after that.
Also read: Fox's NFL Regular Season Hits Record Viewers, Ties Top Ratings
Year-to-year, the game is up 20 percent in ratings and 24 percent in audience versus last postseason's Seattle vs. Washington contest.
The 49ers win also ranks as the highest-rated and most-watched telecast of any kind since 2013's Super Bowl. Not only did it top all Wildcard Weekend broadcasts in network history, the nail biter's average viewership topped every NFC Divisional Playoff Game that Fox Sports has ever broadcast. It was even ranked higher than 13 of Fox's 19 NFC Championship Games.
The 49ers-Packers matchup was Fox's seventh most-watched non-Super Bowl event ever.