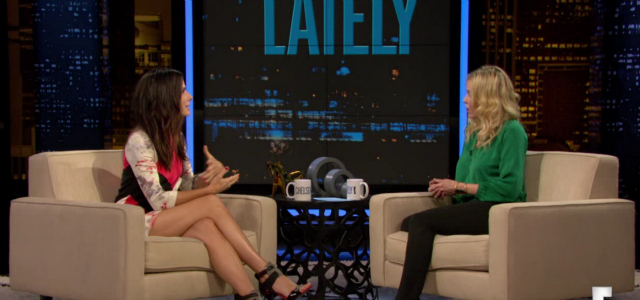 Sandra Bullock is a very sexual person, according to Chelsea Handler.
Bullock and Handler first met "areola to areola" last year, teaming up for the hilarious and now-infamous shower sketch. The nude scene left the less-endowed Bullock with pixel-envy.
On Monday night's "Chelsea Lately," the two funny ladies discussed their 2012 shower. Looking back at the strange experience, it was the post-production that really bugged Bullock, who is promoting "The Heat," co-starring Melissa McCarthy.
All Bullock wanted was a few extra blocks of pixelation added to her chest, so the disparity between her and Handler was less obvious to viewers. She got her wish, but was called a "bossy lady" in the process.
Handler repeated the gag with Conan O'Brien earlier this year, which you can watch in the video link below.
See video: Chelsea Handler, Conan O'Brien Battle Over Old 'Tonight Show' Studio – In the Nude
Handler also joked that Bullock enjoyed getting naked with other women too.
"I know that you like to do movies with other women and that you like to be nude with other women," Handler said to Bullock, accusingly.
Bullock set the record straight, sort of, when she replied, "Well, actually, there's only been one other woman I've been nude with."
"What's her name?" Handler asked.
"It's your name," Bullock deadpanned.
Watch the video: