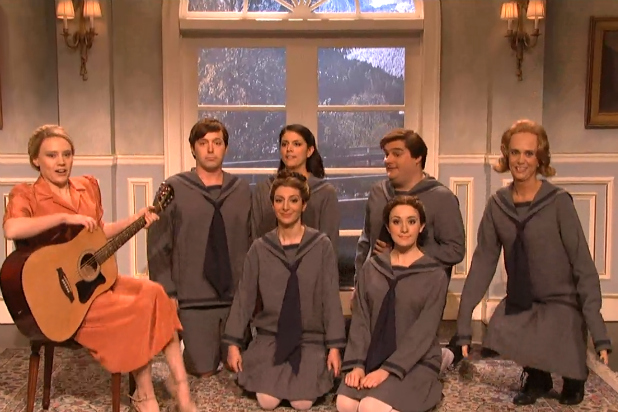 "Saturday Night Live" did not hurt for star power this weekend, as host Paul Rudd and musical guest One Direction were joined at times on stage by Will Ferrell, Steve Carell, David Koechner, Kristen Wiig and Fred Armisen.
For the cold open, "SNL" elected to spoof the buzziest TV moment of the week: NBC's Thursday night "Sound of Music Live" telecast, which was a ratings hit for the network, but garnered mixed reviews critically.
For the long-running sketch comedy show's "condensed" version, Armisen reprised his old Lawrence Welk gig, while Wiig played his tiny-handed, huge-foreheaded underling, Dooneese — apparently a lesser-known Von Trapp daughter. The skit offered Taran Killam as Captain Von Trapp, Kate McKinnon as Maria, and creepy lines like the following "Do Re Mi" one from Wiig's weird character: "Ray, the guy who tries to lay on top of me in the barn."
But Rudd really called in some favors for his stage-crowding monologue. The man behind Brian Fantana brought his "Anchorman" man band to top One Direction's boy band offering. The new supergroup, dubbed "Nine Direction," somewhat predictably crooned "Afternoon Delight" for the Studio 8H audience — something the fake news team recently performed at the Sydney, Australia premiere of "Anchorman 2: The Legend Continues."
Also read: 'Sound of Music Live' Is a Hit: 10 More Dream Musicals We Want to Hate-Watch on NBC
Aside from the aforementioned cameo and singing "Story of My Life" and "Through the Dark" at the appropriate moments during Saturday's show, One Direction also made its presence felt during the quirky "Dan Charles: One Direction's #1 Fan," a filmed sketch with Rudd as the titular middle-aged top fan of the British pop sensation.
In the short, Charles breaks a little girl's heart by telling her she is not going to marry boy band member Zane, because she simply isn't his type. He then proceeds to make more young children feel silly when they can't answer his obscure 1D trivia, and knocks the shrieking grammar school students to the ground as an autograph opportunity arises.
Another previously filmed Rudd-driven sketch was "White Christmas," a fake Christmas movie billed as "everything you'd expect in a black movie, but with an entirely white cast." It was essentially Rudd playing Tyler Perry playing Madea — and every other role in the cast. Finally, a holiday movie for white people, the faux commercial boasted.
See video: 'Anchorman' Ron Burgundy Asks Peyton Manning How He Plays Quarterback Without a Mustache
For the final skit, "SNL" brought back an oldie but a goodie, as the drunk Ferrell, Koechner, Rudd, Killam and Kenan Thompson toasted their extra large whiskey glasses to the mysterious Bill Brasky — a recurring "Saturday Night Live" creation who essentially was an earlier, more outrageous version of the Dos Equis "Most Interesting Man in the World."
You'd be surprised at the things Brasky is capable of — and even more shocked at what his wasted pals reveal in between Brasky toasts.
"Anchorman 2: The Legend Continues" arrives in theaters on Wed., Dec. 18.
Watch Saturday's "Sound of Music" cold open below, the whole gang gets a little "Afternoon Delight," plus One Direction meets a middle-aged male superfan, Paul Rudd is a granny with a gun in "White Christmas," and ex-cast members drink to Bill Brasky: