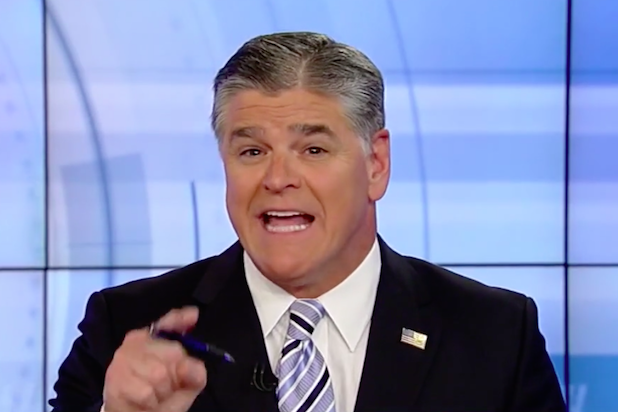 Sean Hannity has now lost 11 corporate sponsors since his Thursday segment questioning the motives of women who have accused men like Alabama senate candidate Roy Moore of sexual misconduct.
On Monday, Hebrew National, Volvo, Hubble Contacts and Reddi Wip joined the DNA testing service 23andMe and Nature's Bounty, who said they were withdrawing ads from Hannity's primetime Fox News show, in addition to the previously announced moves by Keurig, Realtor.com and the plus-size fashion label Eloquii. Meanwhile, two other advertisers, HelloFresh and TripAdvisor, clarified that any ads that run during his show were done in "error."
Another one-time Hannity advertiser, E-Trade, also issued a statement insisting that it has not run ads on the show in months.
Also Read: Sean Hannity Fans Call for Boycott as 3 Sponsors Pull Ads
Keurig, Realtor.com, and Eloquii dumped the program over the weekend, as TheWrap previously reported. 
The move to pressure advertisers to drop Hannity is a favored tactic of Media Matters for America president Angelo Carusone, who had been leading a very public campaign on Twitter to advance his cause.
Also Read: Oops: Sean Hannity Links to Parody Roy Moore Account Before Interview With Embattled Candidate
Carusone launched a similar effort in May after Hannity repeatedly inflamed rumors about the unsolved 2016 murder of Democratic National Committee staffer Seth Rich.
Fox News and Carusone did not immediately respond to request for comment on Monday.
Hannity fans however have not taken the news lying down, launching their own campaign to boycott Keurig.
Also Read: Sean Hannity Targets Senate Candidate Roy Moore's Accusers: 'Do People Do It for Money?'
The Fox News host cheered them on Sunday night, retweeting news of people smashing their Keurig machines and promoting his own giveaway of coffee makers.