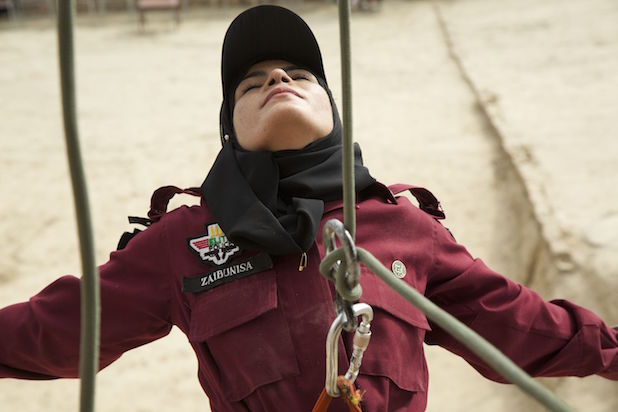 Another acclaimed filmmaker is turning to virtual reality.
Academy Award-winning director Sharmeen Obaid-Chinoy has released "Look but with Love," a new VR docuseries highlighting the lives of people in rural Pakistan fighting the surge of Islamic extremism in a myriad of ways.
It's a topic Obaid-Chinoy knows well. The native Pakistani has taken home two Oscars for short subject documentaries in the last five years, with painful stories shining a light on the country's often brutal treatment of women. Her 2012 film, "Saving Face," chronicled two women struggling with the aftermath of a gruesome acid attack, while 2016's "A Girl in the River," told the heartbreaking story of Saba, a young woman beaten and left for dead by her father and uncle. Saba's crime? "Dishonoring" her family by falling in love with someone of whom they didn't approve.
Also Read: Mark Zuckerberg Has an Ambitious Goal for Virtual Reality
Now, Obaid-Chinoy wants her latest project to give viewers an in-depth look at those making a positive impact on her home country.
"Pakistan is a diverse country. It cannot be painted with a single paint rush, as it normally is in headline news," Obaid-Chinoy told TheWrap. "I wanted 'Look But with Love' to open up the eyes of how culturally diverse it is. There are people in Pakistan fighting everyday to transform the community far from the glaring headlines of the world. This is a look at Pakistan beyond the headlines."
The five-part series, produced by Within VR CEO Chris Milk, features several of these stories, including one episode on a doctor saving children born in the slums of Karachi — where 10 percent of kids die before their first birthday. Obaid-Chinoy told TheWrap the first episode, looking at an anti-terrorism police unit bringing women into the fold, struck her the most.
Also Read: Here's Every Harvey Weinstein Accusation of Sexual Harassment and Assault
"I filmed in one of the most conservative parts of Pakistan, where women seldom leave their homes. And in the heart of this area was a police academy where men and women were training together, where the women came from small towns and villages, where they were often the first women in their families to get an education or the first women in their families to join the police force," she said. "And they had the support of their fathers and brothers to come to this academy and be part of this elite anti-terrorism squad that the government was putting together."
Obaid-Chinoy said her first experience filming in VR was a "struggle" at times, also pointed to the budding medium as offering the audience an "immersive" look at her subjects.
"There is a moment where a young women wears a bomb disposal uniform because she's being trained to go out and disarm bombs. And the camera takes you to where you're literally looking into her eyes as she's being suited up," said Obaid-Chinoy. "Yo begin to think about what a role model this woman is going to be for future women in this country."
Also Read: Bill Maher Says Trump Is Grosser 'Creep' Than Harvey Weinstein Due to Call to Gold Star Widow (Video)
The director told TheWrap she not only wants the series to open eyes in America to a different side of Pakistan, but for it to also foster difficult conversations in her homeland.
"There are people who may or may not agree with what I'm trying to show, but that starts healthy debates, and that's the sign of a country that's beginning to open itself up."
Viewers can check out "Look but with Love" on the Within VR app.