So much for playing nice with your boss.
Sharon Osbourne unleashed her ire on her "America's Got Talent" boss Simon Cowell during her co-hosting gig on "The Talk" Tuesday, saying that the comments Cowell made about her in a new biography are proof that the "X Factor" judge has "small-penis syndrome."
"He's wealthy, he's powerful, he's creative, he's got everything … but you can't buy the goods," she continued, pointing to her crotch.
A rep for Cowell did not immediately respond to TheWrap's request for comment.
The reason for Osbourne's anti-Cowell rant: comments he supposedly made in the book "Sweet Revenge: The Intimate Life of Simon Cowell," an upcoming Cowell biography by writer Tom Bower.
Though the book is unauthorized, Osbourne says Cowell became friendly with Bower and shared many details of his personal life, including an affair with his former "X Factor" U.K. co-star Dannii Minogue.
Cowell's publicist, Max Clifford, has confirmed to various members of the British press that Cowell talked to Bower for the book. He has not yet returned TheWrap's request for comment.
Also read: Britney Spears Reaches $15M 'X Factor' Agreement
Osbourne claims that Cowell told Bower that she quit the British version of the singing competition series because she was upset about his affair with Minogue.
Osbourne, who declined to talk to Bower when he requested an interview with her for his book, told her "Talk" co-hosts she didn't care who Cowell was dating and that the alleged Cowell/Minogue romance was not why she ended her four-year "X Factor" gig in 2007.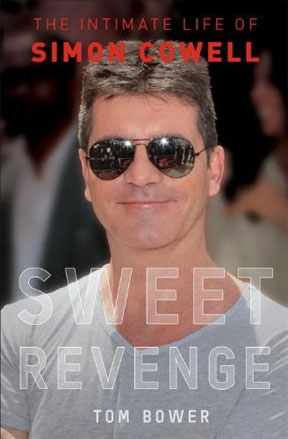 "I left because I didn't like that girl (Minogue)," Osbourne said. "I didn't like working (with her), and it was a time when I was newly over my cancer, and I promised myself I would never be in a situation (where) I was not 100 percent happy. And I had to live in England six months of the year, and I was away from my family. I thought, 'When it's not fun, you go.' It wasn't fun, and I just went."
As for why Cowell talks about her in the book, Osbourne's theory is that it all goes back to Cowell's ego.
"He likes to glamorize, he loves attention, he loves all the publicity he's getting, and the thing is, nobody leaves Simon … he fires you," she said. "So when you leave of your own accord … he doesn't like that. Because he's the power, he's the big fish, so he has to fire you."
Also read: Ozzy and Sharon Osbourne Owe IRS to the Tune of $1.7 Million
Osbourne, who added the disclaimer that her statements were "not the opinion of CBS … this is the opinion of Mrs. O," also told her daytime TV co-stars she's not worried about her primetime job on Cowell's "America's Got Talent."
"I work for him here … he'll probably fire me now, but I don't care, I can handle it. And he doesn't really like me, so why bring me into your book? I don't want to be in your book, I don't want to know about your fiddling with this one and that one."
Watch the video of "The Talk":