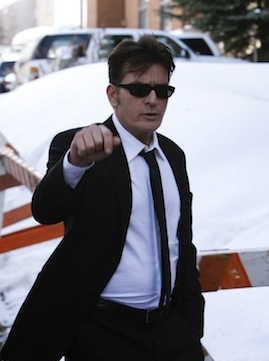 Charlie Sheen's appearance in an Aspen courtroom on domestic violence charges is going to be short and to be the point. At least that's the word according to the "Two and A Half Men" star's publicist.
"On Monday, Charlie's court appearance in Aspen is strictly procedural for the sole purpose of entering a plea," Stan Rosenfield told TheWrap. "We have been told that he'll be there under 5 minutes and that is what is we anticipate."
With lawyer Richard Cummin at his side, Sheen is expected in Pitkin County District Court Monday afternoon to enter a plea of not guilty in the People of The State of Colorado vs. Carlos Irwin Estevez.
The actor's hearing is scheduled for 1:15 PST (2:15PM Aspen time) in front of Ninth Judicial District Court Judge James Boyd.
Sheen was arrested on Christmas Day in the Colorado winter resort after police received a 911 call from his wife, Brooke Mueller, claiming the sitcom star had a knife and was threatening to kill her. The actor, who was detained under his given name of Carlos Irwin Estevez, was released the next day on $8,500 bond. Sheen was charged with menacing, a class five felony; criminal mischief, a class one misdemeanor; and second degree assault, a class four felony. The latter was reduced to third degree assault in a Feb. 8 court hearing.
If found guilty on all charges, the 44-year old actor, who has had numerous run-ins with the law in the past, could face up to five years in prison.
(Read also: Hollywood's Bad Boys are Back in Court, and Facing Jail Time)
Following his court appearance, Sheen was expected to immediately return to California via private jet to resume production on his hit CBS sitcom later this week. Over mid-way through filming on its seventh season, "Two and A Half Men" went on hiatus when Sheen, rumored at $900,000 an episode to be the highest paid actor in television, announced on Feb. 23 that he was entering a rehabilitation facility as a "precautionary measure."
It's unknown if Mueller, who has been in rehab as well, or Sheen's father Martin Sheen, currently starring in a production of the Pulitzer prize winning play "The Subject Was Roses" in LA, will be accompanying the actor in Aspen. The couple's 1-year old twins have been in the care of Sheen's parents since earlier this year.
Separated by a restraining order after the Dec. 25 incident, Sheen and Mueller had the order lifted and were reunited on Feb. 8. Mueller, whose intoxicated state at the time of the Christmas Day 911 call is expected to be a key component of Sheen's defense, has said she will not cooperate in the case against her husband.
Sources close to the case have previously told TheWrap that Aspen Deputy D.A. Arnold Mordkin, who is running the prosecution, intends to "send a message of zero tolerance on domestic violence" and that Charlie Sheen "won't walk away unscathed.