This story about "Silicon Valley" previously appeared in the Comedy/Drama/Actors issue of TheWrap Emmy magazine.
Most viewers of "Silicon Valley" can't get through an episode without cracking up — but as it turns out, the cast is in the same boat: Sometimes, they can't finish a scene because they are laughing too much. "[It happens] all the time," co-star Martin Starr told TheWrap. "I'm sure the crew hates us for it."
"We're having the best time and they're like, 'It's been 14 hours. We have children!'" Kumail Nanjiani added. "It gets stressful, and then you just laugh more."
Thomas Middleditch, the only Emmy nominee among the show's stars, added, "I've been begging [creator] Mike Judge, 'Please release these bloopers!' He seems open to it. I watched Season 1 through 9 of 'Seinfeld' bloopers one day, just having a ball. It's fun to see people having fun."
Also Read: 'Silicon Valley' Fact Check: Patent Trolls Run Amok in Real Life, Too
Emmy voters have been having more fun with "Silicon Valley," too. The HBO series, which takes a humorous and biting look at the technology companies and start-up culture of the San Francisco Bay Area's high-tech ground zero, landed five nominations in 2014 for its first season, including Outstanding Comedy Series.
The next year, it upped its total to six nominations, two of which it won. And in its third season it received eight, including its first acting nomination for Middleditch.
But as its cast and creators — in addition to Judge, the show was launched by John Altschuler and Dave Krinsky — are more warmly received by the Television Academy, the characters in "Silicon Valley" are still muddling through an often inhospitable tech landscape.
Also Read: 'Silicon Valley' Fact Check: Can You Hack a Major Tech Conference? Renowned Programmer Weighs In
Middleditch's character, Richard Hendricks, founded his company, Pied Piper, based on a revolutionary data compression algorithm. Throughout the seasons, Richard's luck has followed a similar trend: Something good happens to him, but it's not long before he suffers a major setback.
Security expert Bertram Gilfoyle (Starr) and programmer Dinesh Chugtai (Nanjiani) have an unending love-hate relationship, and Pied Piper's often-stoned part owner Erlich Bachman (T.J. Miller) remains selfish, money-hungry and short-tempered.
The character that undeniably undergoes the biggest change throughout the four seasons is Donald "Jared" Dunn (Zach Woods), who morphs from a lapdog at Hooli, a company run by narcissistic tech lord Gavin Belson (Matt Ross), to one of the most important assets at Pied Piper.
"The way I think of Jared is [he's] Pinocchio," Woods said. "He was a puppet for Gavin, and then Richard, the Blue Fairy, came, and made him a real boy. And over the course of the years, he becomes more and more of a real boy. He tries his first dirty joke, and that's exciting, and he has friendships for the first time.
"I think with all the characters, [the writers] do a good job of keeping the core intact while stretching — and in Jared's case, he has a family now and he is a real boy. "
Also Read: Watch Kumail Nanjiani Ask William H. Macy a Really Good Question (Video)
Jared has had a few stellar moments in recent episodes — the insults he proudly lobs at Dinesh's gold chain and his awkward obsession with hiring a female engineer, to name two. But Woods insisted with a straight face that he's tried to go even further, trotting out a catchphrase for his character that keeps getting cut by producers — probably because it was first popularized by Jaleel White on the '90s sitcom "Family Matters."
"Jared does have that catchphrase where he walks in saying, 'Did I do that?" Middleditch pointed out.
"Yeah, and they keep cutting it," said Woods. "It makes me so angry, because I improvise it literally every 20 to 25 seconds — 'Did I do that?' — and they are just like, 'We're not going to use it.' And I say, 'You better use it.'"
"Yeah," said Middleditch. "Because it's [Steve] Urkel, dude."
"We did do a jokey catchphrase that we were all saying to your character, over and over again," Starr said. "They were like, 'Guys, stop! It's too mean!"
"We called him a fat little girl," Nanjiani admitted.
Also Read: 'Silicon Valley' Star TJ Miller Explains Why He Exits the Show on a Cliffhanger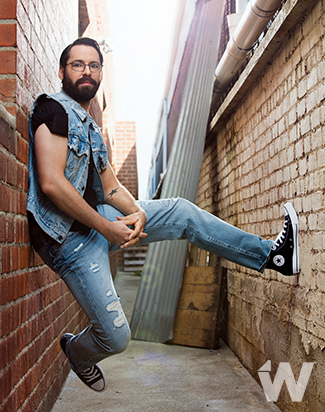 Overall, the relationships between the characters will continue to be tested as Richard tries to stay "true to his moral compass." "Richard is like the Starks in 'Game of Thrones,'" Nanjiani said, bringing up a fellow HBO show, which both he and Middleditch watch religiously. "He has too much honor. They can't really get success because they never compromise."
"If Richard is a Stark, what houses are everyone else?" Middleditch said.
"I'm one of the Qarth weirdos," Nanjiani said. But Starr and Woods couldn't answer: Shockingly, neither of them has ever seen "Game of Thrones."
"Silicon Valley" has now been renewed for a fifth season, although Miller, who stars in the upcoming "The Emoji Movie" and has a comedy special airing on HBO, has opted not to return. Meanwhile, Middleditch was recently cast in Legendary's "Godzilla" sequel, while Starr will appear in "Spider-Man: Homecoming" and Nanjiani starred in and co-wrote this month's Sundance hit "The Big Sick" with his wife, Emily V. Gordon. Nanjiani and Woods will both also voice characters in September's "The LEGO Ninjago Movie."
Also Read: 'The Big Sick' Is a Hilarious Remedy for Trump-Distracted Sundance
But despite the outside projects, the four remain committed to "Silicon Valley," the show that to date has been nominated for 18 Emmys, eight Critics Choice Awards and two Golden Globes.
"I anticipated 12 [seasons]," Starr said when asked how long he expected the show to last when he first signed on.
"He started buying stuff based on that," Woods claimed. "He's got a lot of boats–he has a whole armada!"
And as the show has gotten more successful, how has the dynamic between its stars changed?
"We've definitely become more monstrous in our nature, just dealing with each other and dealing with everyone else on set," Middleditch said with a laugh. "We've just become more obsessed with money and image."
Go here to read more of Comedy/Drama/Actors issue of TheWrap Emmy Magazine.