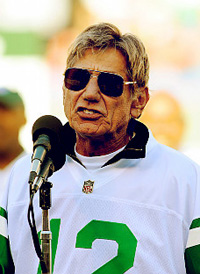 Howard Stern's days on satellite radio may be numbered, but at least Sirius has "Broadway Joe" beyond New Year's.
Sirius XM Radio announced on Wednesday that Joe Namath will host a weekly talk show on the station throughout the 2010 NFL season.
The hourlong show, "The Broadway Blitz with Joe Namath," featuring Namath and co-host Adam Schein, will air Fridays between 2-3 p.m. ET.
Here's Namath's statement:
It's a real thrill for me to be joining SIRIUS NFL Radio and talking about the game I love with fans all over this country. I've been involved with football a long time and I still get excited about every season like I did when I was lacing up my cleats as a kid in Pennsylvania. I've got a lot of wisdom from my time in the NFL and a lot of thoughts about today's players and teams. It'll be fun to share them with our listeners and I look forward to hearing what they think as well.
The Hall of Fame quarterback is best known for guaranteeing a victory before the New York Jets' 16-7 upset of the Baltimore Colts in Super Bowl III.
But to younger sports fans, Namath is probably better known for an infamous, drunken interview he gave ESPN's Suzy Kolber on the sideline during a Jets-Patriots game in 2003:
Worth noting: Namath already does a weekly video wrap-up on his website (BroadwayJoe.TV), and he has plenty of opinions (he ripped his former team over its 10-9 loss to the Colts) so a Sirius show ought to work.