Rapper, actor, entrepreneur …  and sports reporter?
Snoop Dogg revealed a new set of skills during Super Bowl week when he became a member of the media as special sports correspondent for "The Rich Eisen Show" on DirecTV's Audience Network.
Veteran sports anchor Rich Eisen threw Snoop to the wolves and sent him to the final media day before the big game. The "Reincarnated" rapper did so well that he may have earned himself a new gig on the sidelines.
"I was on Rich's show during the season and he suggested that I be a part of the media for the Super Bowl. I was like, 'If you can get me the credentials then I'd love to do it,'" Snoop told TheWrap during a visit to Eisen's specially-built studio in San Francisco.
Also Read: Denver Broncos Defeat Carolina Panthers in Super Bowl 50
"It was a dream come true; he made it happen for me. I had a great time talking to the players. This was the first time for me to actually be in the presence of Super Bowl teams before the big game, and be able to ask them questions in a different lane, as opposed to me performing for them," he continued.
Snoop deliberately wasn't given an easy challenge.
"We credentialed him and decided not to send him to the media day scrum, but to a real deal press conference where the room is filled with professional members of the media," Eisen went on to explain. "It's a tough day because everything has been asked and answered, so we dropped Snoop in middle of that."
Rather than having questions fed to him by producers, Snoop came up with his own spin. "It was more about being spontaneous. I didn't want to have any questions planned — I wanted to go off my gut," he said.
Also Read: Cam Newton Ripped for Walking Out of Super Bowl Press Conference After Loss (Video)
His favorite interaction was with Carolina Panthers QB Cam Newton, whom he asked: "Does the kid in you overwhelm the man in you for the big game you are playing in?" And the fun-loving football star gave him the perfect answer. "You remain a kid no matter how old you get or how far," Snoop explained.
While the players obviously know of Snoop for his music and weed-fueled reputation, many of them also know him personally because he's run a youth football league for many years, having helped nurture a lot of young talent (including that of his son, Cordell Broadus, who played briefly for UCLA).
"Cam is a friend of mine and I've been with him for a long time before he came to the league. When you form relationships with people, you're there for them in the good times and the bad times," Snoop told TheWrap.
Also Read: Super Bowl 50: Watch Every Movie Trailer That Debuted During the Game (Videos)
He also had a former youth league student playing for the (now Super Bowl champion) Broncos, running back Ronnie Hillman, so Snoop was cheering for both teams Sunday, saying he just wanted to see a good game and didn't care who won (the Broncos ended up trumping the Panthers 24-10).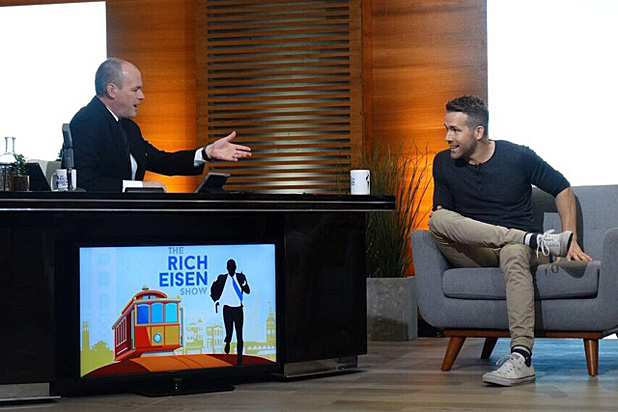 As for his future in sports media, Eisen was so impressed with Snoop's interviewing skills that he offered him a verbal five-year contract.
"He was great!" the host said. "He has the star power that the athletes respect. Cam Newton even left his podium to come into the media scrum around Snoop to say hello to him. He's also taller than everyone, so he can stand above it all.
"We'd have a regular spot for him if he wanted it. He fits in perfectly with our idea to cross over sports and entertainment," Eisen told TheWrap. "We hope this becomes a new tradition."
Also Read: Super Bowl 50's 111.9 Million Viewers Down 2 Percent From Last Year's Record High
Snoop was far from the only star Eisen had on the show leading up to Super Bowl 50 on Sunday. Ryan Reynolds (above) popped in to promote his new movie "Deadpool;" Coldplay (below) came in to chat about their halftime show (and lack of NFL knowledge); plus Houston Texans defensive end J.J. Watt, Brett Favre, Josh Duhamel, model Alessandra Ambrosio, Kurt Warner, Dan Marino and Peyton's dad, Archie Manning, all visited the set.
"The Rich Eisen Show" airs at noon ET/9 a.m. PT weekdays on DirecTV's Audience Now.