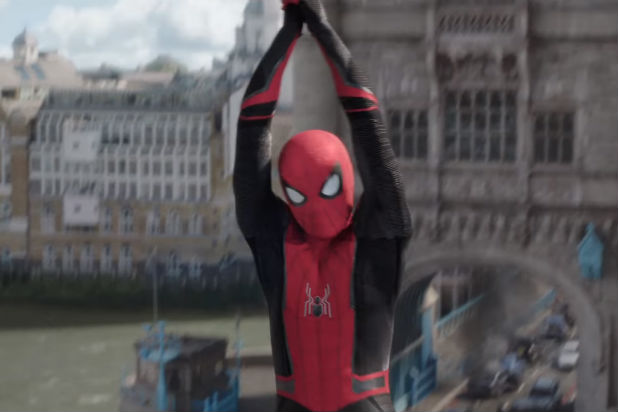 Sony Pictures is planning to skip CinemaCon in 2019, meaning that attendees in Las Vegas won't be seeing sneak peek footage of several upcoming films like "Spider-Man: Far From Home" and Quentin Tarantino's "Once Upon A Time In Hollywood."
Major movie studios have traditionally staged major productions to movie theater owners at CinemaCon to convince them to screen their films at their cinemas. But while it's a break in tradition for a major studio to skip a year, it has happened before. Disney and Universal have skipped the event prior its overhaul in 2011 under the National Association of Theater Owners, who took sole ownership of the event and gave it its CinemaCon name.
Also Read: Sony Sees Reversal in Box Office Fortunes Thanks to 'Jumanji' and 'Venom'
Sources say Sony is still confident in its 2019 slate, which along with "Far From Home" and "Hollywood" includes the sequel to "Jumanji: Welcome to the Jungle," "Men In Black: International," and the Tom Hanks/Mister Rogers movie "A Beautiful Day in the Neighborhood." This year, the studio will be going with a campaign strategy that markets more directly to moviegoers, and their decision to skip CinemaCon is not signifying a change in their partnerships with exhibitors. The studio plans to return to CinemaCon in the future.
But Sony's absence from this CinemaCon comes at a time when the studio landscape in Hollywood is in major upheaval. There is a possibility that 20th Century Fox may also not have a presence at CinemaCon, depending on when their merger with Disney is finalized. The merger is expected to be completed by the end of Q1 of 2019, and CinemaCon will be held April 1-4.
Also Read: Sony Will Skip CinemaCon 2019, With Fox's Presence Still Unclear
The absence of at least one major studio may also open the door to other distributors to have a bigger presence. Amazon Studios, which is undergoing changes under new studio head Jen Salke, has held a luncheon presentation at CinemaCon in past years. There are also other indie outlets like Annapurna, which earned its first Best Picture nomination as a distribution outlet this week with "Vice" and will try to build off of it in 2019.
A spokesperson for NATO says that studios are in talks with the organization to fill in Sony's presentation slot at the trade show and that they "respect" Sony's decision not to attend.