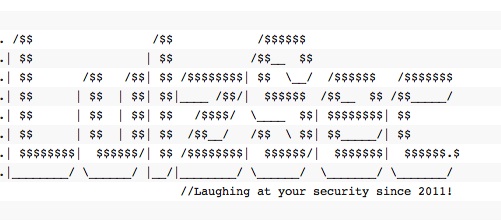 Sony may have to wait awhile longer to wake up from its hacking nightmare.
LulzSec, a hacker group that captured headlines for posting a bogus story that Tupac Shakur and Biggie Smalls are still alive on PBS' website, claims it has successfully breached Sony's security.
The group says it broke into SonyPictures.com and compromised the personal information of 1 million users.
Also read: Sony's Hacking Nightmare Continues, Music Sites in Greece and Japan Hit
Among other pieces of information, LulzSec says it obtained passwords, email addresses, home addresses, and dates of birth for the site's users. Its purpose, the group claimed, was to expose Sony's puny defenses against attack.
"Our goal here is not to come off as master hackers," the group writes.
"Why do you put such faith in a company that allows itself to become open to these simple attacks?" it later asks in an online statement.
In a statement to TheWrap, Jim Kennedy, EVP of Global Communications for Sony Pictures Entertainment, said "We are looking into these claims."
LulzSec is currently teasing out its findings on its Twitter feed and has pledged to host the information it pilfered on its torrent.
The latest incident follows a month and a half of embarrassing breaches into Sony's online security. In April, the company revealed that a security breach on its PlayStation network had compromised the security of more than 100 million users. The company also recently was forced to grapple with attacks to its music sites in Japan and Germany.
Sony should be familiar with LulzSec's work. The rogue group previously claimed responsibility for the hacks to Sony's BMG website in Japan.