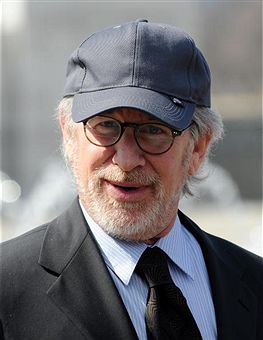 Steven Spielberg's next film will be the World War I epic "War Horse," DreamWorks spokesman Marvin Levy confirmed to TheWrap.
Based on the celebrated 1982 novel by Michael Morpurgo, the story follows the extraordinary bond between a boy and his horse, who are separated but whose fates continue to intertwine over the course of the Great War.
An award-winning dramatic adaptation of the book by Nick Stafford is currently playing at the New London Theatre before transferring to Broadway.
Disney and DreamWorks will release the film Aug. 10, 2011.
The official plot synopsis from the novel is: "In 1914, Joey, a beautiful bay-red foal with a distinctive cross on his nose, is sold to the army and thrust into the midst of the war on the Western Front. With his officer, he charges toward the enemy, witnessing the horror of the battles in France. But even in the desolation of the trenches, Joey's courage touches the soldiers around him and he is able to find warmth and hope. But his heart aches for Albert, the farmer's son he left behind. Will he ever see his true master again?"
From the sound of it, this is the return to "serious" moviemaking that Spielberg's fans have been waiting for after "Indiana Jones and the Kingdom of the Crystal Skull" and the upcoming "The Adventures of Tintin: The Secret of the Unicorn," which is currently in post-production awaiting a Dec. 23, 2011, release.
That means "War Horse" will hit theaters before "Tintin," an ambitious plan for the DreamWorks founder.
The last time Spielberg released two films in the same calendar year, it was 2005 when "War of the Worlds" and "Munich" came out, with the latter earning him Oscar nominations for Best Picture and Best Director.
Kathleen Kennedy and Frank Marshall will produce with Revel Guest and Spielberg, who acquired the rights to the novel last fall with DreamWorks CEO Stacey Snider. Lee Hall and Richard Curtis are adapting the book.
The news was first reported by Variety.