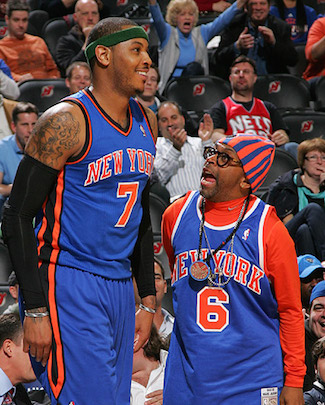 Carmelo Anthony opted out of the final year of his contract with the Knicks on Monday, making the 30-year-old forward a free agent. As the perennial All-Star begins to test the waters, the Knicks' most famous fan and sideline season ticket holder is hoping Melo finds his way back to the Garden.
"Yeah [I want him back], so does [new president] Phil Jackson, so does [team owner] James Dolan," Spike Lee told TheWrap in an interview at his Brooklyn office on Monday.
See video: Spike Lee Thinks Clippers Owner Donald Sterling Has 'Mentality of a Slave Master'
"We need him, because here's the thing: You're not going to get a great player as a free agent if — the only time it happened, basically, was when Amare [Stoudemire] came here," Lee, who has a painting of Anthony on the wall of his production company's office, said. "But no one like LeBron, Durant, all these guys coming up for free agency, they're not coming to New York if no one else is there. We need a superstar to attract a superstar. If Miami doesn't have Wade, LeBron and Bosh aren't going there."
Whether or not the Knicks re-sign Melo, the team will have at least one significant change from the disappointing group that failed to qualify for the playoffs last season: A new head coach.
See photo: Larry David Unknowingly Posed for a Perfect Picture at a New York Knicks Game
Team president Phil Jackson initially wanted to sign his former Bulls point guard Steve Kerr for the job, but decided at the last minute to take an offer from Golden State. That left another former Jackson point guard, Derek Fisher, as the go-to protege, and he signed with the team earlier this month following his retirement as a player.
In Lee's opinion, Fisher was the right choice in the first place.
"I think they dodged a bullet with Steve Kerr," Lee says. "J.R. Smith is not listening to Steve Kerr, he's listening to Derek Fisher. Derek Fisher will get in his ass about some of the stuff he was doing this year. Something happened this year. He just went bananas. That's my guy, though. I still want him to be a Knick, but he's been in the league ten years now. Come on now. Untying people's sneakers and their shoelaces? He did it a second time after getting warned. I wasn't laughing."