The "Star Wars: The Force Awakens" international trailer offered even more footage than the last preview that debuted to fan fever during "Monday Night Football," and with every new frame comes new speculation.
Will J.J. Abrams kill off a major character in Episode VII? Is Daisy Ridley's character a Skywalker? What does Adam Driver's new villain Kylo Ren want with her?
TheWrap analyzed the new footage and joined the millions of "Star Wars" fans in asking what it could all mean.  Here are 5 things we (think) we learned.
See video: 'Star Wars: The Force Awakens' International Trailer Offers Fans New Footage
Rey Is Waiting for Her Family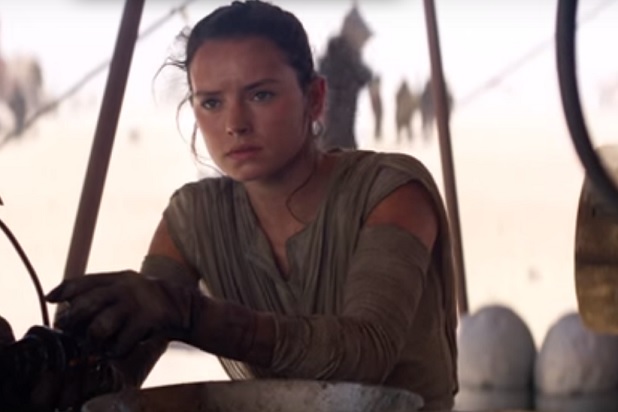 In an extended version of Rey's dialogue heard in the previous trailer, we hear Rey say, "I know all about waiting for my family." Given the most prominent family in the "Star Wars" universe is the Skywalkers, this could mean Rey is related to Luke, Leia, and possibly Han.
Also Read: Fox News Devotes Entire Segment to Slamming 'Star Wars: The Force Awakens' (Video)
New Order Destroys Rey's Home
Finn crash lands on Rey's planet in a TIE fighter and Rey rescues him. But in this trailer, we see TIE fighters flying on the horizon of the same planet, giving further credence to theories that the scenes of the New Order using flame throwers on a settlement takes place where Rey lives.
See Video: 'Star Wars: The Force Awakens' Honest Trailer Wants to Fix What George Lucas Started
Rey Gets Captured by Kylo Ren
In one scene in the trailer, Kylo Ren has Rey on her knees and puts his lightsaber to her neck. This seems to indicate that Kylo has captured Rey and is using her as a bargaining chip.
Also Read: 'Star Wars' Masks, Weapons Banned by Theater Chains
Lupita Nyong'o Speaks
Lupita Nyong'o Star Wars:The Force Awakens Comic-Con 2015 reel (Walt Disney)" width="618" height="412" data-credit="walt disney" />
In the extended version of Rey's dialogue, she is speaking with an unseen female character. The two most prominent women other than Rey in the film are Leia and the yet unseen Maz Kanata, played by Lupita Nyong'o (pictured above in motion capture gear). The voice does not sound like Leia, meaning it could very well be Kanata.
Also Read: 'Star Wars: The Force Awakens' Shares New Character Posters
Somebody Dies, and It Might Be Your Favorite Wookie
In one of the final images from the trailer, we see Ray weeping over a body. A closer look seems to reveal fur and what looks like Chewie's distinctive bandolier. The scene takes place in a snowy forest, possibly the same one in which we've previously seen Finn doing battle with Kylo Ren. Did Chewie attempt to help Finn and get himself killed?
Also Read: Stephen Colbert Offers 'Definitive Guess' on 'Star Wars: The Force Awakens' Plot (Video)
Watch the new trailer above.