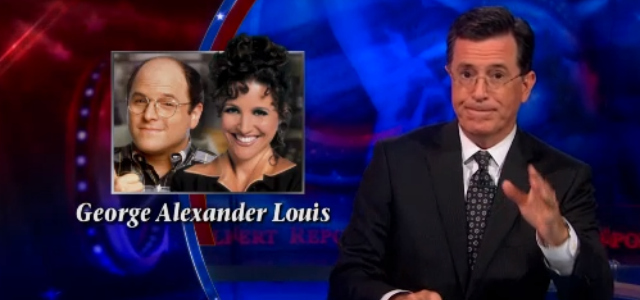 Stephen Colbert sipped tea on Wednesday night's "Colbert Report" and dropped some English jargon as he celebrated the new royal baby's new royal baby name.
Colbert wondered aloud, "How long is this still news?" Well, now that there's a name, not much longer. The heir to the thrown is named — drum roll — George Alexander Louis.
Also read: TCA: Roland S. Martin Says Royal Baby Getting 'an Absolutely Stupid Amount of Attention'
The comedian subscribes to the theory that Duchess Kate and Duke William must be enormous "Seinfeld" fans based on the name. After all, "George" could be named after character "George Costanza," "Alexander" for the man who played Costanza, Jason Alexander, and Louis — the olde-timey British pronunciation — for Julia Louis-Dreyfus, who played Elaine.
"Because just like 'Seinfeld,' the English royal family is really about nothing," Colbert quipped.
Watch the video: