The 2010 winners of the Student Academy Awards now know that they've won.
But they don't know what they've won.
The Academy announced the 13 U.S. students who'll be receiving awards at the ceremony on June 12, along with the recipient of the Honorary Foreign Film award. But the level of their award – gold, silver or bronze, with cash grants of $5,000, $3,000 and $2,000 – won't be revealed until the ceremony.
The students represent 10 different colleges and universities. New York University was the only school to receive two separate nominations, both in the Narrative category.
Up to three winners can be chosen in each of four categories: Narrative, Animation, Documentary and Alternative. Academy voters chose to honor three films in the first three categories, and two in the Alternative section.
The full list of winners: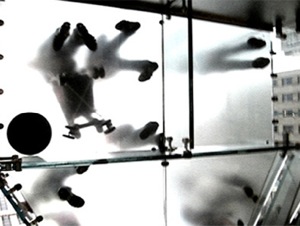 Alternative
"Multiply," Emily Henricks, University of Southern California
"Surface: Film from Below," Varathit Uthaisri, Parsons The New School for Design, New York (right)
Animation
"Departure of Love," Jennifer Bors, Ringling College of Art and Design, Florida
"Dried Up," Isaiah Powers and Jeremy Casper, Kansas City Art Institute, Missouri
"Lifeline," Andres Salaff, California Institute of the Arts
Documentary
"Dreams Awake (Suena Despierto)," Kevin Gordon and Rebekah Meredith, Stanford University, California
"Rediscovering Pape," Maria Royo, City College of New York
"Yizkor (Remembrance)," Ruth Fertig, University of Texas at Austin
Narrative
"Down in Number 5," Kim Spurlock, New York University
"God of Love," Luke Matheny, New York University
"The Lunch Box," Lubomir Kocka, Savannah College of Art and Design, Georgia
Honorary Foreign Film
"The Confession," Tanel Toom, The National Film and Television School, Beaconsfield, United Kingdom