Third in a series of studio report cards from TheWrap. Also included:
LIONSGATE: Stallone, 'Exorcism' Fuel Lionsgate's Low-Cost Hit Streak
SONY: Sony Bets on Originals in Franchise-Heavy Market
UNIVERSAL: Studio Grows Some Green Shoots
DISNEY: For Disney, Big Hits Come With Big Bills
Fox
Grade: C
Take away the revenue that 2009 film "Avatar" made for the studio in the first half of calendar year, and this could have been ugly. Fox didn't have a single film ranked in the top 20 domestic revenue earners this year. (The Steve Carell/Tina Fey comedy "Date Night" came closest, ranking 23rd with $98.7 million in North American receipts.)
***
Fox — as one executive close to the studio puts it — had a year full of singles and doubles, mixed with a few strikeouts. But what it really lacked was a home run.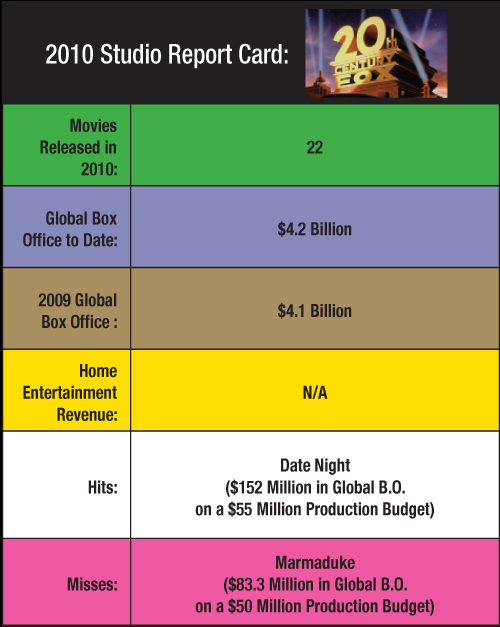 To keep the baseball analogy going, much of the studio's calendar-year revenue actually came from a game-seven-winning grand slam, with James Cameron's "Avatar" grossing most of its record-breaking $2.77 billion in theatrical revenue in the first half of 2010.
But a year that started off with so much exuberence is ending on a sour note for Fox, with $155 million "Chronicles of Narnia: Voyage of the Dawn Treader" only grossing $168.6 million globally after two weeks, and $115 million Jack Black comedy "Gulliver's Travels" enduring decidedly weak pre-release tracking going into its Christmas Day premiere.
In between "Avatar" and "Gulliver's Travels," Fox released 21 movies, none of which lost much money (the Owen Wilson talking-dog comedy "Marmaduke" was the big bleeder at $15 million), but none brought huge profits, either.
While they fought an uphill battle against negative publicity, Fox executives specifically express pride for the Tom Cruise summer action movie "Knight and Day," which grossed $261.5 million on a $117 million negative cost.
Likewise, the studio has expressed steadfast belief in the Tony Scott-directed Denzel Washington movie "Unstoppable," a $100 million film that has quietly held in the top 10 at the box office since its Nov. 12 release and has reached $132.6 million globally, with premieres in many foreign markets yet to come.
Grossing $152.3 million on a $55 million negative cost, Shawn Levy-directed Steve Carell/Tina Fey comedy "Date Night" could be considered the studio's only "triple."
None of these movies can be called a bona fide hit, however.
"In the second half of the year, we had some great films that just didn't reach the domestic box-office level they deserved," said a Fox spokesman. "But they were, by and large, profitable on a worldwide basis and will be quality additions to our library."
While the studio has endured criticism for reliance on remakes and sequels, Fox executives express confidence in a 2011 slate that includes the Blue Sky Studios-animated "Rio," the Selena Gomez movie "Monte Carlo" and further installments from the successful "Alvin and the Chipmunks," "X-Men" and "Planet of the Apes" franchises.
However, while the studio may be confident in its movies, it's beginning to question its marketing prowess — regarded as industry-leading up until recently — just a bit.
The studio announced one key marketing department move on Tuesday, with longtime unit co-president Pam Levine stepping aside. Her strong research and media-buying acumen were long considered a compliment to the creative chops of unit co-president Tony Sella, but her New York location — Levine relocated to the Big Apple four years ago — had made integration tough in recently.
Other marketing moves could be forthcoming, as the studio continues to "assess" its marketing operations, according to an insider.
As for highlights from this year, it all circles back to "Avatar," with Fox officials pointing out that Cameron was signed on to make two more "Avatar" movies.