The record-shattering run of "The Avengers" and the tragedy surrounding "Dark Knight Rises" gave the summer an epic feel, but the numbers show that the box office will finish flat, or a little down from last season's $4.4 billion haul.
All summer long, it was one big step forward, two back. While blockbusters "Men in Black 3" and "Amazing Spider-Man" sizzled, "Battleship" and "Total Recall" fizzled. When surprising hits like "Ted" and "Magic Mike" provided fireworks, there were too many equally eyebrow-raising duds, like "Dark Shadows," "Rock of Ages" and "That's My Boy."
Also read: 5 Box Office Lessons From the Middle of Summer 2012
"Moonrise Kingdom" and "Best Exotic Marigold Hotel" broke out, but that was pretty much it at the specialty box office. Animated kids' movies "Madagascar 3," "Brave" and "Ice Age: Continental Drift" proved the most reliable big-ticket bets for the studios.
It's not all about the box-office money. Even if it were, production costs are estimates and often dicey, and marketing spending is difficult to track. On the other side, DVDs and streaming deals can provide revenues down the road.
Nonetheless, here is a rundown of the summer's box office sweepstakes with the win, place and show finishers, along with the also-rans.
"The Avengers" — Beyond the obvious benefits of its best-ever $203 million opening and $1.4 billion global haul, the Marvel superhero mashup couldn't have come at a better time for Disney. Its success validated chairman Robert Iger's $4 billion bet on buying Marvel, eased the sting of spring's mega-flop "John Carter" and provided positive cover as the studio moved to ease out film topper Rich Ross. Between sequels — for the individual heroes as well as the assembled group – and branded toys and merchandise, the residual "Avengers" revenues are sure to run into billions of dollars and should continue for years. Joss Whedon recently agreed to return to direct "Avengers 2," set for May 1, 2015.
Also read: 'The Avengers' $640M Box Office Gives Disney Room to Right Itself
"Dark Knight Rises" How much the Colorado shootings and the resulting fallout cut into the box office of "Dark Knight Rises" will never be known. But what has been accomplished by Warner Bros. is impressive, particularly given the circumstances. After opening to $160 million, the best ever for a non-3D movie, the final entry in director Christopher Nolan's Batman trilogy has made more than $410 million domestically and is approaching $500 million overseas. It will be the first Batman movie to make more abroad than at home, and Warners remains confident it will hit the $1 billion mark worldwide.
Also read: 'Ice Age' Earns Fox Animation a Seat Alongside Pixar, DreamWorks Animation
"Ice Age: Continental Drift" — The CGI critters from Fox knocked off Spidey with a $46 million U.S. debut, but this movie made its Scrat scratch – about 80 percent of its $794 million worldwide gross – overseas. The film's success also established Fox's Blue Sky Studios as an animation team capable of playing with the big boys, Pixar and DreamWorks Animation.
"The Amazing Spider-Man" – Sony executives exhaled after Andrew Garfield and Emma Stone breathed life into the fading franchise. "The Amazing Spider-Man" opened to a 3D-fueled $62 million on the July 4 weekend and has gone on to gross nearly $700 million worldwide. At $230 million it was a major investment, but revitalizing the brand should pay dividends for years.
"Madagascar 3: Europe's Most Wanted" — New blood in the voice cast and a premium pricing boost from 3D contributed to its franchise-best $60 million debut. Being the first family movie to hit the market in months didn't hurt DreamWorks' CGI saga, which Paramount distributed. A massive promo campaign that included a million "Madagascar 3"-branded bananas didn't either. Made for $145 million, the bulk of its $548 million worldwide total has come from overseas, where it has taken in $336 million.
Also read: How 'Ted' Became Summer's Surprise Box-Office Superhero
"Ted" — The season's biggest surprise has not only made a bunch of money for Universal — $213 million domestically on a production budget of $50 million – but brought a fresh face onto the feature landscape in creator Seth MacFarlane. Its $54 million debut was the best ever for an original R-rated comedy. As a bonus, it's doing surprisingly well overseas with $115 million so far. Universal execs attribute that in part to the ease with which they can translate their foul-mouth teddy's talk into local lingos.
"Magic Mike" – In terms of return on the investment, nobody shook a box-office booty like Channing Tatum's tale of male strippers. It cost $7 million to make and made $39 million in its first three days. The domestic gross for the Warners Bros. movie stands at $112 million.
Also read: How 'The Best Exotic Marigold Hotel' Became This Summer's Surprise Indie Smash
"Best Exotic Marigold Hotel" — In a season dominated by men in tights, Fox Searchlight's $10 million film about British pensioners retiring in India made $45 million. That came after it made $85 million abroad, including $53 million from the U.K. and Australia.
Also read: Behind 'Moonrise Kingdom's' Unconventional But Steady March to the Oscars
"Moonrise Kingdom" — Director Wes Anderson's quirky tween love story with an all-star ensemble has made $42 million since opening in the U.S. two weeks after debuting in Cannes. But Focus Features is hoping the real payoff on the $17 million film comes in awards season.
"Men in Black 3" — Four years removed from his last film, Will Smith showed he could still open a movie, at least one with the initials "MIB." Despite coming out a full decade after the sequel, it opened to $54 million and went on to make $620 million worldwide. The $178 million domestic total was less than Sony hoped for from a movie that cost $225 million.
"Snow White and the Huntsman" — Star Kristen Stewart's dalliance with director Rupert Sanders might complicate or derail a sequel, but Universal scored with its dark fairy tale. Made for $170 million, it has rung up $154 million domestically, $389 million worldwide.
Also read: Universal Denies Dropping Kristen Stewart From Next 'Snow White' Film
"Brave" – Disney's animated tale of a red-tressed Scottish lass with a deadeye bow kept Pixar's string of 13 consecutive No. 1 debuts alive with its $66 million bow. It stayed No. 1 for three weeks. Overseas has provided less than 44 percent of the $408 million worldwide gross for the film, which carried a $185 million production budget.
"Bourne Legacy" — Universal appears to have successfully rebooted its super-spy franchise with "Bourne Legacy," starring Jeremy Renner rather than Matt Damon. But its $38 million No. 1 debut sparked a rash of conjecture about dual leads in the inevitable next "Bourne" film, and paying both leads might be prohibitive.
Also read: 'The Bourne Legacy' Beware: What Happens When a New Actor Takes on a Popular Franchise
"Prometheus" — Pumped by premium 3D pricing, Ridley Scott's scary and R-rated sci-fi thriller debuted to $50 million for Fox. But it had the bad luck to open on the same weekend as "Madagascar 3," which was the first kids' film to hit the summer market and took in $60 million. With a production budget of $130 million, "Prometheus" has taken in $126 million domestically, $320 million worldwide.
"Tyler Perry's Madea's Witness Protection" – The fifth film in the Lionsgate franchise outstripped its $20 million production budget in its first three days, when it took in $25 million against 'Ted" and "Magic Mike" on one of the summer's busiest weekends. Playing to Perry's solid African-American base, it's made $65 million.
"Rock of Ages" – Warner Bros.' hit low notes with its musical-turned-movie "Rock of Ages," which tanked despite having Tom Cruise as the lead. It's a different kind of movie, but the $38 million U.S.gross on the $75 million musical has to make Universal, which is bowing "Les Miserables" in December, a little edgy.
Also read: Tom Cruise, Adam Sandler: What's Behind the Stars' Box-Office Bummers
'The Dictator" — Despite relentless hype from star Sasha Baron Cohen, it bowed to $17 million and limped to a $60 million gross for Paramount. Those aren't "Borat" numbers, and barely "Bruno," suggesting that maybe throwing those fake ashes on Ryan Seacrest wasn't worth the trouble.
"Dark Shadows" — Johnny Depp's turn as vampire Barnabas Collins in the film version of the campy '60s TV show became road kill for "The Avengers." It topped out at $80 million domestically for Warner Bros. Disney has to be hoping for better success when Depp saddles up as Tonto in another TV redo, "The Lone Ranger."
"Battleship" – Rihanna made her film debut as an alien-whacking sailor in Universal's bloated-budget board-game movie "Battleship." It made nearly $240 million abroad but sank like a rock in the U.S. and, with a budget well north of $200 million, still lost money for Universal.
"That's My Boy" — Adam Sandler abandoned his familiar kid-targeting comedy formula to play to an older audience with his first R-rated comedy. The $70 million dud, which has earned less than $40 million for Sony, was a tough feature debut for "SNL" alum Andy Samberg.
"Total Recall" — Sony's remake failed to click with fans of the original sci-fi classic and didn't make new friends either. It featured Colin Ferrell rather than Arnold Schwarzenegger and dropped the Mars angle from the storyline, but did include the three-breasted alien female from the first film. It bowed to $25 million, not enough for a film with a $125 million price tag.
"Katy Perry: Part of Me" — The pop siren's concert documentary bowed to less than $6 million for Paramount and has topped out at $30 million worldwide.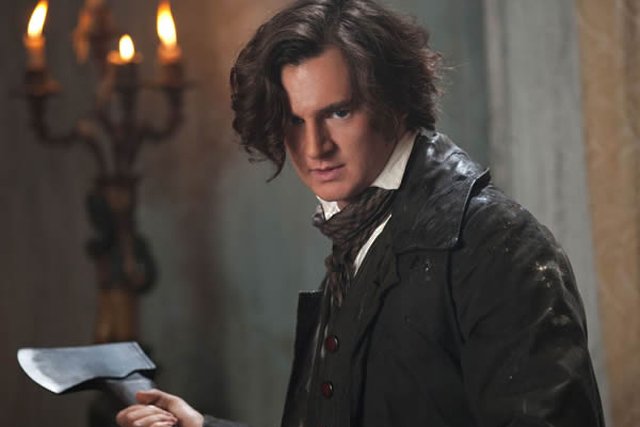 "Abe Lincoln: Vampire Hunter" — Made for around $70 million, Fox's bizarre genre mashup opened to just $16 million and has topped out at $37 million. On the bright side, this pretty much assures that "Pride and Prejudice and Zombies," also from Seth Grahame-Smith, won't get made anytime soon.
"The Watch" – Originally titled "Neighborhood Watch," this alien-invasion comedy from Fox couldn't catch a break. The studio changed the film's name in the wake of the Trayvon Martin's killing and then had to open the Ben Stiller, Vince Vaughn and Jonah Hill vehicle just one week after the Colorado shootings.
SCRATCHED
"G.I. Joe: Retaliation" — Paramount pushed its Channing Tatum action movie to March of next year so that it could convert it to 3D. That move allowed Universal to shift "Ted" out of the way of "Dark Knight Rises" – it was set to open a week before Batman — and into the June 29 slot, where it took off.