With the networks pretty much on cruise control for yet another summer, it was up to the cable outlets to give audiences fresh content through the hot, sticky months.
But who came out on top in the competition for viewers' eyeballs, and who fell by the wayside? As summer lamentably winds to a close, let's look at which shows scored and which were consigned to the dustbin of television history.
THE WINNERS
Jersey Shore (MTV)
Snooki, the Situation, and the rest of the guidos and guidettes from MTV's reality hit went to Italy for the show's fourth season — and they brought back a present in the form of ratings gold. The Season 4 premiere of the series racked up an eye-popping 8.8 million total viewers, breaking MTV's record for a season premiere. Of course, the previous record-holder was the Season 3 premiere of "Jersey Shore," but never mind — fist-pumps all around!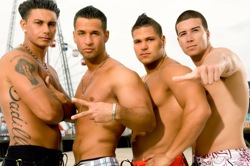 Also read: 'Jersey Shore' Bro War: Ronnie Pummels the Situation (Video)
Rizzoli and Isles (TNT)
Already a bona-fide hit in its first season, the Angie Harmon/Sasha Alexander crime drama kicked it up a notch for its second go-round this summer. The series averaged 8.8 million total viewers throughout the summer in Live + 7, and cracked the 9-million mark with its August 8 episode. The series is currently basic cable's No. 1 drama.
Curb Your Enthusiasm (HBO)
Watching Larry David work his curmudgeonly comic shtick on "Curb Your Enthusiasm," one often gets the impression that the "Seinfeld" honcho could take or leave humanity as a whole. But people can't seem to get enough of him. After a prolonged absence from the airwaves, "Curb" came roaring back with Season 8 this summer. The July 10 premiere episode delivered a seven-year high for the series, grossing 2.1 million viewers over two airings.
Also read: Go Back to School, Hollywood: Summer Movies Mangle the Facts
Falling Skies (TNT)
The sky definitely isn't falling for this new entry in TNT's roster — the sci-fi series, which is co-executive produced by Steven Spielberg and stars "ER" alum Noah Wyle — scored the year's biggest launch for a cable series with its June 19 premiere, drawing more than 5.9 million total viewers. The series' first season averaged 6.9 million total viewers in Live+7 numbers, making it basic cable's top new drama, and No. 3 drama overall.
THE LOSERS
Lopez Tonight (TBS)
Pushed to a later time slot by the arrival of Conan O'Brien, George Lopez watched his ratings dwindle until finally, in early August, TBS plugged the plug on his show. Ever the jokester, Lopez cracked that he would use his new free time to "get on the [crack] pipe, and lose that unwanted 110 pounds I've been trying to lose."
The World According to Paris (Oxygen)
Celebutante Paris Hilton's latest reality venture — in which she promised to reveal the real her, as opposed to on her other reality series — got off to a limping start with its June premiere, accumulating just 409,000 viewers. By the end of August, reports began to surface that Oxygen wasn't sure about renewing the show for a second season. That's not so hot.
Also read: Horror Movies Hit the Dead Zone This Summer
Men of a Certain Age (TNT)
Despite an enthusiastic — though apparently inadequate — fan base and critical acclaim, Ray Romano's comedy-drama reflection on graying masculinity "Men of a Certain Age" was canned after two seasons in mid-July. As a small, if ironic, consolation, the cancellation came just days after the show had earned its second Emmy nomination.
Kate Plus 8 (TLC)
Love her, hate her, or some combination of both, stern, spiky-coiffed reality TV matriarch Kate Gosselin was once the subject of national obsession. But once she and husband Jon Gosselin split up, public interest waned, and it became difficult to determine which was larger — her audience, or her expansive brood. TLC announced in mid-August that the show would come to an end on Sept. 12.