After a multi-continent investigation, Summit Entertainment is suing the person it believes leaked pictures and video from the unreleased "Twilight Saga: Breaking Dawn," the company announced Monday.
The company also said that criminal action has been filed in Argentina.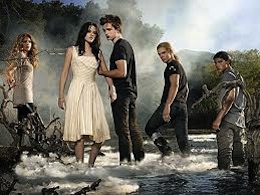 In a written statement, Summit said that the civil and criminal action show "those who steal images, video and other intellectual property will be identified and prosecuted globally." The company said it has "identified the principal hacker who earlier this year stole unreleased material."
The company says that "civil actions in the United States and Argentina name Daiana Santia, along with others, as being involved in stealing photographs, unfinished images and video."
Summit said it had the company Kroll Inc. and the law firm of Keats McFarland & Wilson LLP conduct an investigation, which "led to the town of Posadas in northern Argentina. It is believed that others may also be involved in the crime and thus the investigation is ongoing."
When the images leaked, the "Twilight Saga" producers signed an open letter saying that they were "extremely heartbroken" to see images on the internet. "The film and these images are not yet ready or in their proper context," they wrote. "They were illegally obtained and their early dissemination is deeply upsetting to the actors, the filmmakers and Summit who are working so hard to bring these movies to fruition…"
They asked that "though the temptation is high, don't view or pass on these images."
But they didn't stop there. They also conducted the investigation.
"The Twilight Saga: Breaking Dawn — Part 1" is scheduled to be released Nov. 18. "Part 2" is set for a Nov. 16, 2012 release.