Sumner Redstone has donated $18 million to the Boston University School of Law, the university announced Thursday.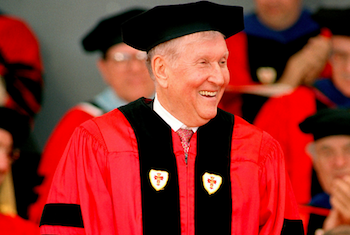 The gift will pay for a five-story, 93,000-square-foot building to be named after the 89-year-old entertainment magnate.
Currently serving as executive chairman of the board of both CBS Corp. and Viacom Inc., Redstone joined the law faculty in 1982, pioneering the school's intellectual property curriculum.
Also read: Viacom shareholder sues over Sumner Redstone's compensation
Redstone received his law degree from Harvard University. In 1994, he received an honorary Doctor of Laws from Boston University. His daughter BU alum Shari Redstone, serves as president of National Amusements and vice chairwoman of CBS Corp.and Viacom.
"Boston University School of Law is one of the finest institutions of legal scholarship in the world and deserves a home that will enable it to continue to innovate and build on that legacy," Redstone said in a statement. "As a former faculty member, native Bostonian, and the proud parent of a BU Law graduate, I could not be more pleased to provide this gift that will benefit generations of future students."