This photo from the Onitsuka Tiger party at Sundance on Saturday night shows:
A) Bill Gates' early review of Apple's rumored "slate" computer, set to launch this Wednesday.
B) Gates realizing that the Sundance "party spirit" can launch you in to the Twittersphere quickly. (Gates should have known. He launched his first ever Twitter account on Saturday live from the "Twitter House." Currently: 200,000+ followers.)
The "Adam" of modern technology partied like he was on the "Jersey Shore." The Microsoft mogul stood on a table while fist pumping at the John Legend and The Roots concert sponsored by Onitsuka Tiger on Saturday night.
A surprised guest told TheWrap that Gates channeled "Snookie" – falling down at one point. According to event organizers, Gates brought his own undercover security with him not just to guard him, but to "flash" those trying to snap a party pic by ruining their shot. Clearly, those efforts were about as effective as Windows Vista.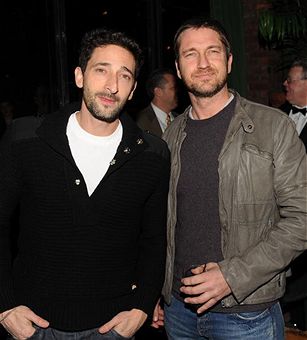 While Gates might have benefitted from a babysitter, one time "Adventures in Babysitting" star Elizabeth Shue, Queen Latifah, and Colin Hanks must have missed the ubiquitous Monster Energy drinks as they took in Legend hits like "Ordinary People" more passively.
Elsewhere, Broadway hit Sundance on Saturday night.
Constantine Maroulis led the stars of Broadway's hit musical "Rock of Ages" through a performance at the Stella Artois Cutting Room at Village at the Yard. Mark Ruffalo took to the stage to welcome everyone to the joint party for "Hesher" and "Sympathy for Delicious," wrangling friends in the crowd like Orlando Bloom, Malin Ackerman, and Adrien Brody (pictured left, with Gerard Butler at a pre-Sundance screening).
Ruffalo got the crowd to "shhh" by yelling at the crowd "it's my party!" (The same team that produces "Rock" also produced both films.) Juliette Lewis and Michelle Williams strolled in fashionably late, as did actor/musician Jared Leto, who bee-lined it for Bloom when he showed up later.
Earlier in the night, Ryan Reynolds put on his publicist hat during a cast dinner for his Sundance entry
"Buried" at the T-Mobile myTouch Diner at the same venue. Reynolds made sure everyone within earshot met the unknown writer and director of his "buried alive" flick, before heading off together to the premiere. Successful Result? The Wrap's Sharon Waxman reports that Lionsgate snapped it up for $3.2 million. If Reynolds' career ever cools off, he'll make a good shill. (Pictured at right.)
With Sunday's premiere of "The Runaways," several events were angling for the film's stars Dakota Fanning and Kristen Stewart to make an appearance. Fanning hit several, while the usually begrudging Stewart shied away from most.
Stewart did show up unusually chatty (almost giddy) at Skintimate's Gersh Agency brunch on Sunday before the premiere. The crowd at the Greenhouse Actor's Lodge was surprised to see her in such an upbeat mood. Phillip Seymour Hoffman was less chatty. He retreated immediately to the private screening room to see the Jets lose to the Colts.
___________________________________________
Earlier:
If the panels and premieres are Sundance's "steak", Sundance's endless party scene provides the "sizzle".
Coming straight from the Hope for Haiti telethon in LA, Ben Affleck made it to Utah later on Friday night for DirecTV's party for "The Company Men" at Village at the Yard. To nuzzle in on an Affleck/Harvey Weinstein chat - dissecting the current state of indie film -- see The Wrap's Sharon Waxman's inside scoop here. Co-stars Tommy Lee Jones, Chris
Cooper, and Rosemarie Dewitt made it to the mountain time zone earlier.
At left, Affleck's whirlwhind from CBS Studios on Fairfax to the snow.
A few snowflake-sized party reports from "the scene":
A classic "Entourage" Episode Comes to Life: Olympic gold medalist Shaun White gave snowboarding lessons to Adrien Grenier at the Oakley Learn to Ride Snowboard event on Friday. He's in town to promote his documentary "Teenage Paparazzo" that had the HBO star slumming it with the shutterbugs on Robertson one day last year. (Ironically, a videographer follows him, in photo at right.)
Sidelined: Who has the least obvious connection to Sundance? Instead of playing in Sunday's NFC Championship game, Green Bay Packers quarterback Aaron Rodgers watched it from Utah, probably at ESPN's annual hot ticket – their NFL viewing party on Sunday. Instead of slinging pigskin, Rodgers went swagging at the AT&T sponsored House of Hype on Friday.
Is the party over? According to local event producer Amanda Henry, the number of event permits pulled for the festival is down a staggering 70-75% from 2008. However, new entrants like the 3D Lounge (where guests have been test driving what it will be like to have "Avatar" in 3D in your living room) and Bravo's "Shear Genius Salon" continue to find piggy-back marketing (unofficially) on the Sundance stage worth the trip.