It's hard for a pretty young actress in Hollywood to find roles that have much substance.
"There's sort of this expectation that you will do a lot of really bad projects," Brit Marling, the actress, writer and producer whom the Wall Street Journal labeled one of this year's Sundance "It Girls," told TheWrap. "Female characters tend to be sometimes more submissive."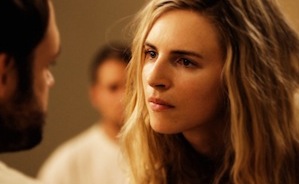 Marling has brains as well as beauty. She was valedictorian of her class at Georgetown and worked as an investment banking analyst at Goldman Sachs.
Still, Hollywood didn't provide the roles she wanted.
So she wrote her own.
"It seemed the best way to do the kind of work I wanted to do," she said.
That's working for the actress, whose films "Another Earth" and "Sound of My Voice" premiered at Sundance this year, making her the first woman writer-actress to have two movies premiere side-by-side at Sundance.
Fox Searchlight picked up the domestic rights to "Another Earth" for $750,000. Focus Features and the Weinstein Company also expressed interest in the movie, which won the festival's Alfred P. Sloan Prize.
Marling finds the whole experience surreal. She knows that much is being written and said about her, but for now, she's keeping away from all that.
"I haven't really read anything yet, but I do see things coming in on me phone that seem kind of astounding," she said.
Marling has only appeared in projects that she has written. She'll continue that pattern this summer, when she films an espionage thriller about a group of anarchists. Although she plans to keep writing, she's willing to leave some of the script writing to others.
"How exciting is that?" she said. "I love the idea of living in somebody else's imagination for a while."
Marling has also attracted attention for her work behind the camera. Along with her writing and producing partner Mike Cahill, Marling co-directed the documentary "Boxers and Ballerinas," which followed artists and athletes living in Cuba. The two continued their collaboration on "Another Earth," with Cahill handling the directing chores.
For now, though, Marling is focusing on her acting.
"The challenge of acting is to me so great, I think I have so much to learn and I'm so hungry to dig into that experience more fully that I don't know if I'd be ready to take on the next challenge," she said.
She may be indie film's new "it girl," but she's still struggling with real world problems.
"I still can't pay my health insurance and my car insurance at the same time," she said.