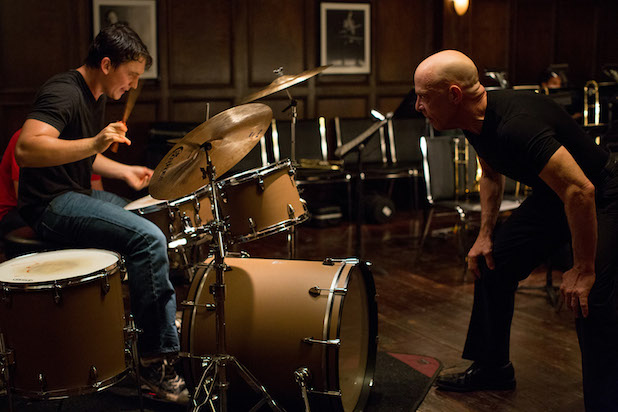 (Update 8:55 p.m. — Sony Pictures Classics has confirmed the deal for North American, Australian, New Zealand and German rights to "Whiplash." "I'm so excited to be teaming up with Sony Pictures Classics. Their passion and plan for this film felt like the perfect way to bring it to the world," said director Damien Chazelle. "It's been an amazing ride so far with an amazing group of producers and I could not be more thrilled." "What a way to begin Sundance! It's not just a good movie, it's a full, rich experience, a feast for our eyes, ears, and mind. What remains obvious is this film marks the birth of a major world class filmmaker and features staggering, emotional performances by J.K. Simmons and Miles Teller. We are so excited to be bringing this movie to the moviegoing public," added Sony Pictures Classics.)
EARLIER:
Sony Pictures Classics is nearing a deal to acquire U.S. rights to Damien Chazelle's drummer drama "Whiplash," which stars Miles Teller and J.K. Simmons, according to an individual familiar with the situation.
The deal is rumored to be in the vicinity of $3 million, though Sony Pictures Classics did not confirm that figure, while WME did not immediately respond to a request for comment.
Also Read: Sundance Day 2: Guantanamo, Somali Pirates Steal the Stage from Kristen Stewart
"Whiplash" drummed up strong reviews as the opening night film at Sundance, and Sony Classics appeared to have an edge on the picture as soon as Sony Pictures Worldwide Acquisitions picked up rights to a handful of prominent international territories, though A24 and Roadside Attractions also pursued domestic rights.
Teller stars as a drummer who is determined to be the next great jazz musician, while Simmons plays his demanding instructor. The feature is based on Chazelle's short film of the same name, which premiered at Sundance last year.
"Whiplash" was produced by Jason Blum, Helen Estabrook, Michel Litvak and David Lancaster, while Jason Reitman, Gary Michael Walters and Couper Samuelson executive produced.
Also Read: Sundance: Fest Half-Embraces the Digital Revolution – Shorts Online? Sure! Movies? Uh, No
WME negotiated the deal on behalf of the filmmakers.