In these days of social media saturation, the idea of waiting for the Super Bowl to catch the best ads seems so yesterday. Advertisers are looking to generate product awareness through their blurbs long before kick-off, as evidenced by the vast number of commercials "leaked" this past week.
Read more: Super Bowl Ads Roundup (videos)
General Sentiment is a social media analytics company that measures consumer impact and awareness for marketers and advertisers, using a formula it calls Impact Media Value — basically, who's getting the most bang for their advertising bucks prior to the game.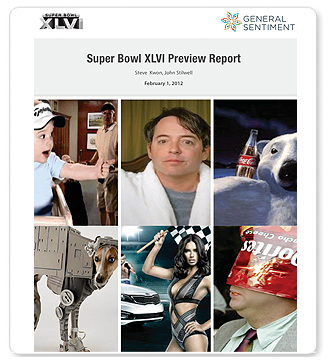 Here's their take on the brands advertising during this year's Super Bowl and the daily revenue that General Sentiment estimates they generated through social media. The lists tell us which companies got the biggest boosts, which made the most money via their investments and which companies –based on their Twitter following– dropped the ball by not advertising around the Super Bowl.
The first list is ranked in order of the largest Impact Media Value percentage increase over the last two weeks.
1. Dannon
$105,576 + 1,170.4%
Average Daily Impact Media Value (January 16 – 29, 2012)
Percentage Increase Above 3-Month Baseline
Dannon, a first-time Super Bowl advertiser, quickly reaped the benefits of its association with the big game; the company, which received limited media attention during the previous three months, caused a stir on January 19 as it announced that Dannon would feature Oikos Greek Yogurt and actor John Stamos in its Super Bowl ad.

2. E*TRADE $241,938 + 746.5%
The Super Bowl buzz could not have come at a better time for E*TRADE; the online brokerage's stock fell in Q4 as a result of mounting credit losses. The company hopes that its memorable talking baby campaign will make a splash at the Super Bowl and facilitate a stronger 2012.
3. Doritos $1,335,985 + 676.4%
Doritos' sixth annual "Crash the Super Bowl" campaign is creating lots of online buzz, and hundreds of thousands of contestants are participating this year. Doritos has also guaranteed $1M to any contestant whose advertisement reaches number one in USA Today's ad rankings.
4. H&M $203,846 + 504.8%
After its fifth consecutive quarter with reduced profits, the Swedish clothing retailer needs its Super Bowl ad to succeed. The company chose British soccer superstar David Beckham to sport the brand's new bodywear collection. The announcement of the company's Super Bowl ad generated increased buzz for H&M during the last two weeks.
5. Kia $2,217,277 + 479.0%
The Korean car company scored with the ad campaign for its midsize sedan, the Optima, which featured NBA star Blake Griffin. Kia hopes for more success from its Super Bowl ad featuring supermodel Adriana Lima, MMA fighter Chuck Liddell and rock band Mötley Crüe. Kia created a great deal of Twitter buzz for the brand by releasing its ad to 18,000 movie theaters on January 27.
This group posted the greatest impact Media Value gains by pure dollars per day:
1. Samsung
$18,654,398
Samsung recently tweeted, "We're telling fans first: Next Sunday we launch a device so revolutionary only an ad in America's biggest game can do it justice." The company expects their fourth quarter Super Bowl ad to jump-start a successful campaign for the Galaxy Note in 2012.
2. Coca-Cola $10,533,687
Coca-Cola released several pre-Super Bowl ads on January 27 and generated $12.7M of Impact Media Value, which represented an increase of 14.3 percent from the previous day. The beverage company plans to feature its famous animated polar bears in its Super Bowl campaign and incorporate them in Social Media as well. The majority (96.1 percent) of Coke's Impact Media Value during the past two weeks stemmed from Twitter.
3. Honda $4,869,341
Honda invested heavily in its Super Bowl ad, which features Matthew Broderick as Ferris Bueller and was directed by "The Hangover's" Todd Phillips. Honda released a 10-second teaser of the ad and created Twitter buzz on January 27.
4. Volkswagen $2,959,533
Buoyed by its successful Star Wars-themed ad in last year's Super Bowl, Volkswagen hopes an additional reference to a galaxy far, far away will continue to thrill viewers. The German automaker released a teaser on January 18, which features dogs barking out the Star Wars theme. The next day, the teaser video went viral, raking in $9.6M of Twitter Impact Media Value.
5. Toyota $3,327,708
Toyota lost the title of world's top-selling automaker to General Motors this month, but the Japanese automaker hopes to promote its ongoing theme of reinvention with its Super Bowl ad. The spot features the 2012 Camry and is intended to be comedic, which is a marked change from the company's usually conservative ads.
The brands listed below shared the largest amount of Twitter followers with the NFL and its teams as of January 31, 2012.
1. JetBlue
Total Shared Twitter Followers with NFL and NFL Teams
330,794
JetBlue meshes with the NFL well because JetBlue offers DirecTV's NFL Sunday Ticket in-flight for passengers traveling to more than 50 destinations. The airline will also broadcast the Super Bowl live in-flight. During the game, all drinks, including beer, wine and spirits, will be sold for $1, rather than the usual $6 or $7, and free Snyder's Buffalo Wing Pretzels will be available. Why would an NFL fan fly any other way?
2. Amazon.com
314,932
The NFL shop on Amazon.com is the main avenue connecting the two brands. Amazon sells NFL apparel and items from all 32 teams, and the website also sells Madden NFL video games and NFL films and documentaries. A clever Kindle Fire spot would have been perfect for this year's game.
3. Starbucks
304,778
Two things many Americans love are coffee and football. Starbucks and the NFL are two of the nation's most prominent brands, so the fact that the two companies share a large number of Twitter followers comes as no surprise. Fans of both could share their analysis of Sunday's game at their local Starbucks.
4. TV Guide
163,924
TV Guide and the NFL are not a shocking brand match. On Sundays, millions of Americans sit glued to their televisions, eating snacks, with remotes and cell phones in hand. To the satisfaction of many fans, they can search for the starting time and channel of every NFL game on TVGuide.com and plan their entire week of football fixes without leaving the couch.
5. Nike
93,257
The titan of the sports apparel industry signed a long-term deal to provide uniforms for the NFL. Rumors circulated that Nike will make some significant changes to the uniforms. Nike could have used the opportunity to reveal some sneak peeks of the new digs and build excitement for its apparel.
The brands listed below shared the largest percentages of Twitter followers with the NFL and its teams as of January 31, 2012.
1. Visa
Total Shared Percentage of Twitter Followers with NFL and NFL Teams
45.73 %
Visa's ad campaign, entitled "Visa presents: Ned's Journey To The Super Bowl," drew a lot of buzz during the NFL season as it promoted a sweepstakes by which one lucky Visa cardholder would get to take 10 friends to the Super Bowl. However, Visa decided not to advertise during the Super Bowl this year after years of memorable ads. Visa does have plans for promotions, though, which likely involve Twitter.
2. Under Armour
41.05 %
While Nike controls the rights to NFL uniforms, Under Armour sponsors the NFL Combine and has the rights to supply the players' cleats. NFL player reps for the Baltimore-based sports apparel giant already sported commemorative 9/11 cleats in September. And there is no better place for Under Armour's "Protect This House" slogan than the Super Bowl.
3. Arby's
27.52 %
Arby's franchises in Colorado and Wyoming began selling commemorative Denver Broncos cups this season. The on-field success of the Broncos and quarterback Tim Tebow made the campaign a huge success. Arby's current slogan, "It's Good Mood Food," would complement fans' excitement well on Sundays.
4. Papa John's
27.42 %
In the midst of a three-year contract that makes Papa John's the official pizza of the NFL and the Super Bowl, the company has built a strong association between itself and the NFL. Thousands of families across the country will be ordering Papa John's during the Super Bowl, and an ad on Super Bowl Sunday would only increase fans' appetite for the pizza chain.
5. Outback Steakhouse
26.29 %
Many fans associate Outback Steakhouse with the NFL. The restaurant chain sponsored the league (as well as college football and NASCAR) on a national level. Outback gained distinguished former NFL player and coach John Madden as a national spokesperson, and the chain placed its name on the Madden Cruiser. An ad could encourage some fans to get off the couch and join the crowd at Outback.