Whether you're an avid sports fan or only watched Super Bowl LII for the commercials and Justin Timberlake's halftime show, everyone knows by now that the Philadelphia Eagles broke their championship drought with a 41-33 win over the New England Patriots.
Even the G.O.A.T. Tom Brady couldn't save the day with a spectacular Hail Mary attempt to Rob Gronkowski — who had nine catches for 116 yards and two touchdowns — in the final seconds of the game.
So the City of Brotherly Love has its first Super Bowl title, Brady broke another NFL record with his 505-yard passing performance, and millions of fans of both teams around the country were probably struggling at work on Monday.
Also Read: Eli Manning, Odell Beckham Jr Do 'Dirty Dancing' Routine in Super Bowl LII's Best Ad (Video)
While most people watched from home or at a Super Bowl party, TheWrap braved the Bold North (where the temperature hovered around zero by the end of the game) to follow the showdown from inside U.S. Bank Stadium in Minneapolis.
Here are what you didn't see on TV.
The show before the show
We all knew that JT was playing at halftime, but long before then DJ Dante, Kelly Clarkson and TV chef Andrew Zimmern entertained a select group of fans courtesy NFL on Location Experiences.
Bottleneck crowds
U.S. Bank Stadium has a capacity of 66,655 and at times it felt like every single guest was trying to arrive or leave at the same time. An hour before the game, a bottleneck halted all movement as everyone was struggling to get to their seats … but that was nothing compared to trying to get out again. With the temperature outside at around two degrees and Ubers in hot demand, thousands of fans fought to get up to Minneapolis' famous indoor Skyway — up one escalator. Yep, that was about as fun as you'd imagine and very scary at times as the throngs pushed and shoved each other. Kudos to the stadium security and volunteers team for helping to keep everyone calm.
Also Read: Super Bowl LII: The Scene From Minneapolis (Updating)
Sports stars everywhere
From Philadelphia 76ers phenomena Joel Embiid to WWE Superstar Mojo Rawley, sports stars from every genre came out in person to catch the epic matchup. Who says you can't be a fan just because you have fans?
Also Read: Super Bowl LII: ESPN's Trey Wingo Tells Us Why NFL Fans Shouldn't Have 'Patriots Fatigue'
Eagles fans can actually spell
In the hours before kickoff, literally all you could hear in the stadium hallways was chants of "E.A.G.L.E.S – Eagles!" as Philly fans blasted out their traditional rally cry. We're not sure if they could all remember how to spell it by the end of the night, however.
"Hamilton"-induced goose bumps
Despite the rowdy crowd, everyone was enamored by Leslie Odom Jr.'s rendition of "America the Beautiful" as "Hamilton" star Aaron Burr blew the roof off the stadium to kickoff the day.
Pink battles through the flu
Flu season officially has its grip on America, and even Pink has been suffering from it. But that didn't stop the Philadelphia native from delivering a flawless performance of the national anthem for her hometown fans — sparking the first massive cheer of the day.
Ka-ching!
The next huge cheer came when the Patriots won the toss after the Eagles picked tails but the coin landed on heads. And with that, thousands of dollars was either won or lost in Vegas. At least the Patriots won something on Sunday.
Also Read: Watch April the Giraffe and Jimmy Fallon's Puppies Predict Super Bowl LII Winner (Videos)
Sold Out
Despite fears from ticket sellers that the attendance could be low because of the bitter cold (no one chooses to come to Minneapolis in winter!), the stadium appeared packed and it was hard to spot an empty seat on any level. However, we heard that ticket prices did dramatically drop on StubHub after kick off — to the delight of lucky fans still looking for a good deal.
Fallon faux pas
One of the many celebs tucked up in a luxury box was Jimmy Fallon, who — after stopping by StubHub's Field House to help fans get their tickets before the game — was caught on the jumbotron. When he tried to wave, the "Tonight Show" host spilled beer of all his face. We think it was an accident, but it's always hard to tell with Fallon. The "This Is Us" cast, Miles Teller and Kevin Hart were also flashed up on the big screen, but for some reason when Steph Curry was shown, everyone booed.
Family affair
Even with ticket prices well into four figures, there were tons of little kids enjoying the game, many of them as young as three or four (and we're not just talking about Brady and Gisele's children, who apparently cried when their dad lost). While most were too small to see over the crowds, they got resourceful and stood on the seats. We especially loved the four-year-old boy who had a VIP Patriots Post Party ticket in his laminate. We assume he was dancing to J-Lo and Gucci Mane like the rest of us until 3 a.m.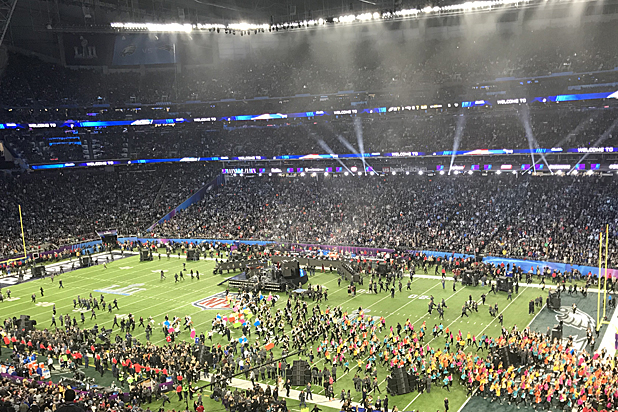 Stage Makeover
Few things are more impressive than watching a football field be transformed into a full concert venue in a matter of minutes. The moment the second quarter of the game ended, hundreds of venue employees swept in to build the stage for Justin Timberlake.
Also Read: Philadelphia Eagles Defeat Defending Champion Patriots in Wild Super Bowl LII
Sound problems and selfies
JT's halftime show has been debated more fiercely than most of the referee calls, and while he definitely played it safe following 2004's Nipplegate debacle, the crowd really got into the show and were up on their feet dancing the whole time. The purple tribute to Prince was a definite pleaser especially to the local Minnesotans there, however, the sound quality inside the stadium was not up to par and had many people scratching their heads.
One person who did have a blast was "Selfie Kid" — the boy who was surprised by the "Filthy" singer when he ran into the crowd and took a photo with him … then stayed there for an uncomfortable amount of time while the youngster didn't know what to do with millions of eyes watching him. So of course, he did the default "look at my phone and pretend it's not happening" move.
Strict instructions for Prince
As cool as the Prince tribute for a rendition of "I Would Die 4 U" was when the entire crowd held up purple lights, it didn't come easy. Each seat had either a little flashlight or a laniard underneath it and you had to light it at a specific time. Maybe the Super Bowl host assumed that everyone was already drunk as the instructions took at least five minutes to explain — and then he repeated it in case you weren't listening. We get it … we can spell and we can activate a light.
Gender equality
For once, the women could enjoy empty bathroom lines while the men had to queue 50-people deep each time. We're not sure if that means guys are more dedicated NFL fans, drink more beer or that women were just smart enough to watch in the warmth from home.
Also Read: Rich Eisen on Why Super Bowl LII Will Be 'Jaw-Droppingly Incredible' (Video)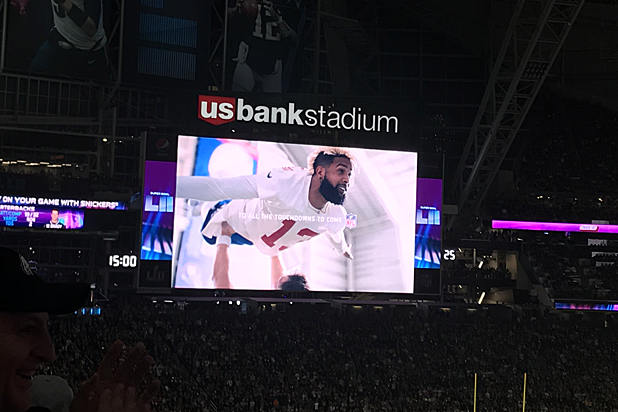 Odell and Eli for the win
Eagles fans traditionally hate the New York Giants as they are NFC East rivals, and Patriots fans hate them because them beat them in two Super Bowls — but everyone loved Odell Beckham Jr. and Eli Manning's take on "Dirty Dancing." The NFL spot, which was one of the few commercials played inside the stadium on the jumbotron, featured the wide receiver as Jennifer Grey getting lifted by Manning in the role of Patrick Swayze. It was a total winner and got everyone laughing on an otherwise serious day.
Fly Eagles, Fly …
We challenge anyone who was in U.S. Bank Stadium to get the "Fly, Eagles Fly" fight song out of their head for the next week. Every single Philly fan was blasting it out while they walked out of the game after the last-second win — and as we mentioned before, that took a very long time (especially if your team had just lost in the Super Bowl).
As Bradley Cooper lost his mind with joy in a luxury suite, his "Silver Linings Playbook" co-star Jennifer Lawrence  reportedly grabbed the mic on an L.A.-bound Delta flight and led a performance of the victory song over the PA system.
JENNIFER LAWRENCE SUPPORTS THE EAGLES MY SILVER LININGS HEART IS ON FIRE https://t.co/E9pDk7fGIC

— susan (@sassyjoshifer) February 4, 2018
And with that, we're on to Super Bowl LIII – see you in Atlanta!