This preview focuses on private, invite-only events aimed at an industry audience. For events open to the general public, scroll to the bottom.
It's that wonderful time of the year again when the entertainment world turns its attention from Hollywood awards shows to sports, to celebrate the biggest names in football at Super Bowl LI.
This year the Big Game is in the Lone Star State, as the New England Patriots and the Atlanta Falcons face off at Houston's NRG Stadium on Sunday, Feb. 5.
TheWrap will be there, once again, bringing behind-the-scenes insight from the hottest parties, the most exclusive events and, of course, the Super Bowl itself when Tom Brady attempts to reap revenge on the NFL for his Deflategate suspension.
Also Read: Tom Brady's Big A- Sideline Coat Draws Hilarious Comparisons
Check out all the hottest invites for the weekend of Feb. 2-5, 2017, leading up to kick off at 3:30 p.m. PT on Super Bowl Sunday.
Private Events
Fergie and DJ Khaled
ESPN The Magazine's Party; Friday, Feb. 3
A warehouse in downtown Houston
Known for: Large-scale physical production, an endless parade of ESPN talent and sponsors — and lots of elite male athletes. 

This year, the Worldwide Leader in Sports takes over a 65,000 square foot warehouse designed by Event Eleven located just outside of the Arts District in downtown Houston for its 13th annual (sports) star-filled event in conjunction with ESPN The Magazine's Super Bowl issue. The impressive night features performances from eight-time Grammy winner Fergie and producer/business mogul DJ Khaled. Interactive activations abound from sponsors Alfa Romeo, Dunkin' Donuts, MillerCoors and YETI, who will be custom branding a satellite bar serving two specialty cocktails, "Falcons Rise Up" and "Pride of the Patriots" from ESPN The Party branded YETI Lowballs.
The construction site-themed design aimed to reflect the new development of the city will include scaffolding sections covered in raw plywood, over 1,000 LED tubes, hefty stationary equipment such as genie lifts and fork lifts, along with interactive activations such as a live muralist, photo booths, ESPN The Magazine imagery through video/custom paneling, and a 400-foot long projection of sports imagery and original content at the event entrance.
Also Read: Max Kellerman on Going From Well Known to 'First Take' Famous (Exclusive)
Taylor Swift
DIRECTV NOW Super Saturday Night
Club Nomadic, 2121 Edwards St., Houston
Saturday, Feb. 4, 11:30 p.m.

Known for: Private concert parties for past and future Super Bowl halftime performers, playing full length shows.
When Jay-Z, Beyonce and Tiesto played this event in New York City (2014), Justin Timberlake emerged from hiatus in New Orleans (2013), Katy Perry rocked Indianapolis (2012) and Usher danced through a snow storm in Dallas (2011), all of those Super Bowl halftime alums and contenders were one-off gigs for the artist with DirecTV.
Not so with 10-time Grammy winner Ms. Swift.
Swift entered into a multi-year, multi-platform media deal with AT&T (DirecTV's parent company) last fall that has her providing exclusive content to their various platforms, from TVs to phones. Some of the Swift concert will air on her dedicated DirecTV NOW channel, "Taylor Swift NOW," the streaming over-the-top service that has edged out big brother DirecTV for naming rights to this mega bash, co-hosted by Mark Cuban's AXS TV.
Also Read: Taylor Swift Channel Is Coming Soon to DirecTV
Local news in Houston has been covering the construction of the 62,500 square foot temporary structure (1 million pounds of steel, 150 truckloads of concrete) and reporting on how to shuttle into the venue. Building it just for the weekend, it may be a blunder of Rex Ryan proportions that they chose not to have any on-site parking for a building 4,000 square feet larger than the field at Fenway Park in Boston. Expect tons of traffic and tons of people, as 9,000 people have been invited.
Diplo, Nas, Big Sean and DJ Cassidy
Rolling Stone Live: Houston
Saturday, Feb. 4, 9 p.m.
Museum of Fine Arts (1001 Bissonnet St., Houston)

Known for: Chart topping musical performers and celebrities showing up as fans.
Last year, Steph Curry traveled across the bridge after a Golden State Warriors game to hit the Rolling Stone bash in San Francisco with Avicii.
That's the varsity level of celebrities that can be expected in the crowd and on stage at the event that has gained momentum over the last several years going back to 2012 in Indianapolis. This year's lineup is festival worthy: Major Lazer, Jack Ü, Sundance maestro Diplo, Nas, Big Sean (fresh from "Saturday Night Live") and the outstanding-on-his-own DJ Cassidy (the most fashionable gold mic'd man behind the turntables.)
Budweiser is the official beer partner for this bash.
Also Read: Super Bowl 2017: Travis Scott, DJ Khaled to Headline Maxim Party (Exclusive)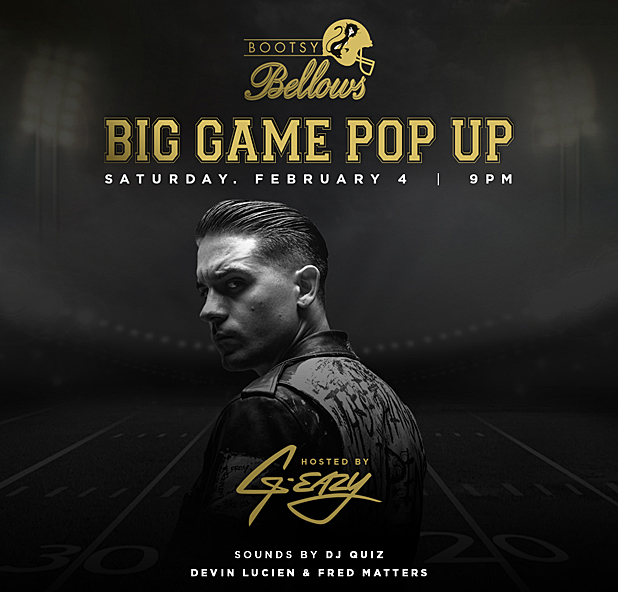 G-Eazy, Chris Evans, David Arquette and the L.A. Social Scene
Bootsy Bellows Big Game Pop Up
Saturday, Feb. 4
VRSI; 820 Holman St.
Known for: The purest export of L.A. nightlife, rife with Hollywood. socialites and the celebrity company they keep.
John Terzian, Brian Toll and The h.wood Group (The Nice Guy, Delilah, Peppermint, Bootsy Bellows) routinely host Justin Bieber, the Kardashian clan, and any celebrity looking for a semi-private night out, even if it is a Tuesday. The discretion carries over to Houston, as the invite warns "no cameras inside." G-Eazy hosts, with Bootsy's co-owner David Arquette, Chris Evans and DJ Devin Lucien expected at the event sponsored by Red Bull, Absolut ELYX, Avion Tequila, Martell Cognac and Zappos.
Also Read: Puppy Bowl 2017: Meet the Adorable Starting Lineup (Photos)
Leigh Steinberg's 30th Super Bowl Party
Saturday, Feb. 4, 12-4 p.m.
Hughes Manor, 2811 Washington Ave., Houston
Known for: Veteran athletes you grew up watching and the super agent's veteran status on the Super Bowl weekend party circuit.
Steinberg has represented NFL legends like Troy Aikman, Steve Young and Ben Roethlisberger. In past years, this party has drawn everyone from then-U.S. Senator Barack Obama and Oliver Stone, to George Clooney, Cowboys owner Jerry Jones and TV super agent Jeremy Piven. Expect to see seven members of the 2017 NFL draft class already signed up with Steinberg making the rounds at this event.
2 Chainz
New Era
Friday, Feb. 3
Vrsi Nightclub

Known for: Top music and sports stars decked out in sweet New Era threads and one very loyal Falcons fan on the mic.

Rap star and Georgia native 2 Chainz will be the star of the show at New Era's exclusive party Friday night, which also has Migos, DJ Ace (Trey Smith/Will Smith's son) and rapper Lil Uzi Vert performing. Those not on the very, very VIP list can attend fan events at NRG Stadium and Houston Galleria's LIDS Store on Thursday, with Carolina Panthers' Greg Olsen and hip-hop star Bun B in attendance, respectively. New Era will also be releasing a new signature Super Bowl LI cap and attempting to break the Guinness World record for largest cap mosaic ever (see, we told you everything was bigger in Texas).
Also Read: Patriots Star Rob Gronkowski Fields Pitches From Entrepreneurs on Verizon go90's 'MVP'
Ja Rule, Ashanti
The Barstool Party
Friday, Feb. 3., 9 p.m.
Rich's Houston (2401 San Jacinto St.)
Known for: "Viva La Stool!"
"We're the best, brightest, and funniest, but only [our fans] know that," Barstool founder Dave Portnoy said in his YouTube video from Times Square last month, announcing his popular sports and comedy media brand's acquisition by Peter Chernin's The Chernin Group.
Subsequently, in the midst of relocating Barstool from Boston to New York to help broaden their footprint, El Presidente (as Portnoy is called) and his team have managed to port their "Barstool Rundown," a day-and-date news and comedy show, to a limited run of nightly specials on Comedy Central from Houston, beating out the Daily Show as the #1 show for Comedy Central each day this week so far (as of Wed. Feb 1).
They will cap the week with a party featuring "Always on Time" duo Ja Rule and Ashanti that is "open bar and 90% invite only" per Barstool.
"If you're wondering, 'Hey how do I get to this party?', you're probably not invited," Portnoy says in a promo video. "If you're wondering, 'Hey, do I have a enough money to buy a ticket for this party?', you probably can't afford it. Hell, I don't even know if we're selling tickets." As of Wednesday (Feb. 1), the website still says "Tickets coming soon."
Marcellus Wiley, ESPN's own DJ Dat Dude
Rosenhaus Sports Representation & Thuzio Executive Club Party
Saturday, Feb. 4, 7-11 p.m.
Clutch Bar, located in Houston's "The Heights" neighborhood
Known for: Host Drew Rosenhaus is the agent to the stars when it comes to the sports world, boasting NFL greats such as Rob Gronkowski, Ted Ginn Jr. and Torrey Smith (more notorious former clients include Chad "Ochocinco" Johnson and Johnny Manziel).
"60 Minutes" dubbed super agent Rosenhaus "one of the football's most valuable players" — so expect MVP-status athletes (and be prepared to feel short) at his private event partnered with Thuzio Executive Club, a business entertainment membership organization co-founded by Tiki Barber. Sporting legends Brett Favre, Charles Woodson, Kelli Tennant, Lance Briggs, Steve Mariucci, Cameron Erving, Eddie Lacy, Jarvis Green, Takeo Spikes and J.J. Stoke all attended Thuzio Executive Club's "Legends of the Game" party in San Francisco last year.

ESPN "SportsNation" host Marcellus Wiley is hitting the decks after proving himself to be talented DJ at the Espys after party in July.
Flo Rida
Fanatics Super Bowl Weekend Party 
Saturday, Feb. 4 1-5 p.m.
The Ballroom at Bayou Place, 500 Texas Avenue, Houston
Flo is gonna have a busy weekend! The "My House" singer is going to be almost as busy as the players Super Bowl weekend as he headlines the Fanatics afternoon party, before heading out for his late-night duties. The Florida-based rapper will be joined by Shaquille O'Neal, Odell Beckham Jr., Alyssa Milano, Adrian Peterson and countless others celebrating the purveyor of authentic sports merchandise. 
We hear the skyline view from Bayou Place is a pretty cool spot to watch the sunset over Houston, too.
Michael Phelps, Josh Brolin, David Schwimmer, Rob Riggle and Common
Big Game, Big Give 2017
Saturday night, Feb. 4
The Holthouse Estate

Known for: Blockbuster movie director Michael Bay's involvement for several years.
The Giving Back Fund's "Big Game, Big Give" is an older and more wealthy crowd than what you will find at Maxim or Playboy (See: Josh Brolin billed as the "Celebrity Host"). It is a charitable event that has attendees opening their wallets, not just posing for photos with past boldface guests like Alec Baldwin, Chris Rock and Aaron Rodgers. L.A. power firm Sunshine Sachs (The Golden Globes, Facebook, "Lion's" Oscar campaigning) are giving it a push.
A second stage of the night begins after the party. For $2,000, the general public can buy into a poker game on-site run by poker champ Jamie Gold, Phelps and Riggle, presented by BBO Poker Tables.
Wheels Up Super Saturday Tailgate
Saturday, Feb. 4, 1-5 p.m. 
Silos at Sawyer Yards, 1502 Sawyer St, Houston, Texas
Celebrity private jet service Wheels Up — think Uber for planes, which sure beats flying coach — is hosting its Super Saturday Tailgate bash on Saturday afternoon for invited guests only and, no doubt, some of their VIP clients. Stars who regularly skip the TSA lines by being members of the elite flying club include Serena Williams, "Entourage" creator Doug Ellin, NASCAR driver Joey Logano, Fox Sports host Erin Andrews, New England Patriots tight end Rob Gronkowski and ESPN college football anchor Kirk Herbstreit.
Turner Ignite Sports Luxury Lounge
Daytime Lounge: Saturday, Feb. 4, 12 p.m.
Bar Bleu, 2506 Robinhood St., Houston
Known for: We don't know. This is its first year.
The gifting suite returns to Super Bowl weekend after a nearly suite-less Sundance and the challenged model's rare appearances at recent sports weekends. Sports broadcasting behemoth Turner engages its branded content arm (Ignite) to Houston, touching the ripe NFL that lays outside its current broadcast rights for NBA, MLB, NCAA, PGA and eSports coverage.
Soul Cycle, Ralph Lauren, State Bags, Displae, and Chevron (it's Houston, of course an oil company is here) are joining the suite.
Also Read: Rob Gronkowski Named 'Madden NFL 17' Cover Athlete
#SuperStyle Week  
River Oaks District, Houston
Adrian Peterson, Malcolm Jenkins, Charles Woodson, Terrell Owens and Tracy McGrady are among the fashionable sports stars hosting events for #SuperStyle Week in the River Oaks District, the Rodeo Drive of Houston.
Among the brands and athletes participating are L.A. pop-up shop Alba, Owens' ProToType 81, Peterson hosting the launch of Giuseppe Zanotti's new spring collection to benefit the All Day Foundation, Jenkins partnering with Davidoff of Geneva to present his Rock Avenue Bowtie Collection, and McGrady hosting an exclusive preview of Roberto Cavalli's couture gowns.
Ticketed Events Open to the General Public and/or Bottle Service Buyers
Travis Scott and DJ Khaled,
Maxim Party; Saturday, Feb. 4
Smart Financial Centre in Sugar Land
Known for: A gold-plated legacy in 21st century Super Bowl weekend celebrations for centralizing the worlds of celebrity, pop culture and media movers — from Justin Bieber to Vince Vaughn and CBS boss Les Moonves.
Host Karma International knows how to pull out all the stops, and this time they've partnered with personal injury attorney and philanthropist Thomas J. Henry to present the bash which is destined to be full of big name stars and beautiful women (it is Maxim, after all). Last year's Dodge Thrill Ride Experience in San Francisco is replaced by the Monster Energy FMX Motorcycle Show, the Monster Energy Lounge and the "Zippo Car" photo experience.
Tao
TAO is taking over Houston with a full weekend of events, one of which partners with the legendary Playboy magazine. See the highlights below.
DJ Carnage on Thursday, Feb. 2
RL Grime on Friday, Feb. 3
Flo Rida at the Playboy Party on Saturday, Feb. 4
Stevie J at Miami's Liv Party on Sunday, Feb. 5
TAO and The Clé Group 
Spire Nightclub, Midtown Houston 
Known for: High-tier talent and a bevy of stunning, scantily-dressed bunnies.
Playboy is back — and teaming up with TAO for one helluva party on Saturday night with Flo Rida proving that it's his "House." After performing at the College National Championship last month in Tampa — and daring to go on the Gronk Party Cruise — Flo knows how to hang with football players and their rambunctious entourages.
Marquee
Known for: A nearly 24-hour-a-day thump in Vegas with the indoor temple of EDM and the adjacent outdoor pool club that even has a dome for winter pool parties taking place this winter.
Seeing Tiesto, Skrillex and DJ Snake step behind the decks at a Marquee event will be rare. Tiesto is the face of rival Hakkasan Group while Skrillex and Snake are exclusive to rival Wynn Nightlife's venues in Vegas with long term residencies.
DJ Vice on Thursday, Feb. 2
Tiesto on Friday, Feb. 3
Skrillex on Saturday, Feb. 4;
DJ Snake on Sunday, Feb. 5
NIGHTMRE, Sunday, Feb. 5 After hours
Marquee at Clé Nightclub, Midtown Houston 

Migos and DJ Spade
1 OAK Big Weekend Pop Up
Saturday, Feb. 4, 10 p.m.-2 a.m.
1911 Bagby St. Houston
Sunset Blvd's hip club 1OAK is also heading West down the 10 freeway to Houston to take over a three-story event space with hip-hop group Migos headlining. Expect their cool clientele and celebrity regulars to follow suit. Tickets can be purchased here from Saturday, Jan. 28 onwards.
StubHub Live: The Houston Huddle
Sunday, Feb. 5, 9:30 a.m.-kickoff
Bayou City Event Center
The ticket outlet favored by thousands of Patriots and Falcons fans scrambling to get Super Bowl tickets, StubHub is hosting its annual BBQ tailgate party. Last year, guests got to geek out on roller coasters at the California's Great America theme park next to Levi's stadium. And while we can't guarantee such scream-inducing thrills at this year's StubHub Live: The Houston Huddle — there'll be plenty of beer, food, fun and former football players, plus a live broadcast by CBS sports guru host Jim Rome.
The more daring in the crowd can hop on the mechanical bull (it kinda feels like getting tackled by a pair of linebackers), do target practice with air cannons, or pre-game with beer pong. The event is complimentary for fans who buy Super Bowl tickets on StubHub.
Click here for details.
Please send invites, updates, and details to the writers Debbie Emery here and Mikey Glazer here.