This preview focuses on private, invite-only events aimed at an industry audience. For events open to the general public, scroll to the bottom.
The weather outside was frightful, but the Super Bowl was so delightful …
Guaranteed to be the coldest Super Bowl week on record, the cold temperatures aren't going to deter Hollywood stars and sports personalities from flocking to Minnesota, Minneapolis, ahead of Super Bowl LII on Feb. 4.
This year features Tom Brady and the New England Patriots (again!) taking on Nick Foles and the Philadelphia Eagles in a Super Bowl XXIX rematch. The Pats won that 2005 game in a 24-21 nail-biter, and only time will tell if history repeats itself.
Also Read: Super Bowl LII 'Get In' Price Drops by $2,000, StubHub Study Says
But long before the first snap is taken in U.S. Bank Stadium — which thankfully has a fixed roof so will be warm and cozy inside — Maxim, DirecTV, Bootsy Bellows, Playboy, Rolling Stone and a slew of other parties will attract some of the biggest stars in the sports and entertainment worlds to Minneapolis.
TheWrap will be there, once again, bringing behind-the-scenes insight from the hottest parties, the most exclusive events and, of course, the Super Bowl itself as 40-year-old Brady tries to make history by earning himself a sixth ring.
Check out all the hottest invites for the weekend of Feb. 1-4 leading up to kick off at 3:30 p.m. PT on Super Bowl Sunday.
Also Read: Marshmello, Post Malone, Cardi B Set to Heat Up Maxim's Super Bowl LII Party (Exclusive)
Thuzio | Rosenhaus Party
Friday, Feb. 2, 2018; 6-10 p.m.
The Exchange & Alibi Lounge, 10 S. 5th Street
Super agent Drew Rosenhaus (of Rosenhaus Sports Representation, pictured below with Brady) is teaming up with Thuzio co-founder and former NFL player Tiki Barber for an exclusive, invite-only event on the Friday before SBLII. VIP guests will enjoy a premium open bar, specialty cocktails, game day-inspired hors d'oeuvres, and music from a local DJ at this exclusive, athlete- and celebrity-filled bash.
Last year's party in Houston attracted star athletes such as LeSean McCoy, Brett Favre, Brandon Marshall and Carlos Dunlap as ESPN's Marcellus Wiley did a special DJ set.
Rolling Stone Live: MINNEAPOLIS
Friday, Feb. 2; 9 p.m.
International Market Square, 275 Market Street
Rolling Stone has become synonymous with Super Bowl weekend over recent years, and the 2018 party features Grammy Award-nominated multi-platinum supergroup Migos (plus additional special guests to be announced). Presented by Mercedes-Benz and produced by Talent Resources Sports, Rolling Stone is also partnering with TIDAL to livestream the event.
"After celebrating 50 years of Rolling Stone in 2017, we are delighted to kick off the new year with our 7th annual event during the biggest weekend in football with the hottest name in hip-hop today — Migos," said Michael Provus, Chief Revenue Officer, Rolling Stone. "We're thrilled that Mercedes-Benz has returned as our presenting sponsor this year in association with TIDAL to enhance this evening for our guests."
Mercedes-Benz will be onsite showcasing some of the brand's newest vehicles including the highly anticipated all-new 2019 G500 alongside two of the fastest vehicles in the line-up, the Mercedes-AMG GT R and Mercedes-AMG GT C Roadster — and a few lucky guests will get a ride to the party in style.
Leather & Laces
Friday, Feb. 2
700 N. 5th Street in Minneapolis
Boston native and diehard Patriots fan Donnie Wahlberg is set to host the 15th Annual Leather & Laces party — with a little help from wife/SiriusXM host Jenny McCarthy and Flo Rida. Illusionist Jim Karol USA and DJ Automatic are also set to perform. The 36,000 square-foot event space in downtown Minneapolis will include a "Bacardi Filling Station" and "The Grey Goose Lounge."
No word yet on if guests will be fed burgers from the family restaurant chain, Wahlburgers.
The h.wood Group "Big Game Experience"
Friday, Feb. 2; 11 a.m.-2 a.m.
The h.wood Group's Bootsy Bellows, IFA and ELEVATION Sports Marketing's "6th Annual Big Game Experience" is so big that it stretches over three events. The festivities kick-off at 11 a.m. at the The Machine Shop at 300 2nd St. SE with the "Inside the Game: Insider Hall of Fame" luncheon and Q&A panel hosted by ESPN's Mike Greenberg and Sam Ponder, and featuring NFL stars Adam Thielen, Jerome Bettis and Ray Lewis.
Next up is the "Foxx & Friends Dinner," as in Oscar-winner Jamie Foxx (above), with his friends including the biggest man in the basketball, Shaquille O'Neal (a.k.a. DJ Diesel) on the decks.
The trifecta closes out with Hollywood super-club action as the "Bootsy Bellows Big Game Pop Up" presents guest rapper 21 Savage, drinks courtesy of Absolut Elyx, Perrier Jouet, and Budweiser, and late-night snacks from McDonald's.
31st Annual Leigh Steinberg Super Bowl Party with Chris Cabott
Saturday, Feb. 3; noon-4 p.m.
700 N. Fifth St., Minneapolis
Mega sports agent Leigh Steinberg hosts his traditional party the afternoon before Super Bowl, which this year is co-hosted by Steinberg Sports & Entertainment COO Chris Cabott.
Past NFL and entertainment luminaries who have attended include Kevin Costner, George Clooney, LL Cool J, Gabrielle Union, T.I., Andre 3000, Jeremy Piven, Cameron Crowe, Oliver Stone, Serena Williams, Barack Obama, Jerry Brown and NFL team owners Jerry Jones (Dallas Cowboys), Robert Kraft (New England Patriots) and Woody Johnson (New York Jets).
This year's party includes the presentation of the Steinberg DeNicola Humanitarian Awards, which recognize individuals in the NFL family for outstanding contributions to community issues and the welfare of their fellow man.
Also Read: Move Over Tom Brady, Maria Menounos Is StubHub's Super Bowl LII Quarterback (Video)
Fanatics
Saturday, Feb. 3; 1-5 p.m.
Lumber Exchange Event Center, Hennepin Ave. in Minneapolis
Appealing to fans of every NFL team, Fanatics (purveyor of authentic official licensed sports merchandise) is hosting an afternoon event featuring a special surprise performance by Grammy-nominated artists (TBA). Past attendees include Wiz Khalifa, Odell Beckham Jr., Alex Rodriguez, Robert Kraft, Bon Jovi, Alyssa Milano and Shaquille O'Neal, many of whom are expected to make an appearance this year.
Playboy's Big Game Party
Saturday, Feb. 3
For the first Super Bowl since founder Hugh Hefner's death, Playboy is joining forces with Talent Resources Sports for their annual Big Game Weekend Party. This year's festivities will be hosted by the man himself,  DJ Snoopadelic, a.k.a. Snoop Dogg.
"Nobody throws a party like Playboy on what is going to be one of the biggest party weekends of the year," David Spencer, Founder and Co-CEO of Talent Resources Sports, said in a statement to TheWrap. "This event is a kick off to a slate of additional events we're looking to announce with Playboy this year."
Along with beautiful Playmates and charming Bunny Servers, previous past guests have included Flo Rida, 50 Cent, Drake, Bradley Cooper, Kanye West, Gabrielle Union, Chris Evans and Jon Hamm.
Jennifer Lopez Headlines DIRECTV NOW Super Saturday Night
Saturday, Feb. 3
NOMADIC LIVE! at The Armory, 500 South 6th St. 
Will we see "Jenny from the Block" storm the stage at Super Bowl LIII next year in Atlanta? DirecTV's annual "Super Bowl Eve" megabash is a crystal ball. As the second-biggest stage of the weekend aspiring (and former) half time headliners make a habit of giving a private crowd of industry and celebrity tastemakers a massive private party performance.
Justin Timberlake held this post in New Orleans in 2013, the night before Beyonce's taxing production (maybe) blacked out the Superdome. One year later, Beyonce went from the big game to the big apple, headlining DirecTV's concert in New York with a special appearance by Jay Z. Three years before the "left shark" went viral during halftime, Katy Perry racked up DirecTV's 2012 outing in Indianapolis. Anthony Kiedis, Flea, and the Red Hot Chili Peppers guested during Bruno Mars' first halftime performance in New York, two years before they headlined for DirecTV at the San Francisco Super Bowl in 2016. The list goes on.
This year, the party isn't reserved for just the few thousand lucky invitees. AT&T will broadcast J.Lo's performance live on the AT&T Audience Network (DirecTV Ch 239, U-verse Ch 1114 and DirecTV NOW) and the DirecTV Now social media handles at midnight ET/9 p.m. PT.
A huddle of social media stars including David Dobrik, Chachi Gonzales, Scotty Sire, Toddy Smith, and Waffsicle have been creating video collaborations with Lopez to promote the event. Those six and more will get "On the Floor" at the Armory on Feb. 3.
The MAXIM Party produced by Karma International
Saturday, Feb. 3; 8 p.m.
Downtown Minneapolis (location TBA)
Musician Post Malone, EDM DJ Marshmello (below) and rapper Cardi B are all set to perform at the 2018 Maxim Party, once again produced by Karma International and presented by powered by super-club E11EVEN MIAMI.
The high-profile bash will take place in a 51,000-sq. ft. event complex just two miles from U.S. Bank Stadium, which will feature Polaris Slingshot three-wheeled roadsters that guests can ride to take Instagram-worthy pics. Sponsors include Rockstar Energy Drink, Captain Morgan rum, Bud Light, blu electronic cigarettes, and Altec Lansing. Music entertainment company Phantom was responsible for curating the music line up.
VIP guests at last year's Maxim Super Bowl party in Houston included Joe Jonas and Fergie, while Justin Bieber was one of the stars spotted at the San Francisco bash in 2016.
Also Read: 9 Things You Didn't See on TV From the New England Patriots v Oakland Raiders in Mexico City
StubHub Field House Party
Sunday, Feb. 3 before Super Bowl LII
Target Field adjacent to U.S. Bank Stadium
Before her beloved Patriots play in the Super Bowl once again, Maria Menounos will be hosting the biggest pre-game fan event of the week, "StubHub Live: Field House," which is a complimentary event for StubHub Super Bowl ticket buyers.
"The pre-party at the Field House for fans is where everyone gets their StubHub tickets before the game, so that party really sets the tone of the day," Menounos told TheWrap. "I am the honoree quarterback, and I am pretty much an expert on how to have the best time ever at a Super Bowl."
Get a peak at Menounos' playbook in the video below.
NFL on Location Pre-Game Concert
Sunday, Feb. 3
U.S. Bank Stadium
While Justin Timberlake will be playing the halftime show, it's Kelly Clarkson who is the star of the exclusive "NFL on Location" concert at 52 Live at The Armory just hours before kickoff of Super Bowl LII. The "American Idol" alum will be joined by Dante on the decks (Patriots' star Rob Gronkowski's favorite DJ), and celebrity chef Andrew Zimmern.
Ticketed/Open to the Public
TAO Group Takeover in Minneapolis
Lumber Exchange Building
10 South 5th St.
Fresh off the mountains of Park City where the hospitality heavyweight kept Idris Elba, Post Malone, will.i.am, Emma Roberts and the Sundance it-crowd dancing in a private pop-up until 4 a.m. on a Monday morning, the team behind TAO, Marquee, Lavo, and Avenue sets its sights on an even colder patch to colonize.
With various partners, including Element Electronics, they have a four night lineup spanning 47,000 square feet ready to drain your viking soul. Unlike Sundance, and some of their regular nights around the country, these are not all VIP-only. Some tickets are available to the public, but you don't want those. "Tables," or it didn't happen. Throw your hat in the ring for a reservation here.
Thursday, Feb. 1
DJ Irie, Rick Ross, and Lil Jon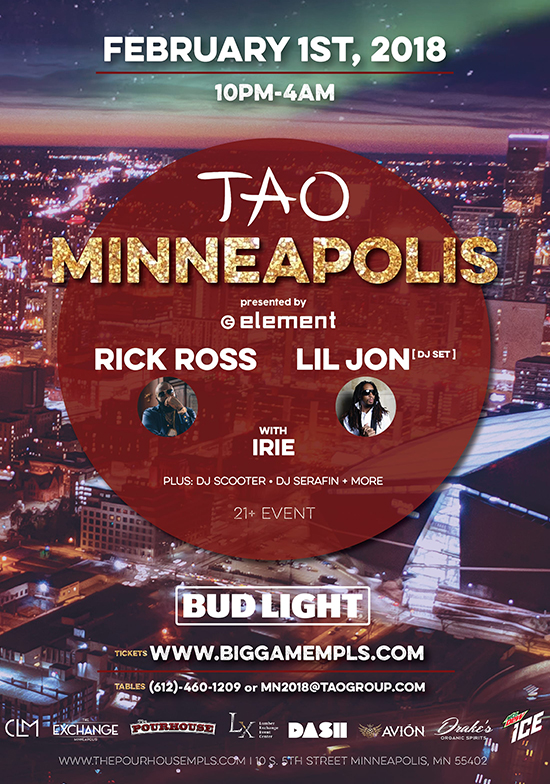 Friday, Feb. 2
NBC Sports "Best Feb Ever"
301 2nd Ave S., Minneapolis
Airing both Super Bowl LII and the XXIII Olympic Winter Games this month, NBC is predicting that February will be pretty damn good. The network is celebrating with an interactive fan experience from Feb. 1-3 in four cities: New York, Los Angeles, Minneapolis, and Philadelphia.
They'll be displaying large-scale mystery boxes with countdown clocks on the outside, as it counts to zero each day the box will open, unveiling a special guest who will either host a variety of fan activities or perform an impromptu concert. Oh, and there'll be lots of giveaways — from Super Bowl and Olympics merchandise to tickets.
If you're in Minneapolis, look out for the Super Bowl Live/Best Feb Ever Bus outside the Minneapolis Convention Center. If you can't make it, you can still win big by visiting BestFebEver.com, where the countdown will be livestreamed each day.
Pepsi Generations Live Pop-Up Experience
6 p.m
Nicollet Island Pavilion in Minneapolis
The Pepsi Generations campaign is set to launch during Super Bowl LII, and in celebration of that the soft drink company is hosting a live pop-up event to help fans relive some of its most meaningful moments during the NFL's biggest weekend.
Kicking off the night with the 2018 NFL Rookie of the Year presentation, fans will witness a special performance by CMT nominees LOCASH with and other celebrity guests. Attendees can relive some of the most iconic Pepsi campaigns, from Ray Charles to the famous Halfway Café.
Barstool Sports Party at Tao
Beware of the stoolies.

Barstool Sports joins in the fun. As a special, you can catch Kaskade. In Las Vegas, Kaskade is exclusive to rival Hakkasan group's properties making this a rare appearance with Noah Tepperberg and Jason Strauss. Pro tip: When Shaquille O'Neal gets on the turntables, that's the best time to go wait in the bathroom line. Come back when Jamie Foxx gets on the mic.
Saturday, Feb. 3


G-Eazy knows how to party. Matched with Afrojack, this will be combustible. Before the Palms in Vegas gets a $485 million facelift to recapture some of it's early 2000's heat, the casino co-hosts this Super Bowl eve event while the traveling feast of nightlife culture is in town.
Sunday, Feb 4.
Dave Grutman and crew's famous hip hop playground – where fresh NBA champs go instead of Disney World, rap beefs get hashed out, and Lil Wayne's second home since 2009 – imports its own Stevie J from South Beach to the frozen north. After the big game, expect to see a few players in here, making this the big party weekend's dessert.
Please send invites, updates, and details to the writers Debbie Emery here and Mikey Glazer here.