To the surprise of just about nobody, Jean-Luc Godard has notified the Academy that he will not attend the Governors Awards to receive his honorary Oscar on Nov. 13.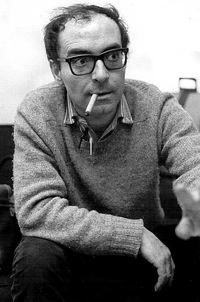 An AMPAS press release stated, "following a two-month-long cordial exchange of correspondence with Academy president Tom Sherak, Jean-Luc Godard has regretfully notified Sherak that he will not be able to attend the November 13th Governors Awards and receive his Honorary Award in person.
"'He reiterated his thanks for the award,' reported Sherak, 'and also sent his good wishes to the other individuals being honored the same night – Kevin Brownlow, Francis Ford Coppola and Eli Wallach – who he refers to as "the three other musketeers."' "
From the moment Godard was chosen to receive the honor – a decision made by the board of governors knowing that he might not attend—the eccentric director was widely thought to be an unlikely guest at the event. Over the past decades, he has rarely accepted honors in person.
Godard did, however, engage in friendly correspondence with the Academy, once it was able to get the news to him several days after the decision was made.