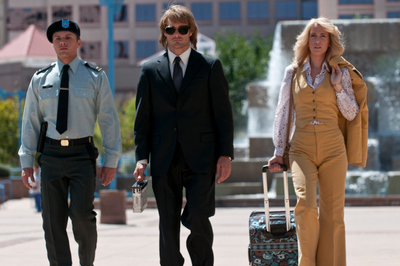 The world premiere of Jorma Taccone's "MacGruber" (left), as well as Jay & Mark Duplass' "Cyrus," Shane Meadows' "Le Donk & Scor-zay-zee" and Steven Soderbergh's "And Everything Is Going Fine," are among the films set to unspool at this year's South by Southwest Film Conference and Festival in Austin, Texas.
From March 12-20, 119 features will be screened, including 55 world premieres. They were selected from a record 1,572 feature-length film submissions, 1,206 from the U.S. and 366 international.
Opening night will feature Matthew Vaughn's "Kick-Ass."
Also in the lineup: Bernard Rose's "Mr. Nice" (right), Tim Blake Nelson's "Leaves of Grass," Jean-Pierre Jeunet's "Micmacs," Michel Gondry's "The Thorn in the Heart,"
Alexandre O. Philippe's "The People vs. George Lucas," Matt Harlock and Paul Thomas' "American: The Bill Hicks Story" and documentaries "Hubble 3D," "Lemmy," "Saturday Night" and "The White Stripes: Under Great White Northern Lights."
"It was an incredibly competitive year with record submission numbers, and although we had to make really tough decisions, we are extremely excited about this lineup," festival producer Janet Pierson said in a statement.
"We feel we've achieved a great balance that continues our tradition of screening films across all budget lines and styles, and we take particular pride in witnessing the evolution of SXSW alumni as well as the vitality of fresh voices."
Eight narrative features and an equal number of documentaries will vie for the Grand Jury Prizes in their categories.
The narrative feature competition includes "Brotherhood" (directed by Will Canon), "Dance With the One" (Mike Dolan), "Earthling" (Clay Liford), "Helena From the Wedding" (Joseph Ifantolino), "The Myth of the American Sleepover" (David Robert Mitchell), "Phillip the Fossil" (Garth Donovan), "Some Days Are Better Than Others" (Matt McCormick) and "Tiny Furniture" (Lena Dunham).
In the documentary feature category, contenders are "Beijing Taxi" (directed by Miao Wang), "Camp Victory, Afghanistan" (Carol Dysinger), "The Canal Street Madam" (Cameron Yates), "Dirty Pictures" (Etienne Sauret), "For Once in My Life" (Jim Bigham and Mark Moormann), "Marwencol" (Jeff Malmberg), "Pelada" (Luke Boughen, Rebekah Fergusson, Gwendolyn Oxenham and Ryan White) and "War Don Don" (Rebecca Richman Cohen).
Other sections in the festival include Lone Star States (films with a connection to Texas), 24 Beats Per Second (showcasing music and musicians), SX Global (international nonfiction), Festival Favorites (standouts and premieres from other film festivals), Midnighters, SX Fantastic (selected by Fantastic Fest programmers), Special Events (live soundtracks, cult reissues, IMAX, 3D, etc.). Visit www.sxsw.com/film for more information and updates.
From the SXSW press release:
The comprehensive lineup, by section and with synopsis descriptions, follows below. The final panel and conference lineup as well as the short film program will be announced next week.
HEADLINERS
Big names, big talent: Headliners bring star power to SXSW, featuring red-carpet premieres and gala film events with some major and rising names in cinema.
Films screening in Headliners are:
Cyrus
Directors and Screenwriters: Jay and Mark Duplass
With John's social life at a standstill and his ex-wife about to get remarried, a down on his luck divorcee finally meets the woman of his dreams, only to discover she has another man in her life – her son. Written and directed by Jay & Mark Duplass, the iconoclastic filmmaking team behind The Puffy Chair, Cyrus takes an insightful, funny and sometimes heartbreaking look at love and family in contemporary Los Angeles. Cast: John C. Reilly, Jonah Hill, Marisa Tomei, Catherine Keener, Matt Walsh
Get Low
Director: Aaron Schneider, Screenwriters: Chris Provenzano and C. Gaby Mitchell
A film spun out of equal parts folk tale, fable and real-life legend about a mysterious, 1930s Tennessee hermit who plans his own rollicking funeral party… while still alive. Cast: Robert Duvall, Bill Murray
Kick-Ass
Director: Matthew Vaughn. Screenwriters: Jane Goldman and Matthew Vaughn
A twisted, funny, high-octane adventure, based on the comic written by Mark Millar and John S. Romita, Jr. The film tells the story of average teenager Dave Lizewski, a comic-book fanboy who decides to take his obsession as inspiration to become a real-life superhero. Cast: Aaron Johnson, Christopher Mintz-Plasse, Mark Strong, Chloë Grace Moretz and Nicolas Cage. (World Premiere)
MacGruber
Director: Jorma Taccone. Screenwriters: Will Forte & John Solomon & Jorma Taccone
Will Forte brings his clueless soldier of fortune to the big screen in the action-comedy MacGruber.
Cast: Will Forte, Kristen Wiig, Ryan Phillippe, Powers Boothe, Maya Rudolph and Val Kilmer (World Premiere)
Micmacs / Micmacs à tire-larigot (France)
Director: Jean-Pierre Jeunet. Screenwriters: Jean-Pierre Jeunet and Guillaume Laurant
Drawing on one of France's most popular screen stars, the incorrigible Dany Boon from the comedy megahit Bienvenue chez les Ch'tis, as well as a cast of some of the country's best-known actors, Jeunet turns on the afterburners in this searing piece of romantic filmmaking set against the storm clouds of warring arms dealers. Cast: Dany Boon (U.S. Premiere)
Mr. Nice (United Kingdom)
Director and Screenwriter: Bernard Rose
The true story of Howard Marks. He was Britain's most wanted man. He spent seven years in America's toughest penitentiary. You'll like him. Cast: Rhys Ifans, Chloë Sevigny, David Thewlis, Luis Tosar, Crispin Glover, Omad Djalili. (World Premiere)
The Runaways
Director and Screenwriter: Floria Sigismondi
The Runaways follows two friends, Joan Jett (Kristen Stewart) and Cherie Currie (Dakota Fanning), as they rise from rebellious Southern California kids to rock stars of the now legendary group that paved the way for future generations of girl bands. Cast: Kristen Stewart, Dakota Fanning, Scout Taylor-Compton, Michael Shannon, Alia Shawkat, Tatum O'Neal.
SPOTLIGHT PREMIERES
Shining a light on new documentary and narrative features receiving their World, North American or US Premieres at SXSW.
Films screening in Spotlight Premieres are:
Audrey the Trainwreck
Director and Screenwriter: Frank V. Ross
Audrey the Trainwreck is a comedy about attempting to keep life simple, and the beauty of such an absurd pursuit. Most men live lives of quiet desperation – Ron's desperation is about to get loud. Cast: Anthony Baker, Alexi Wasser, Danny Rhodes, Rebecca Spence, Joe Swanberg, Jess Weixler & Nick Offerman (World Premiere)
Barbershop Punk
Directors: Georgia Sugimura & Kristin Armfield (Co-Director). Screenwriter: Georgia Sugimura
Keeping the independent/punk spirit alive, barbershop quartet fan Robb Topolski takes on the nation's largest cable company, only to find himself at the center of a federal investigation, inspiring a larger story of censorship, individual voice and access. Featuring interviews with Ian MacKaye, Damian Kulash of OK Go, Henry Rollins, Janeane Garofalo, John Perry Barlow among others. (World Premiere)
Barry Munday
Director and Screenwriter: Chris D'Arienzo
Barry Munday wakes up after being attacked to realize that he's missing his family jewels. To make matters worse, he learns he's facing a paternity lawsuit filed by a woman he can't remember having sex with.
Cast: Patrick Wilson, Judy Greer, Chloë Sevigny, Jean Smart, Malcolm McDowell, Cybill Shepherd, Billy Dee Williams (World Premiere)
Cold Weather
Director and Screenwriter: Aaron Katz
A former forensic science major and avid reader of detective fiction, who, after making a mess of his life in Chicago, returns to his hometown of Portland, Oregon. There, he, his sister Gail, and new friend Carlos become embroiled in something unexpected. Cast: Cris Lankenau, Trieste Kelly Dunn (World Premiere)
Elektra Luxx
Director and Screenwriter: Sebastian Gutierrez
A convoluted day in the life of recently retired porn superstar Elektra Luxx as she tries to make it in the straight world. Cast: Carla Gugino, Joseph Gordon-Levitt, Timothy Olyphant, Malin Akerman, Adrianne Palicki
(World Premiere)
Greenlit
Director: Miranda Bailey
It ain't easy bein' green. (World Premiere)
Hood to Coast
Directors: Christoph Baaden and Marcie Hume (Co-Director)
Hood to Coast follows four unlikely teams on their epic journey to conquer the world's largest relay race. Winning isn't everything in a documentary that takes a celebratory look at personal motivation and attempting the extraordinary. (World Premiere)
Le Donk & Scor-zay-zee
Director and Screenwriter: Shane Meadows
In this unpredictable, irrepressible ode to spontaneous filmmaking, Paddy Considine stars as rock roadie and failed musician, Le Donk. Along the way he's lost a girlfriend but he has found a new sidekick in up-and-coming rap prodigy Scor-zay-zee. With Shane Meadows' fly-on-the-wall crew in tow, Donk sets out to make Scor-zay-zee a star…with a little help from the Arctic Monkeys. Cast: Paddy Considine, Dean Palinczuk, Olivia Colman. (North American Premiere)
Leaves of Grass
Director and Screenwriter: Tim Blake Nelson
Tim Blake Nelson's Leaves of Grass is a comic thriller that weaves together the diametrically opposed lives of identical twin brothers, both played by two-time Academy Award® nominee Edward Norton.
Cast: Edward Norton, Keri Russell, Tim Blake Nelson, Melanie Lynskey, Richard Dreyfuss (U.S. Premiere)
Lebanon, Pa.
Director and Screenwriter: Ben Hickernell
Philly ad man Will travels to Lebanon, Pa. to bury his father. He meets his teenage cousin CJ and they form an unexpected bond, as both try to find their place in a splintered American landscape.
Cast: Josh Hopkins, Samantha Mathis, Mary Beth Hurt, Rachel Kitson, Iain Merrill Peakes (World Premiere)
Lemmy
Director: Greg Olliver and Wes Orshoski
This documentary delves into the personal and public lives of heavy metal icon and Motörhead frontman Lemmy Kilmister. Nearly three years in the making, and featuring appearances by such friends/peers as Metallica, Dave Grohl, Billy Bob Thornton and pro wrestler Triple H, the film follows Kilmister from his Hollywood bedroom to the hockey arenas of Scandinavia and Russia. (World Premiere)
Man on a Mission
Director: Mike Woolf
Man On A Mission is a feature length documentary that follows gaming millionaire Richard Garriott as he becomes the first second-generation American astronaut. (World Premiere)
No Crossover: The Trial of Allen Iverson
Director: Steve James
Steve James returns to his hometown of Hampton, Virginia, to examine the 1993 bowling alley brawl that landed Allen Iverson, the nation's top high school basketball player, in jail and divided the community along racial lines. (World Premiere)
One Night in Vegas
Director: Reggie Rock Bythewood
On the evening of 9/7/96, Mike Tyson attempted to regain the WBA title in Vegas. Sitting ringside was his friend Tupac Shakur. This ESPN Films documentary tells not only the story of that infamous night but of their remarkable friendship. (World Premiere)
The People vs. George Lucas
Director: Alexandre O. Philippe
A no-holds-barred cultural examination of the conflicted dynamic between George Lucas and his fans over the past three decades. (World Premiere)
The Ride
Director: Meredith Danluck
A journey into the heart of America through the rough and tumble, rock and roll world of bull-riding cowboys. (World Premiere)
Saturday Night
Director: James Franco
With unprecedented access to the behind the scenes process of the writers, actors and producers, Franco and his crew document what it takes to create one full episode of Saturday Night Live. (World Premiere)
The White Stripes: Under Great White Northern Lights
Director: Emmett Malloy
A visual and emotional feature length film documenting The White Stripes making their way through Canada and culminating with their 10th anniversary show in Nova Scotia. The film documents the band playing shows all over Canada; from local bowling alleys, to city buses, and onward to the legendary Savoy Theater for the 10th-anniversary show.
NARRATIVE FEATURE COMPETITION
This year's eight films were selected from 831 submissions. Each film is a world premiere.
Brotherhood
Director: Will Canon. Screenwriters: Will Canon and Doug Simon
When an initiation ritual spins dangerously out of control, one young man must stand up to save a friend's life. Cast: Jon Foster, Trevor Morgan, Arlen Escarpeta, Lou Taylor Pucci (World Premiere)
Dance With the One
Director: Mike Dolan. Screenwriters: Smith Henderson and Jon Marc Smith
An emotionally explosive thriller set in the troubled heart of Texas. Tragic family history rises to the surface when a teenager races to protect his family from a lethal drug-runner.
Cast: Gabriel Luna, Xochitl Romero, Gary McCleery, Mike Davis, Dana Wheeler-Nicholson (World Premiere)
Earthling
Director and Screenwriter: Clay Liford
Tragedy aboard the international space station triggers a discovery that some lives have been a lie.
Cast: Rebecca Spence, Peter Greene, Amelia Turner, William Katt, Matt Socia (World Premiere)
Helena From the Wedding
Director and Screenwriter: Joseph Infantolino
Newlyweds Alex and Alice Javal host a New Year's Eve party at a cabin in the mountains for their closest friends and an unexpected guest in this nuanced and often funny portrait of marriage and anxiety in the late blooming professional class. Cast: Lee Tergesen, Melanie Lynskey, Gillian Jacobs, Dagmara Dominczyk, Paul Fitzgerald, Dominic Fumusa, Jessica Hecht, Corey Stoll (World Premiere)
The Myth of the American Sleepover
Director and Screenwriter: David Robert Mitchell
Four young people cross paths as they navigate the suburban wonderland of Metro-Detroit looking for love and adventure on the last night of summer.
Cast: Claire Sloma, Marlon Morton, Amanda Bauer, Brett Jacobsen (World Premiere)
Phillip the Fossil
Director and Screenwriter: Garth Donovan
Centering around an aging party animal chasing the endless summer, Phillip The Fossil is an uncompromising and raw, portrait of everyday people who struggle in all their blemished glory for a life of meaning.
Cast: Brian Hasenfus, Nick Dellarocca, Ann Palica, Angela Pagliarulo, J.R. Killigrew (World Premiere)
Some Days Are Better Than Others
Director and Screenwriter: Matt McCormick
Why do the good times go by so fast while the bad times always seem so sticky?
Cast: Carrie Brownstein, James Mercer, Renee Roman Nose, David Wodehouse (World Premiere)
Tiny Furniture
Director and Screenwriter: Lena Dunham
22-year-old Aura returns home after college to her artist mother's loft with the following: a useless film theory degree, 357 hits on her YouTube page, and no shoulders to cry on. Starring Dunham and her real-life family, Tiny Furniture is tragicomedy about what does and does not happen when you graduate with no skills, no love life, and a lot of free time. Cast: Lena Dunham, Laurie Simmons, Grace Dunham, David Call, Alex Karpovsky
(World Premiere)
DOCUMENTARY FEATURE COMPETITION
This year's eight films were selected from 741 submissions. Each film is a world premiere.
Beijing Taxi
Director: Miao Wang
Through a humanistic lens, Beijing Taxi vividly portrays China undergoing a profound transformational arch in an era of Olympic transitions. The intimate lives of three cabbies connect a morphing cityscape and a lyrical journey through fragments of a society riding the bumpy roads to modernization. (World Premiere)
Camp Victory, Afghanistan
Director: Carol Dysinger
Using almost 300 hours of footage shot over the course of three years, Camp Victory, Afghanistan tells the story of the Afghan officers charged with building a new Afghan National Army and the U.S. National Guardsmen sent to mentor them. (World Premiere)
The Canal Street Madam
Director: Cameron Yates
An FBI raid on Jeanette Maier's infamous family-run brothel in New Orleans destroyed her livelihood. Stigmatized by felony, fearing recrimination from powerful clients and determined to protect her children, Jeanette sets out to re-invent herself. (World Premiere)
Dirty Pictures
Director: Etienne Sauret
An intimate portrait of the life and work of Dr. Alexander "Sasha" Shulgin, one of the world's most renowned chemists, who is considered by many to be the "Godfather of Psychedelics." (World Premiere)
For Once In My Life
Directors: Jim Bigham and Mark Moormann
The film takes an inspiring journey with a unique band of musicians with the common goal of making and performing music. Their story tells of the fine balancing act of taking on new challenges while living day-to-day with disabilities. This documentary shows what people can do when given a chance. (World Premiere)
Marwencol
Director: Jeff Malmberg
After a vicious attack leaves him brain damaged and broke, Mark Hogancamp seeks recovery in "Marwencol," a 1/6th-scale World War II-era town he creates in his backyard. (World Premiere)
Pelada
Directors: Luke Boughen, Rebekah Fergusson, Gwendolyn Oxenham and Ryan White
Away from the bright lights and manicured fields, there's another side of soccer. (World Premiere)
War Don Don
Director: Rebecca Richman Cohen
The war is over, a trial begins. (World Premiere)
EMERGING VISIONS
Innovation and creativity from new and emerging feature filmmakers, showcasing raw talent in documentary and narratives of varying premiere status.
Films screening in Emerging Visions are:
11/4/08
Director: Jeff Deutchman
Weaving together footage recorded throughout the world on the day Obama was elected President, this vérité documentary explores how people choose to live through "history." (World Premiere)
A Different Path
Director: Monteith McCollum
In an automobile dominated society, a cast of characters uses ingenuity and wit to forge a new way to commute. One by foot, one by bike, two by boat. (World Premiere)
American: The Bill Hicks Story (United Kingdom)
Directors: Matt Harlock and Paul Thomas
At last the true life story of the outlaw comic who tried to save the world. Three years in the making, using a stunning new animation technique, American: The Bill Hicks Story finally brings the amazing tale of one of modern culture's most iconic heroes to the big screen. (North American Premiere)
Bear Nation (Canada)
Director: Malcolm Ingram
What if your biggest perceived flaw became you greatest asset? Bear Nation is a thorough and stylistic examination of the sub culture sweeping gay culture, the sexualization of fat and hair. From the director of small town gay bar and Exec Produced by honorary bear Kevin Smith. (World Premiere)
Cherry
Director and Screenwriter: Jeffrey Fine
A college freshman gets a different kind of education when he falls for an older woman who has returned to school and her teenage daughter develops a crush on him.
Cast: Kyle Gallner, Laura Allen, Britt Robertson (World Premiere)
The Happy Poet
Director and Screenwriter: Paul Gordon
Bill, an out of work poet, puts his heart, soul, and last few dollars into starting an all-organic mostly-vegetarian food stand. Complications with the business jeopardize his dreams for a hot dog-free future. Cast: Paul Gordon, Jonny Mars, Chris Doubek, Liz Fisher, Amy Meyers-Martin (World Premiere)
Les Signes Vitaux / The Vital Signs (Canada)
Director and Screenwriter: Sophie Deraspe
The Vital Signs: the amount of life beings have… or lack thereof. Cast: Marie-Hélène Bellavance, Francis Ducharme, Marie Brassard, Danielle Ouimet, Suzanne St-Michel (U.S. Premiere)
Mars
Director and Screenwriter: Geoff Marslett
Set in 2014, Mars is an interplanetary animated feature about mankind's first mission searching for life, love, and adventure on the red planet. Told in the playful style of a graphic novel, MARS explores why we explore.
Cast: Mark Duplass, Zoe Simpson, Paul Gordon, Howe Gelb, Liza Weil, James Kochalka, Cynthia Watros, Michael Dolan, and Kinky Friedman (World Premiere)
NY Export: Opus Jazz
Director: Henry Joost and Jody Lee Lipes. Screenwriter: Jody Lee Lipes
This scripted adaptation of a 1958 jazz ballet by Jerome Robbins (West Side Story) takes the original choreography and returns it to the streets that inspired it in this tale of disaffected urban youth. Shot on 35mm on location all over New York City with dancers from the New York City Ballet. Cast: Dancers with New York City Ballet, Jerome Robbins. (World Premiere)
The Parking Lot Movie
Director: Meghan Eckman and Christopher Hlad (Assistant Director)
"It's not just a parking lot, it's a battle with humanity." The Parking Lot Movie is a documentary about a singular parking lot in Charlottesville, Virginia. The film follows a select group of Parking Lot Attendants and their strange rite of passage. Something as simple as a parking lot becomes an emotional weigh station for the American Dream. (World Premiere)
Passenger Pigeons
Director and Screenwriter: Martha Stephens
Set among the Eastern Kentucky Coalfields, Passenger Pigeons quietly interweaves four separate story lines over the course of a weekend as the town copes with the death of a local miner.
Cast: Kentucker Audley, Brendan McFadden, Bryan Marshall, Caroline White, Martha Stephens (World Premiere)
Putty Hill
Director and Screenwriter: Matthew Porterfield
A young man's untimely death unites a fractured family and their community through shared memory and loss. Cast: Sky Ferreira, Zoe Vance, Dustin Ray, Cody Ray (North American Premiere)
Red White & Blue (United Kingdom)
Director and Screenwriter: Simon Rumley
In Austin Texas, the lives of three young people "Erica, Franki and Nate" intertwine in a fateful, tragic way and head down a rocky and violent road to heart-rending oblivion.
Cast: Noah Taylor, Amanda Fuller, Marc Senter (North American Premiere)
Skeletons (United Kingdom)
Director and Screenwriter: Nick Whitfield
Skeletons is a surrealist comedy about two traveling salesmen in the business of cleaning skeletons out of people's closets. Cast: Andrew Buckley, Ed Gaughan, Paprika Steen, Tuppence Middleton, Jason Isaacs
(North American Premiere)
We don't care about music anyway… (France)
Directors: Cedric Dupire and Gaspard Kuentz
"We don't care about music anyway"…In other words, "we make it and that's all". Beyond the music and beyond its performance, the future and mode of existence of a city, and society as a whole, are in motion.
(North American Premiere)
World Peace and Other 4th-Grade Achievements
Director: Chris Farina
World Peace and Other 4th-Grade Achievements portrays John Hunter, a remarkable public-school teacher who has dedicated his life to teaching children the "work of peace." (World Premiere)
World's Largest
Directors: Amy C. Elliott and Elizabeth Donius
Desperate for tourism, hundreds of small towns across the U.S.A. claim the "world's largest" something – from 15-foot fiberglass strawberries to 40-foot concrete pheasants. World's Largest visits 58 such sites and profiles Soap Lake, Washington's five-year struggle to build the World's Largest Lava Lamp. By documenting these roadside attractions, World's Largest captures the changing, perhaps even vanishing, culture of small-town America. (World Premiere)