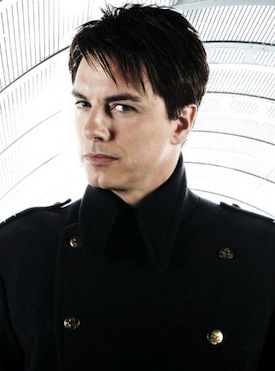 When former HBO chairman and CEO Chris Albrecht took over as president and CEO of Starz in January, he set out to beef up the premium cable channels original programming lineup with period dramas and imports from across the pond.
Starz showed off three of those shows at the annual TCA summer press tour Saturday– "Camelot," "Torchwood: The New World" (pictured) and "Spartacus: Gods of the Arena."
Two of Starz new projects, "Torchwood" and "Camelot," have a distinctly British flavor.
"Torchwood: The New World," which follows the members of an organization dedicated to defending the Earth from aliens, originated as a spinoff of "Doctor Who" on the BBC and BBC America.
Three seasons of "Torchwood" have already aired in the U.K. and U.S.; the 10- episode Starz mini-series will continue some storylines from the previous seasons, but the creators promise that it will be able to stand alone as a distinct chapter in the saga for viewers who are unfamiliar with the previous history of the show. It's slated to air next summer.
"Camelot" tells the story of King Arthur and the knights of the Round Table, filmed in Ireland and starring English Joseph Fiennes, Jamie Campbell Bower ("Sweeney Todd") and Tamsin Egerton. Fiennes, who will play a "Machiavellian" version of the wizard Merlin, called Starz a "hybrid between film and television" that allows for stories with a wider scope without the "interruption" of advertising.
During the "Camelot" panel, showrunner Chris Chibnall confirmed that James Purefoy will also be joining the cast. "Camelot" is scheduled to air in the first half of 2011.
Only Roman gladiator drama "Spartacus: Gods of the Arena" is devoid of any British roots — the show's executive producer and head writer, Steven S. Deknight, was born in New Jersey. "I feel like I should speak with an English accent now," DeKnight joked at TCA.
"Gods of the Arena" is a prequel to the popular "Spartacus: Blood and Sand," which debuted in January, also created by DeKnight. The decision for a prequel rather than a second season was made when series star Andy Whitfield was diagnosed with non-Hodgkin's lymphoma.
"The germ of the idea was there, I was planning episode five of season two to do a flashback episode … Once we found out what was going on with Andy and we stopped production on season two I thought about, how about we blow that up to a two-hour show," DeKnight said.
The two-hour mini-series idea was rejected, but DeKnight and Starz eventually settled on doing a six-hour mini-series.
DeKnight said Whitfield is recovering nicely from his illness. Production on season two of "Spartacus: Blood and Sand" will begin later this year.
"We start shooting season two in November, I don't think we've set an airdate yet … Andy looks better than I ever have in my entire life, he looks fantastic … he's training, he's actually talking about bulking up bigger next year," DeKnight said.
Previously: 'Jersey Shore' Stars Take the West Coast by Storm