Barack Obama's reelection team is once again enlisting help from Hollywood to keep the incumbent president in office for a second term.
This time, POTUS is seeing some positive returns on his recent efforts to cultivate ties with younger entertainers, as a group of stars from the under-40 set (or favored by that demographic) are banding together for a June 29 fund-raiser in Los Angeles.
The event will be spearheaded by a lineup of industry players – including directors David Fincher and Darren Aronofsky; actors Zach Braff, Ian Somerhalder, Zachary Quinto and Maria Bello; and musicians Pete Wentz, Kenna and Peter Frampton — according to the Hollywood Reporter.
Author Neil Strauss, CAA agent (and Reese Witherspoon's husband) Jim Toth, and actresses Maggie Q and Connie Britton are also reportedly on the co-host list for the evening.
A person with knowledge of the event confirmed to TheWrap that the fund-raiser was set for next Friday, but had no further details about the guest list, venue and the president's potential involvement.
Also read: President Obama Takes a Morning Meeting With Hollywood's Younger Set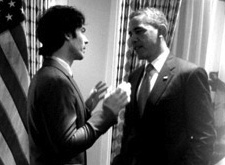 The celebrity-heavy party is backed by Obama's Gen44 initiative, "the official under-40 fundraising program of Obama for America," as the campaign site puts it.
Braff, Somerhalder and Quinto were among the young Hollywood ambassadors who met with the president at a private morning meeting on June 7 at the Beverly Hills Hotel. After the meeting, several of them took to Twitter to do some cyber-campaigning for Obama and send out photo evidence of their presidential huddle. "Just spent my morning with this man talking about green energy, a better America and being a young American – wow, " Somerhalder (pictured, with Obama) said.
An earlier version of this story reported that Steve Aoki would be one of the co-hosts. TheWrap has since learned he will be performing elsewhere in the country that evening.