These days, thanks to the recession, you're lucky to get a pig in a blanket or a mini grilled cheese at a Hollywood event. So the sight of an over-the-top buffet stunned — and delighted — attendees at the after-party for "Terminator: Salvation" on Thursday night.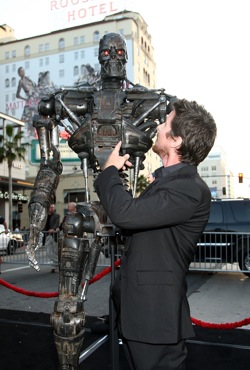 Guests piled up their plates at a steak-carving station, an antipasto bar and tables filled with comfort food and Chinese-inspired fare. As if there was room for dessert — everything from hot-fudge-brownie pudding to cheesecake lollipops to marshmallows with a side of caramel and chocolate dipping sauces.
The decadence was in stark contrast to the post-apocalyptic theme of the blowout, which was held in a transformed parking lot across the street from the Mann's Chinese Theatre.
A wrecked helicopter served as the centerpiece, and light came from burning barrels, resting atop tractors. All the while a remote-controlled Terminator robot scanned the crowd, which included director McG and the film's stars Sam Worthington, Anton Yelchin, Bryce Dallas Howard, Moon Bloodgood (who enjoyed the perks of making the Maxim Hot 100 list at a bash in Santa Monica on Wednesday night), and, of course, Christian Bale, who was on best behavior surely in hopes that all would forget his f-bomb-laced outburst during filming …
Moving right along from the black carpet at "Terminator" to the far-cheerier green rug at Disney/Pixar's "Up" premiere at the El Capitan on Saturday afternoon. To follow the animated flick's splashy debut at Cannes, Hollywood Boulevare. shut down hours before to set up decorations, including a balloon-festooned "Up" house suspended in the air. Ed Asner (below) cozied up to his likeness as stilt walkers and jugglers kept the kids at heart — including John Ratzenberger, Delroy Lindo, co-directors Pete Docter and Bob Petereson, Jonas Rivera, Michael Giacchino, John Lasseter, rocker Mark Hoppus with his fam, and old-school TV stars Barbara Eden and Eve Plumb – entertained during arrivals …
On Thursday night, Hoppus surprised guests — including Ashlee Simpson, Pete Wentz, Seth MacFarlane, Nikki Reed, Rashida Jones, Zachary Quinto, and Jermaine Dupri — at the T-Mobile Sidekick LX Launch shindig when he reunited with his band, Blink-182, onstage at Paramount Studios. Also unexpected? Pink and Carey Hart's PDA and Weezer's Lady Gaga cover …
Totally expected: the screaming tweens at the Walmart.com/Jonas Brothers concert at the El Rey on Saturday afternoon…
And on to some do-gooding … Clint Eastwood, Sharon Stone, Quincy Jones, Mayor Antonio Vallaraigosa, Forest and Keisha Whitaker, Marisa Tomei, Noah Wyle and Morgan Freeman attended the Mandela Day Awareness event at the Beverly Hills Hotel on Thursday night to support the idea of turning July 18 — Nelson Mandela's birthday — into a celebration of the South African leader's life. While Mandela could not attend, Alfre Woodard and Angela Bassett kept the importance of his human rights agenda in plain view by donning bangles with his prison number — 46664 — on it …
Also that night: Tomei party-hopped on over to the ACE Gallery in Beverly Hills for USA Network and Vanity Fair's "Character Project" fete. Chris "Ludacris" Bridges hosted the happening, which featured 11 shutterbugs' take on "American Character." Checking out the exhibition: Ron Meyer, Billy Crudup, and USA peeps Mary McCormack, Corbin Bernsen, exec Bonnie Hammer, and the cast of the upcoming fall show "White Collar," Tiffani Thiessen, Matthew Bomer, Tim DeKay…
Also feeling arty on Thursday: Ali Larter, Anjelica Huston, Crystal Lourd, Gina Gershon, Mitch Glazer, Lisa Eisner, Peter Morton, Steve Bing, Tom Ford, and Loree Rodkin, who checked out original prints from Wingate Paine's Mirror of Venus tome at the "Venus Revisited" soiree at Resurrection vintage clothing store…
And on Tuesday, proving you can never have too much Tomei in a week, the actress is slated to attend the launch of Kimberly McDonald's turtle jewelry collection at Les Deux.