Paul Rudd, Jonathan Majors and Evangeline Lilly blew into Westwood with "Ant-Man and the Wasp: Quantumania," causing some mania in the streets this week, while MusiCares and Gold Meets Golden made charity (and Motown) a Grammy-party priority. Meanwhile, up the coast, the Santa Barbara International Film Festival kicked off with loads of beautiful people making the trek up the 101 to join in the festivities. Read all about those parties and more here!
"Ant-Man and the Wasp: Quantumania" World Premiere
Regency Village Theater, Westwood
It was one BIG event for a very small character, as "Ant-Man and the Wasp: Quantumania" brought out some major stars in Westwood for the third installment of the "Ant-Man" saga. This also marked the launch of the next phase for the Marvel Cinematic Universe, including the introduction of the super villain known as Kang the Conqueror, as played by Jonathan Majors.
We asked both Paul Rudd and Jonathan Majors what Kang will bring to the Ant-Man world and they had a lot to say: "The baddie in this movie is a real big baddie," Rudd joked. Marvel has recently been in the headlines with its first-ever Oscar nomination for acting as Angela Bassett's role in "Black Panther: Wakanda Forever" garnered her a nomination for best supporting actress.
Majors praised Bassett and spoke about what the nomination means for the MCU, telling us that, "it's an opportunity for the Academy to broaden their territory." Other famous names who joined in the big celebration were co-stars Evangeline Lilly, Kathryn Newton, Michelle Pfeiffer and Michael Douglas, who brought along his wife, "Wednesday" star Catherine Zeta-Jones, who looked ravishing, as usual. – Elijah Gil
"Mrs. Davis" Special Screening
San Vicente Bungalows, Los Angeles
A chilly night in West Hollywood was warmed up by conversations, cocktails and a first-look screening of Peacock's upcoming science-fiction drama series "Mrs. Davis."
The crowd came together inside a compact and dimly-lit foyer at the San Vicente Bungalows, where guests were decked out in button-ups, blouses and colorful blazers, working the room to get to know their fellow attendees.
Everyone was gathered for the early look at "Mrs. Davis," which stars Betty Gilpin and Jake McDorman and hits Peacock in late April. They said some hellos and then joined by the show's two creators, Damon Lindelof and Tara Hernandez. The series follows a nun named Simone (Gilpin), who uses her religion to take on technology.
After sipping champagne and eating hors d'oeuvres, guests were hustled into the Bungalow's theater room for that sneak peek of the show's first episode. The cushiony seats were matched up with popcorn, candy and bottled water, and after the screening, Hernandez, Lindelof, Gilpin and McDorman took the stage for a Q&A panel discussion.
Gilpin told TheWrap that the show helped her understand what she does and doesn't like about social media and the tech-heavy era.
"I think the thing that I reject about social media is often the things I reject in my life about religion. Or, I think, 'Well, maybe [religion] was created for certain reasons, but it acts as blinders, like, it's fear-based and it's judgmental. And this show really helped me pick apart, like, 'Well, these things weren't created for that. They were created to ask the bigger questions and to connect people, and it's us that have f—d it all up."
The evening wrapped up with some personal chats with the "Mrs. Davis" principals, along with more food and adult-friendly beverages.  – Raquel Harris
2023 MusiCares Persons of the Year Pre-Grammy Gala
Honoring Berry Gordy and Smokey Robinson
Los Angeles Convention Center, L.A.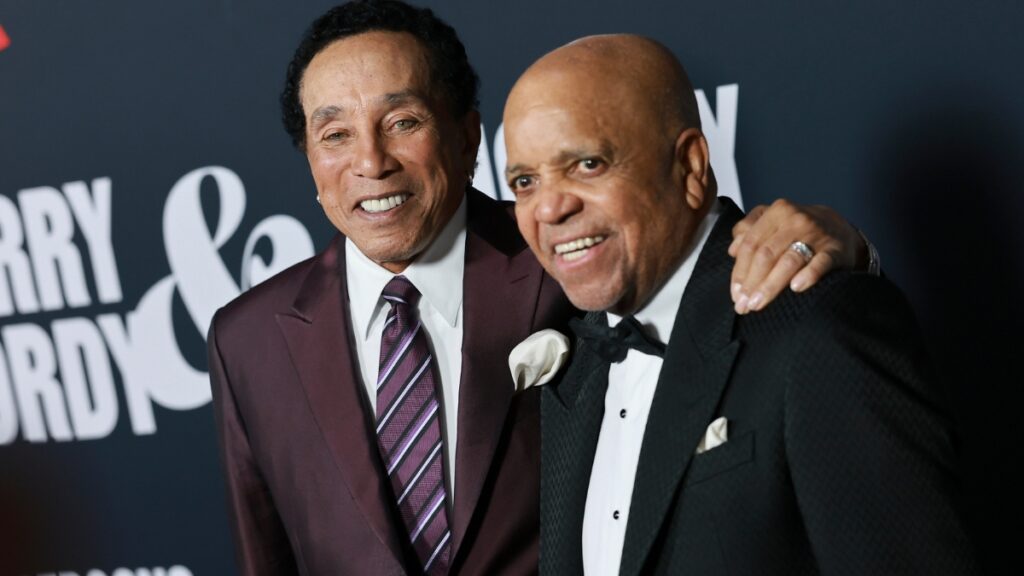 Motown is alive and well more than 60 years since it began in Detroit, as evidenced during the MusiCares Persons of the Year Pre-Grammy Gala that honored Berry Gordy and Smokey Robinson, the men that helped build that musical empire. 
The annual bash raises funds for "music's leading charity, that offers confidential preventive, recovery and emergency programs to address financial, medical and holistic wellness issues of music people in need," and the crowd formed to help out. With musical performances that went on for hours, it was a seriously hot ticket in a jammed Grammy Week.
From Sheryl Crow to Trombone Shorty, John Legend to Brandi Carlisle to Lionel Ritchie, and so many more, it was a night to remember. Elton John, Dionne Warwick, Marcus Mumford, Rita Wilson and even Nancy and Paul Pelosi made the scene, with countless more familiar faces singing along to the Motown songs that have stood the test of time.
Gold Meets Golden 2023: For the Record
10th Anniversary Grammy Awards Party
Virginia Robinson Gardens, Beverly Hills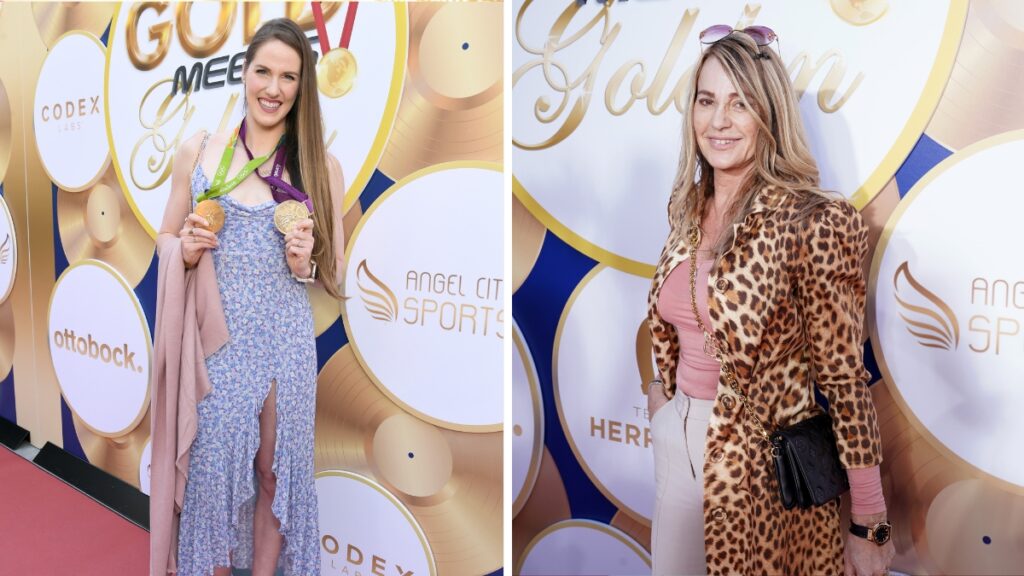 Celebrating the Grammy Awards for the first time (it's usually an Oscar gold they refer to), the Gold Meets Golden party returned to the Virginia Robinson Gardens on a gorgeous "winter" day in Beverly Hills, as Olympic athletes and Hollywood stars joined together to raise funds for Angel City Sports. That L.A.-based adaptive sports organization provides access to needed equipment, coaching and training for aspiring young Paralympic hopefuls, and produces a yearly competition for athletes with physical disabilities, the Angel City Games.
"The most exciting thing that's happened in 10 years is that we've taken on the best charity we could possibly imagine, Angel City Sports," Charley Cullen Walters told the huge crowd gathered on the vast lawn that included kids using special prosthesis designed by sponsor Ottobock to "run for the first time."
Lance Bass and his husband Michael Turchin brought their toddlers to the fun, which included synchronized swimmers taking over the swimming pool, and a musical performance by Broadway star Shoshana Bean and Grammy winning composer Stephen Schwartz.
Nadia Comaneci hosted the bash, which was full of her fellow Olympic gold medalists, including swimmers Missy Franklin, Janet Evans and Ian Thorpe, diver Greg Lougainis and beach volleyball stars April Ross and Alix Klinman. Hollywood stars like "The Fablemans" breakout Gabriel LaBelle and Danielle Macdonald turned up too, as did director Francis Ford Coppola. But no sign of co-host Nicole Kidman nor her hubby Keith Urban, who are big supporters of the cause.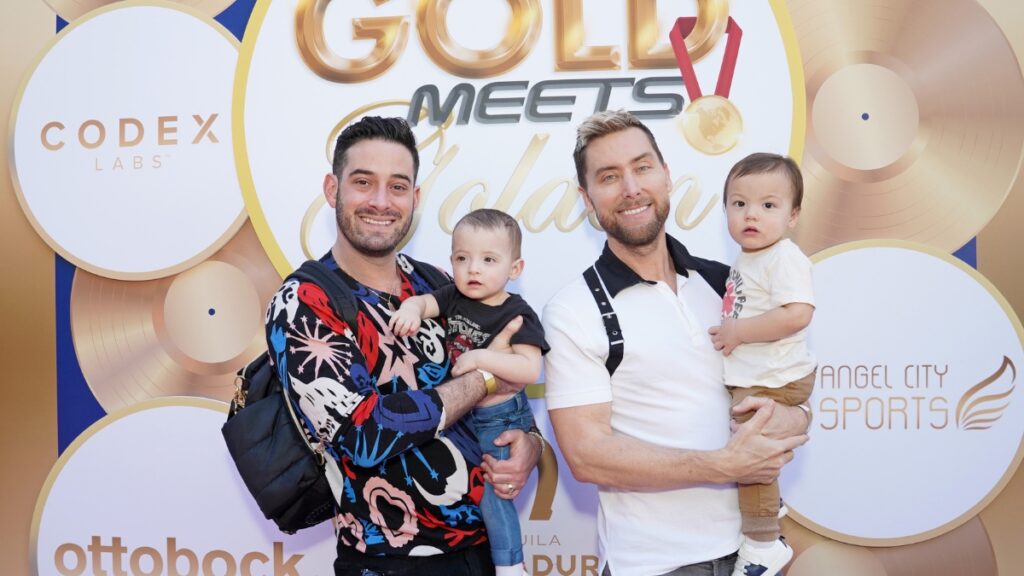 American Cinematheque's 2nd Annual Tribute to the Crafts
Aero Theatre, Santa Monica
Some of Hollywood's most talented creatives gathered in Santa Monica to celebrate the "crafts" of filmmaking. Which means everyone from the cinematographer to the film editor to the costume designer to the composer, and beyond.
All are integral to the making of any film, which is why American Cinematheque, the L.A.-based nonprofit organization that is "dedicated to building an engaged film community through immersive film curation, conversation and presentation" has begun honoring the people who help make movies so magical (especially on the big screen).
So that's why the organization's 2nd Annual Tribute to the Crafts, held at their home base of the Aero Theatre in Santa Monica, was such a lovefest. With awards for both feature films and documentaries ranging from Stunts to Editing, with Sound, Choreography, Costume Design, Casting, Score, Production Design/Set Decoration, Hair & Makeup, Cinematography, Score and Visual & Special Effects included, it was a night that honored many talents.
Legendary cinematographer Sir Roger Deakins agreed with the sentiment of the night as he accepted his Lifetime Achievement Award for films like "Empire of Light" (he is currently nominated for an Oscar for that beautiful work), "1917" and most of the Coen brothers' movies.
"Collaboration [is what movies are all about]. I've been doing this for years, for 50 years! And I've loved every moment of it. What I've loved most about it is working with a team, working with like-minded people that are together trying to create something that's more than the sum of its parts," he said.
Costume designer Ruth E. Carter agreed as she accepted her award for "Black Panther: Wakanda Forever," for which she is also a current Oscar nominee. "I just love collaborating and collaborating with people who have such a high idea for what we're trying to accomplish. And I wouldn't trade this profession for anything in the world."
Also in the house for the ceremony and the packed after party in the lobby that spilled out onto Montana Avenue were "The Woman King" star Thuso Mbedu and director Gina Prince-Blythewood, co-host Franklin Leonard, producer and co-host Paula Wagner, along with her husband Rick Nicita, the chairman of American Cinematheque.

38th Annual Santa Barbara International Film Festival
Opening Night and Montecito Award to Angela Bassett
Arlington Theatre, Santa Barbara
The 38th Annual Santa Barbara International Film Festival kicked off with the star-studded premiere of "Miranda's Victim," as Hollywood's biggest stars took the trip up the 101 freeway to that beautiful seaside city.
Andy Garcia led the pack, which included Luke Wilson, Ryan Phillippe, Abigail Breslin, Emily VanCamp and Mireille Enos, as they brought the dark drama to a chilly evening at the Arlington Theatre. That's the main home to the SBIFF, which lasts for ten days and unspools more than 100 films in the process.
The next night began the SBIFF series of awards and conversations with the people who are making a run toward Oscar, beginning with presenting "Black Panther: Wakanda Forever" best supporting actress nominee Angela Basset with their Montecito Award for her body of work.
"She paved the way for newer generations to be able to see themselves represented on stage," explained SBIFF executive director Roger Durling, before introducing the sold-out house to a compendium of her onscreen performances. Ryan Coogler, who directed both "Black Panther" films, presented Bassett with her trophy, and reminded the audience that she's the first actor from the Marvel Cinematic Universe to be nominated for an Oscar.
More tributes are coming throughout the festival to people including Cate Blanchett, Brendon Fraser, Jamie Lee Curtis, Colin Farrell and Brendan Gleeson.
Please send all party/event invitations to Jenny.Peters@thewrap.com