Whether or not "The Shape of Water" wins the Best Picture trophy at the Oscars next month, it's already inspired a different kind of statuette. This one's a dildo.
XenoCat Artifacts is selling a sex toy inspired by Amphibian Man — a.k.a. The Asset — in their Etsy shop. The 100 percent silicon dildo is essentially a mockup of what artist and co-owner Ere and her partner Ink believe the big-screen sea creature's penis — alluded to but not seen in the film — would look like. Naturally, we had to talk to them all about it.
"I've been anticipating this movie for a while," Ere, an assumed name for her unique line of work, told us on Thursday. "The shape, the character design are gorgeous — and I love [Guillermo] del Toro's work."
Also Read: Babadook Dildos Are a Thing Now
The best part for a small business like theirs? The two-person team already had a mold that would work perfectly. Previously called "The Prince," (no, not after the late singer, though the "Raspberry Beret" musician certainly inspired some sex toy play himself, may God rest his soul) the model boasts "ruffled, gill-like" ridges and a "wave" shape. Oh, it also has four piercings — a Prince Albert and a Jacob's Ladder (if you know what those are). You go, Amphibian Man.
To adapt it for fans of the latest del Toro flick, Ere just had to do some color-matching. Remixed in blues and greens and blacks and re-titled "The Jewel of the Amazon," the Asset toy sold out its original run of 20 in two days, Ere told TheWrap. That netted them about $2,000.
We'll break those economics down for our readers. A non-custom "Shape of Water"-inspired toy runs $70 for a "medium" and $50 for a "small." XenoCat customers can tack on $20 more for custom elements — like a different firmness, for example.
Also Read: Seth Meyers Dubs Matt Lauer the Real 'Dildo at Work' in a 'Closer Look' (Video)
And we know you're wondering, so we asked: The medium dildo is 7 and-a-half inches in length, 7 inches of which are "insertable." It has a 6-inch circumference around at its widest point. The small is 6 inches long, 5 inches of which are insertable. That one has a 4 and-a-half inch circumference.
Each toy contains body safe pigments and can be boiled to clean. They're all handmade, and take about two and-a-half hours to create. See the finished product here: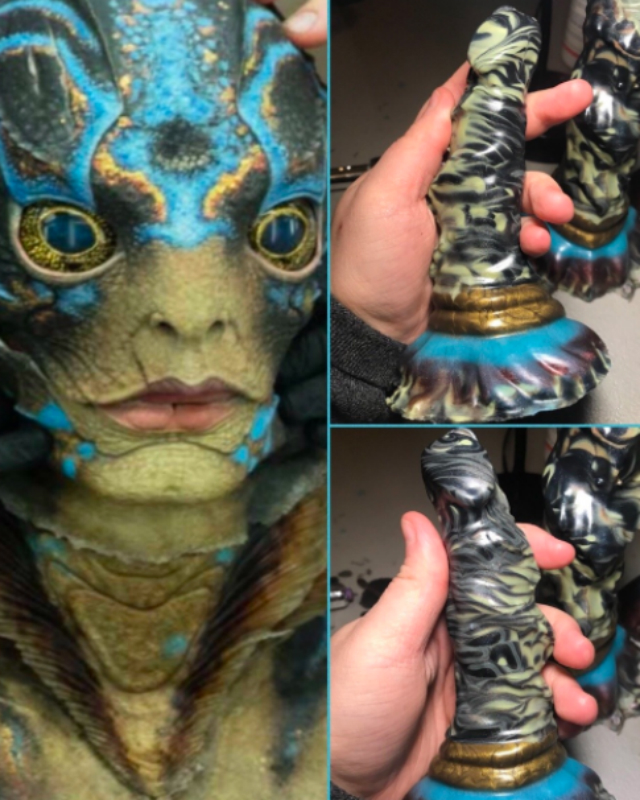 Due to popular demand, Ere and Ink plan to make another limited run of 20 and post them to Etsy in time for next month's Academy Awards. Yes, this is their full-time job.
Also Read: Ted Cruz's War on Dildos: A Short Explainer
While she's "got plans" for more movie and video game-inspired toys (maybe "Monster Hunter," definitely not "Jurassic Park") Ere's also got her sights set on going Hollywood in another way.
A part-time prop-maker — she made a chest plate for a "Resident Evil" character — Ere would love to create masks and prosthetics on the side for movie sets, or for theater like Cirque de Soleil. But don't worry, loyal XenoCat customers, her true joy will always lie in giving you pleasure.
"The money keeps bringing me back to the dildos," Ere said.