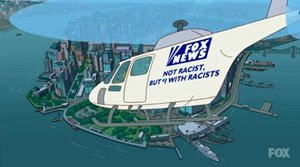 "The Simpsons" are at it again.
On Sunday's episode, the Fox cartoon took another swing at its corporate sibling — Fox News — inserting a new tagline for the number-one rated cable news network on the side of a news chopper:
"Not Racist, But #1 With Racists"
This isn't the first time "The Simpsons" creators have taken aim at their News Corp. parent. Last month, the show's opening credits included an extended scene — written by the street artist Banksy — depicting an underground sweatshop filled with Chinese factory workers enslaved to produce "Simpsons" products below the family's iconic couch.
Watch the clip (via Hulu and the Huffington Post):