It's that time of year, when TheGrill rolls around and we take stock of where entertainment stands in the new light of a digital dawn.
The good news: All the major media companies are still standing, and a couple of new, smaller ones have launched (I'm thinking STX Entertainment, Broad Green).
The bad news: Wall Street is convinced that the end of television is nigh, and seems determined to punish those businesses that create or carry linear programming for a living.
Also Read: Countdown to TheGrill: Awesomeness TV's Brian Robbins On Business Decisions In The Digital Age
We know what Wall Street thinks is sexy. Facebook's share price is $92 on a $259 billion market cap while Comcast's is $56 on a market cap of $142 billion. That's just reality — get used to it.
But has new media triumphed? Not yet, so far I can tell. In fact, the landscape is just getting more complicated. To the average user, what's the difference between Facebook and Comcast? Both are companies that let them access and consume content they desire.
The tectonic shifts in entertainment and media, driven by the changes sparked by technology, continue with the frustrating reality that old things don't just end. They dwindle and limp along or — best case — they adapt, slowly. And the new things rarely win outright.
So while the still-formidable Facebook has reinforced its dominance as a content platform, Twitter is stumbling. Snapchat is huge, but its identity is still emerging.
Also Read: 5 Reasons Not to Miss TheGrill 2015: Network, Meet Moguls and See Drones!
Technology platforms are merging with content creators in ways more significant than ever before. Snapchat — founded on the principle of communication that disappears and isn't archived — is getting into the content business. Amazon has made stunning investments in traditional programming, hot on the heels of Netflix doing the same. HBO and Showtime have launched their own streaming services to widen their audiences as cable subscriptions stagnate.
And MCNs are no longer multi-channel networks, it seems — call them "online video" platforms. Maker, now owned by Disney, is getting into the business of producing feature films — for YouTube. (CEO Ynon Kreiz no doubt will explore this in his Grill interview.)
At TheGrill this year, more legacy players than I've seen before are stepping forward with new content initiatives, applying their considerable experience to the new online branding models. Van Toffler (below) has broken loose from MTV after nearly three decades of brilliant programming there to try a model that, he says, wouldn't work within Viacom. Lloyd Braun, who once ran ABC, is launching branded channels that, he says, would never work if conceived within one of the legacy media monoliths.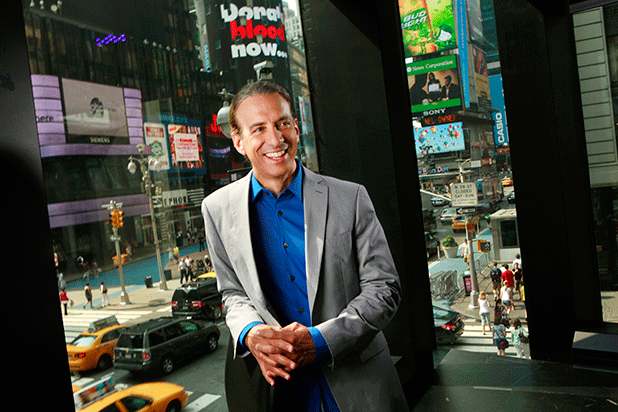 Both of these executives want to find users where they live, and no longer expect that users will automatically show up where content used to be for five decades. Can those users be dragged back to the multiplex? Or to broadcast TV?
Today, in 2015, we're seeing a dizzying hybrid of new media and old, with storytellers desperately seeking the right budget, platform, length and financing to reach an audience.
After all, who isn't in the content business these days?
Check out TheGrill line-up here. Register for a ticket here. Hurry up, already – it's only a week away!