If the first casualty of war is truth, the first casualty when Lindsay Lohan gets involved in a dust-up in a dark, noisy, chaotic New York nightclub is clarity.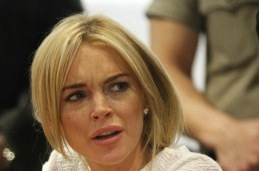 Did she actually throw a glass at a woman who attempted to take her photo and accidentally hit a waitress? Signs point to yes.
Did she also give the same treatment to a photographer working for V Magazine, which had thrown the party? According to a tweet from said photog, Jaspin Rischen, yes: "Wow. Lindsay Lohan is as trashy as they always say. She threw drinks and glasses to me as we tried to take a shot for @vmagazine. C—t."
A Lohan rep was quick with a denial: "Lindsay did not throw anything at anyone, plain and simple. Making up stories about Lindsay has become a pastime for many people."
Also read: Lindsay Lohan Released Into the Wild Following House Arrest
We'll have to take that into account, keeping in mind that hard-partying starlet has been accused of this behavior before.
We now arrive at the supposed "bloodbath", which seems to have occurred near in time and space, but strictly not due to, the actions of Lohan.
Did a woman who was neither the waitress nor the photographer, shortly after the glass-throwing, tumble down the stairs near Lohan's table, landing on a tabletop and shattering glassware that badly cut her? Again, seemingly so.
Also read: An Open Letter to Lindsay Lohan
A witness quoted in a FoxNews.com report said, "There was so much blood spurting, it was like a horror movie. The party was packed and blood was spurting onto people's clothes. Paramedics were called, but they took more than 20 minutes to get there, and a friend held the girl's arm to try to stop the bleeding."
A series of photos posted on website Scallywag & Vagabond showed the confused aftermath, with city cops and EMT's hustling about to render first aid and transport the woman to a hospital.
Also present in the club were other conservative-minded teetotalers like Linda Evangelista, Mary-Kate Olsen, Courtney Love, Rose McGowan and Usher.