TheWrap welcomed top entertainment industry executives and leaders in film to celebrate its 10th anniversary at the Cannes Film Festival on Sunday after a moving discussion among women activists and filmmakers about their work.
The panel discussion on the Pinewood yacht beside the Palais de Festival featured Somali activist Ifrah Ahmed, the subject of the festival film "A Girl From Mogadishu";  "Give Me Liberty" writer and producer Alice Austen, whose film featured in the Directors Fortnight section of the festival; and Yolonda Brinkley, founder of Diversity in Cannes, a group that advocates for inclusivity at the festival.
Ahmed, a Somali-Irish activist, riveted the audience in explaining her work in fighting female genital mutilation (FGM), getting legislation passed to ban the practice in Ireland and working closely with the Somali government to change policy there. Ahmed, who is depicted in "A Girl From Mogadishu" by Aja Naomi King, talked about how her decision to speak out against the cutting of young girls left her ostracized in the Somali immigrant community and led her to flee Dublin — until she decided she would speak out anyway.
Also Read: Cannes Report, Day 6: 'The Lighthouse' Shines, Tarantino Begs for No Spoilers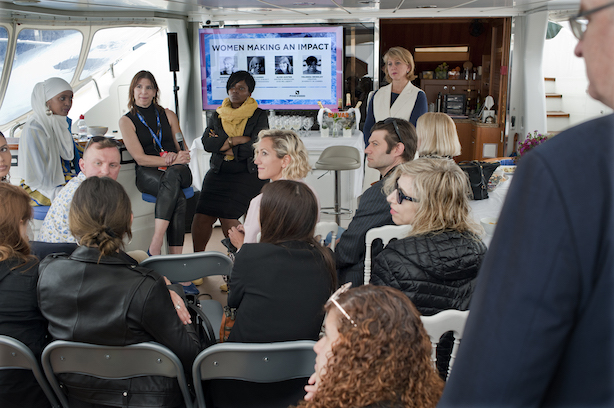 "When I meet with different people in [the] Western world, they say 'Oh, it's their culture,'" Ahmed said. "Opening the conversation has opened their eyes, and now people say it's a cruel practice and should be stopped."
She added: "Then I decided to go back to Somalia and start the campaign where I was born and raised… Somalia has been in war for like 30 years, and we have al-Shabaab linked with al-Qaeda and ISIS… I lost many people who worked on my campaign — car-bombed, killed. It was very (full of) danger, but I felt if I could save one girl's life, I'm doing something good and making a difference. That makes me keep going."
Austen, a former human-rights lawyer turned playwright and screenwriter, described how she became a producer on her Cannes film. The initial deal with an art-house distributor fell through, and she decided to step up and produce the film herself. "Give Me Liberty," which will be released by Music Box in the fall, is a madcap look at a Russian immigrant family in Milwaukee intersecting with the locals, including an African-American family, and a love story that ensues.
Also Read: Cannes at the Halfway Point: How Did Elton John Become King of the Fest?
Brinkley talked about the need for greater inclusivity in Cannes despite the international nature of the festival. The former brand marketer took on her mission a decade ago, and solicits short films from underrepresented communities, choosing two winners in a Diversity Day program.
Among those in attendance were filmmaker Pamela Guest; Content Partners CEO Steve Kram; producer Bronwyn Cornelius; Jeffrey Zaks, Head of Media & Entertainment Banking at Opus Bank; SCAD festival executive director Christina Routhier; Aviron CEO David Dinerstein; "A Girl From Mogadishu" director Mary McGuckian; First Look Media CEO Michael Bloom; Creative Coalition CEO Robin Bronk; producer Cassian Elwes; student Academy Award winner Kelley Kali; Wrap Awards Editor Steve Pond and many others.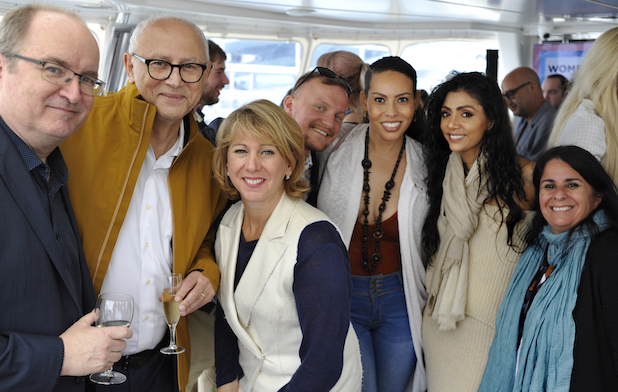 The event was sponsored by Pinewood Studios and Piper-Heidsieck champagne.
TheWrap celebrated its 10 years of existence with a collectors edition magazine. The edition features an exclusive interview with Antonio Banderas and the largest portfolio of Cannes directors ever compiled, brought to you by TheWrap's award-winning creative team.
The Wrap News Inc. is the leading digital-first news organization covering the business of entertainment and media via digital, print and live events. TheWrap.com won best website for a news organization at the 2018 Los Angeles Press Club Journalism Awards. April 2019 saw record traffic highs, reaching 17 million monthly users on the site, and with a reach of 50 million users across all its channels and partners.