Hi I'm Quentin Cohan and I'm filling in for Ariel while she's in Bali. Fair warning to her fans: Ariel hates going anywhere. I'm her opposite.
I moved to Los Angeles from my native New York City four years ago and I'm still convinced this is the craziest place in the entire world. The weather, the light, the natural beauty, everything everybody's ever said about all that is right, but jeezus I've never seen a place with so much concrete.
More importantly, I've never experienced another place with such a massive quantity, quality, and variety of activities. I don't think there's anywhere else in the world where you can go for a stunning hike in the dead center of the city 20 minutes from your house in the morning, see world-class cutting-edge art in the afternoon, and follow it up with electrifying pad see ew and Spanish Txakoli natural wine poured on high (to aerate!) before going out to smoke cigarettes on a cement patio while Mark Ronson's best friend DJs behind the bar.
When I first moved here, I lived for a month in a sublet on Wilshire in Koreatown that I found, of course, on Craigslist. The apartment was a beautiful ninth-floor unit in an old 1920s, New York-style apartment building called the Talmadge. It was built by Joseph Schenk, a founder of 20th Century Fox who named it for his wife, the Silent Era film star Norma Talmadge. I lived in the place with two musicians and a painter, whose work was on the walls. We'd all hang out in the expansive living room with a fireplace and filled with plants and crystals, or in the breakfast nook in the white-and-black-checkered-tile kitchen having French press coffee.
Sometimes we'd also hit spots in Ktown–Cassell's Burgers, the pool at the Line Hotel, a local sake bar–and they seemed to know everybody who worked at these places who would always hook them up with stuff on the house. Los Angeles with them was unlike anything I'd experienced in New York, even as a local, where I felt too trapped in my little bubble. In this place, everything was an adventure. As a newcomer, the City of Angels still feels like an endless wilderness to explore, so when I have vibes I like to let my wings fly me all over the city under that glorious halo sun.
Before I moved into the Talmadge, there was–of course–just one thing about the place that my roommates needed to know: Multiple times a week, they rented it out to Instagram models for photoshoots. Was I cool with that? Yeah, yeah I was.
As I said, Los Angeles is quite a town.
With that in mind, here's a transplant's guide to the ultimate freeway-hopping, county-crossing, yeehaw-hollering Summer weekend in Los Angeles.
Go To
Penmar Golf Course Summer Sunset Sessions Concert Series (Friday Nights)
My golf game isn't good enough to get me to the C-Suite, but on the right day I'm down to grab the 9-iron and a six-pack, and put together a foursome for a couple-three holes. Fortunately, if your game is somehow even worse than mine, there's still a great way to take advantage of the many lovely public golf courses Los Angeles has to offer this summer: Penmar Golf Course Summer Sunset Sessions Concert Series.
Situated in beautiful Mar Vista-by-the-Sea, this public course turns into one of the Westside's vibiest hangs every Friday night during the Summer, with their weekly concert series. They host an "eclectic mix of Folk Rock, Americana, Blues, Reggae, Traditional Mexican, Pop Rock, and Jazz from an array of local talent and traveling pros alike." The concerts are held outside by the course's grill, looking out onto the verdant fairways, which shine in the long golden hour light. The music is from 6-9, and alcohol and food are available for purchase, making this the perfect starting point for a night out.
Photo by Tessie Groff
When: Summer Fridays
Where: Penmar Golf Course, 1233 Rose Ave, Venice, CA 90291
Parking: Parking lot and street parking
Check Out
Fonda Theater (and rooftop!)
Situated right on beautiful Hollywood Boulevard, The Fonda is one of Golden Age Hollywood's premier theaters, with a name (for classic Hollywood star Henry Fonda), history, location, and decor to back it up. And they have a lineup of killer acts all year long suited for such a pedigree. But what makes this special for the summer is their one-of-a-kind rooftop bar. So get there early to soak in some 1920s glamour downstairs, and then head upstairs to grab some drinks and bask in the evening sun, before the acts hit the stage and light it up.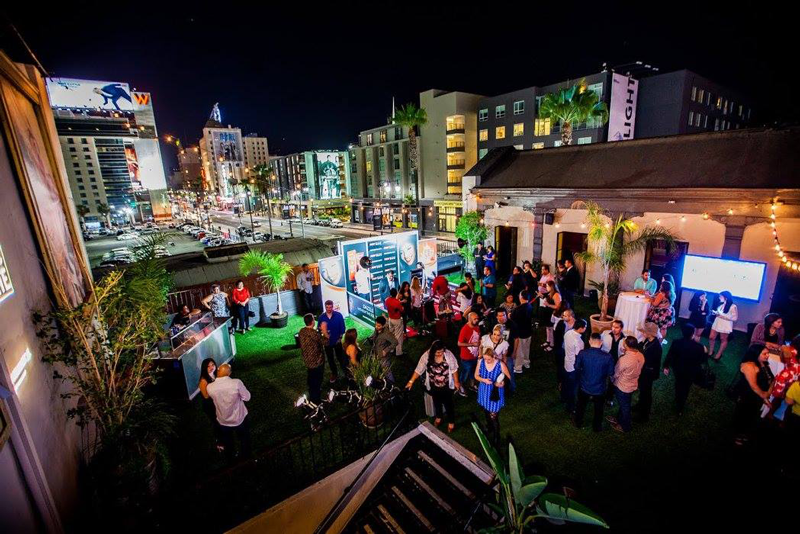 Photo by The Fonda Theatre
Where: The Fonda Theater, 6126 Hollywood Blvd, Los Angeles, CA 90028
Parking: Street parking as available
Get Out
Mt Allen/Sandstone Peak
Do you ever feel like there's got to be more to Malibu somewhere out there beyond the strip along the PCH, but you can't figure out where exactly? Then this hike is the one for you. In addition to its stunning desert-forest beauty, the mountain is also way out there, beyond the clam shacks, beyond the wine bars, beyond the surfers and the tourists and Thousand Oaks even all the way up to Oxnard almost. It's the end of the world, and it's worth the drive.
It's a moderately difficult hike, so bring water, snacks, and supportive shoes. The views of the ocean from the top are stunning, and the best part of all might be the whirling and vertiginous canyon roads to and from the trailhead.
Photo by Getty
Where: 12860 Yerba Buena Road, Malibu, CA 90265
Parking: On site
Check It Out
Valley Relics Museum
If you're a transplant like me and you've never really been to the Valley, then it's a place of mild fascination and distant intrigue. What goes on out there, really? Most of my knowledge of the area comes from Paul Thomas Anderson films–and judging from that I might need an umbrella.
Well, for the curious, look no further!
The Valley Relics Museum provides not only an amusing pop cultural history of the area on the other side of the hills, but also tickles one of my other Los Angeles obsessions: faded neon signs. The museum boasts a vast collection of artifacts, from documents and automobiles to obscure film and tv paraphernalia, all of which will expand your knowledge and understanding of the area that makes up over half of the city of Los Angeles. It's only open on weekends, and admission is $15 for adults and free for kids.
Courtesy of Valley Relics Museum
Where: 7900 Balboa Blvd, Lake Balboa, CA 91406 Hangar C 3 & 4 (Entrance on Stagg St.)
Tickets: $15 for adults, free for kids
Go To
Visit Virgil Village
Always on the hunt for the next cool t-shirt, I've noticed more and more a certain sort of LA cool person wearing shirts with the phrase "Virgil Normal" written on it in the sort of Olde English font most recently made famous by the artist formerly known as Kanye West. After a little digging (one Google search), I traced this all back to the skatercore clothing store named, aptly enough, Virgil Normal, on the intersection of (l'duh) Virgil and Normal Aves just east of Silver Lake. Desperate not to arrive too late to a tee trend, I went over to the store; while I didn't buy anything, it unlocked for me the area tucked in between the 101 and Santa Monica Boulevard known as Virgil Village.
Long home to a Hispanic immigrant community, the area has recently started to host a number of Instagram-friendly bars, restaurants, and food and clothing stores, leading Time Out LA to dub it the city's "coolest street right now." Toast and jam impresario Sqirl is of course the trendsetter, but some spots to hit that may not have yet blown up your social media feed include the wine bar-in-a-house Melody, which regularly has different food popups and DJs, Alma's, which has something for everybody with over 100 ciders and other alcoholic fruit drinks, and Rick's Produce Market, where you can experience all the joys of the farmer's market any day of the week. And then after a long afternoon of shopping and wining and dining, make sure to save some room for a taco or pupusa from Taqueria El Charrito or California Grill before heading home.
Courtesy of joybolger.com
Where: N Virgil Ave, between the 101 and Santa Monica Boulevard
Parking: Street Parking available