Beleaguered Westwood is finally getting some good news.
Calabasas-based Regency Theatres has bought the Village's historic Bruin and Village movie theaters and will begin running them Thursday.
Mann Theatres gave up its leases on the theaters in August, and there has been fear about their future — especially with the recent closures of non-cineplex locations around L.A.
"These celebrated moviehouses have been landmarks in Los Angeles since the 1930s and we plan to extend their legacy far into the future," Regency president Lyndon Golin said in a statement.
The Village, which opened in 1931, holds more than 1,300 people and is often used for Hollywood premieres. It was originally a Fox theater, and still bears the Fox sign on its distinctive 170-foot-tall tower. The smaller, Art Deco-style Bruin, which opened in 1937, seats nearly 700, according to Cinema Treasures.
Mann at one time controlled the majority of cinemas in Westwood Village, the "college town" for UCLA. However, it has slowly been pulling out of the area, which was troubled in years past by outbursts of violence.
In July 2009, Mann closed the Festival Theater, opened in 1970 in a building dating to 1929 that was one of the first six in Westwood Village. The single-screen house was used for premieres and the building itself was placed on the National Register of Historic Places in 1992.
One of the biggest of the Westwood cinemas, the Mann National, opened in 1970 and was a showcase of '70s style. It seated 1,112, according to Cinema Treasures, and hosted major star-laden premieres. Mann shuttered the National in April 2007, amid an outcry from preservationists, but reopened a month later under an independent operator. It closed again in October 2007 and was demolished last year. The lot is still vacant.
Mann also at one time operated and then closed the Westwood 4 and the Plaza in the Westwood area.
Regency, which brought Pasadena's Academy Cinemas back from the brink, also had operated the Fairfax Theater, which developer Alex Gorby wants to turn into a 71-unit condominium project. That midtown theater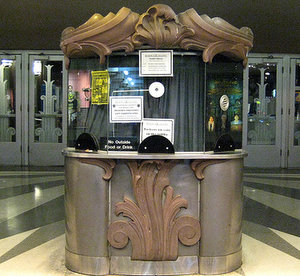 has suffered water damage and was shut down last week; Gorby said it would remain closed indefinitely.
CurbedLA reported that emails it saw from Golin indicated Regency would like to have continued to operate the Fairfax.
An event over the weekend at the Fairfax was staged by Save the Fairfax both to celebrate the theater's 80th birthday and to protest its destruction and redevelopment.
The Los Angeles Cultural Heritage Commission votes on Thursday on whether to consider a nomination for the Fairfax's historical status.