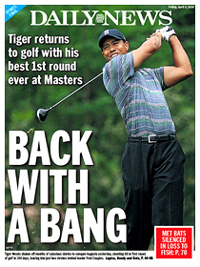 Tiger's return to gold generated plenty of buzz on Thursday – and viewers.
ESPN said that its live coverage of the Masters averaged 4,936,000 viewers between 4:00 p.m. and 7:38 p.m. ET, making it the most-viewed golf telecast in cable history.
Tiger's round surpassed the 2008 U.S. Open Monday playoff, when 4,762,000 tuned in to see Woods beat Rocco Mediate.
The 4,936,000 viewers represent a 47 percent increase over last year's Thursday coverage (3,366,000 viewers), and more than double the amount who watched in 2008.
More from ESPN:
Based on overnight ratings from the metered markets, SportsCenter's live show on Thursday from 1-2 p.m. – which included live coverage of Tiger Woods' first tee shot at 1:42 p.m. – averaged a 0.8 rating. The 0.8 rating more than doubled last year's rating for the same one-hour window (0.3).
Online, where fans were able to watch early round coverage before ESPN came on the air, fared well, too. More than 556,000 unique visitors logged onto CBSSports.com on Thursday to watch its Masters Live coverage.
ESPN didn't specify uniques, but said live coverage on its new ESPN3.com "led to a nearly nine-fold increase – 787 percent among unique viewers over last year's first round."
More to read:
Even Without TV, Tiger's Trending
Nike Ad Brings Tiger's Dad Back From Beyond Grave (Video)