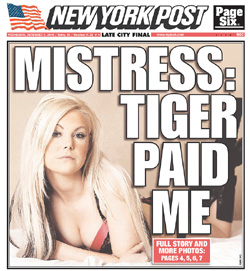 Another daily roundup of Tiger Woods-related media news …
Day 14 in Tigerscandalville began on the "Today" show, where Jamie Jungers, a 26-year-old Las Vegas cocktail waitress, sat for an exclusive interview with Meredith Vieira to dispel an earlier New York Post report that Woods paid her.
Jungers, who claims she had a "boyfriend-girlfriend" relationship with Woods, said she knew the golfer was married but always "had a crush on Tiger" and ultimately fell in love with him, only to have her heart broken when he refused to help pay her rent. Okie dokie.
The most interesting part, from a media perspective: Jungers said that she and Woods appeared in public together often, and were photographed together, yet no outlet caught on. "To be honest with you, I'm not really sure [why]," she told Vieira. "We went places together; people were taking our photographs in the nightclubs. When I went to see him at the MGM, I would have to check in under my name and say that I was there to see him, and Tiger would come down and get me."
Odd side note: During the fourth hour of "Today," Kathie Lee, feeling the need to insert herself into the narrative, said Jungers was "rude" to staffers on the "Today" set:
Visit msnbc.com for breaking news, world news, and news about the economy
Elsewhere, U.K.'s Sun reports that one reason Tiger hasn't been seen in public since shanking his Escalade is that Elin Woods knocked one of his teeth out on the night of the incident – with a cellphone.
The New York Times notes that Woods' website is drawing major traffic – with more than 22,000 comments posted on his Dec. 2 statement in which he admitted to "transgressions."
But here's the biggest ongoing problem for Tiger, from a public relations standpoint: even an armed gunman shot down by police in the middle Times Square can't get him off the front pages: