As Tom Brady fights for a sixth Super Bowl ring to further cement his legacy in the NFL history books, the documentary series he co-executive produced with Michael Strahan and Gotham Chopra is heading into a second season.
"The Religion of Sports" on DirecTV's Audience Network and AT&T's U-Verse asks the question: "Do sports really matter?" And for anyone who held their breathe as Brady's Patriots came back from a 28-3 deficit to win Super Bowl LI, or cried when the Chicago Cubs broke a 108-year losing streak, the answer is definitely "Yes."
"Sports mark the backdrop to the stories that we tell," Chopra, who created the series with Brady and Strahan, told TheWrap, adding that Season 2 will venture outside of U.S. borders and away from mainstream American sports to cover soccer in Germany (above), ultra cycling in Colorado, rugby in New Zealand and much more.
Also Read: NFL Network 'GameDay' Host Rich Eisen Previews 2017 Season, From Ezekiel Elliott to Tom Brady
"Our philosophy is 'let me tell you a story about this place in the world that really impacts people,'" he said, stressing that now we need the unifying aspect of sports more than ever.
While screaming, rabid sports fans are the last thing most people connect the son of New Age guru Deepak Chopra to, Gotham says "The Religion of Sports" actually felt like it was inevitable for his life.
"It wasn't like a light bulb went off in my head one day … I've always been a passionate sports fan," said Chopra Jr., who was born in Boston, Massachusetts. "It was part of my cultural assimilation to New England, but I also grew up exposed to the world of spiritually and religion through my father," so the series is a natural blending of the two.
Also Read: Super Bowl MVP Tom Brady Puts a Smile on for Roger Goodell, Tears Up Over His Mom
"My father and the world I grew up in has had a profound impact on me, I see everything as a spiritual experience," the 42-year-old filmmaker said, such as being part of the Red Sox nation in 2004 when they won their first World Series in 86 years. "I saw that through a lens of a spiritual experience."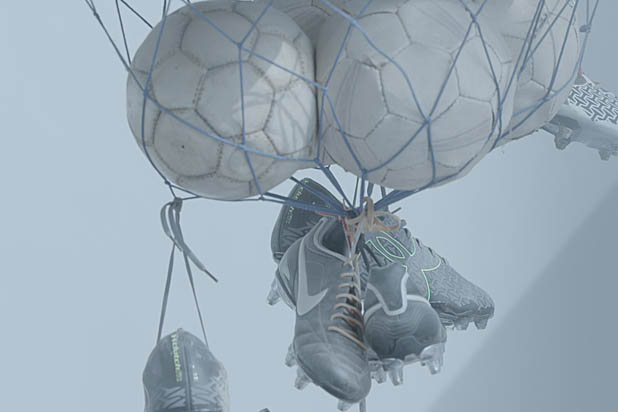 Just as people turn to the church during troubled times, fans turn to sports during political and social unrest, Chopra told TheWrap.
"Sports isn't just like religion, I really believe that it is a religion," Chopra explained. "If you look across at the congregation (meaning fans in a stadium) you will see people of every race, socio-economic class … you are all bonded by this experience.
"You have so much division in so many different places, but we're brought together by sports. It is the thing that brings out a sense of community in troubled times — and now we're in very troubled times right now," he added.
"Everything that exists in religion also exist in sports. It is a pilgrimage. In religion, you need to buy into it and have faith," he explained, which can be contrasted in the sports world with historic events like the Patriots' "miracle" comeback in Houston on Feb. 5.
Once again, Chopra is collaborating with the the demigod who brought that miracle to life, 40-year-old MVP Brady.
The filmmaker knew the quarterback casually through mutual friends when Tom and his wife Gisele owned a house in Los Angeles, and when he showed him a sizzle reel of his idea for "Religion of Sports," Brady got it immediately. "He knew what it was like to grow up in the epicenter of one of these obsessions as a kid near San Francisco worshiping Joe Montana."
Also Read: Tom Brady Says His Concussion History Isn't 'Anybody's Business'
As for Strahan, who played in another historic Super Bowl (XLII in 2008) when New York Giants wide receiver David Tyree ruined Brady's near-perfect season with his reality-defying helmet catch.
"There's not a single day when Michael doesn't remind Tom of that," Chopra laughs about the former rivals.
Having retired from the NFL in 2007, Strahan has more time to get actively involved in the show and story selection, Chopra said. "Tom is a lot busier and it is more of an alien world to him, so I send him smaller clips or ask his advice — I don't rely on him to review cuts but he always comes with a unique viewpoint."
As for athletes such as Colin Kaepernick and most recently, Michael Bennett, sharing their own political views, Chopra agrees with it "if they are informed and have a genuine and informed point of view … I think they should be engaged."
Also Read: NFL's Michael Bennett: Las Vegas Police Threatened to 'Blow My F---g Head Off'
"The Religion of Sports" is far from dominated by the big four — NFL, NBA, MLB and NHL — and instead the producers find less mainstream sports more inspiring.
"I would love to do more on Premier League soccer as it is the biggest sport in the world for a reason,"Chopra said. "And having grown up in India, I am fascinated with the cricket rivalry between India and Pakistan. The stakes in a test match are so much bigger than any event in the world."
The first episode of Season 2 is set to screen at the inaugural Tribeca TV Festival in New York City this Friday, followed by a Q&A with Strahan and Chopra.
The episode takes you to St. Pauli — a super liberal district of Hamburg, Germany — which has recently received over 400,000 refugees. At the heart of the city is FC St. Pauli, a soccer team who like their very loyal fans, have embraced social responsibility to their city and to their members. FC St. Pauli sponsor an amateur football team of refugees named FC Lampedusa. They provide the refugees with a home, a place to join society, and a sense of belonging.
"Religion of Sports" will premiere Season 2 this fall on AT&T AUDIENCE Network available on DIRECTV, AT&T U-verse and streaming on DIRECTV NOW.
It is produced by Dirty Robber Productions, with Christopher Long, Bart Peters, Constance Schwartz, Martin Desmond Roe and Chris Uettwiller serving as executive producers.