At this point in his career, the stories of Tom Cruise doing his own stunts are almost legendary.
The building jump gone wrong for his latest film "Mission: Impossible – Fallout" — the take of which ended up in the final film — has been a favorite on this press tour. But truth be told, that stunt, during which Cruise broke his ankle, isn't even the most daring in the film. Cruise told Jimmy Fallon during an appearance on "The Tonight Show" that jumping from one building to the next was suppose to be an easy one.
Also Read: 'Mission: Impossible -- Fallout' En Route to $60 Million Opening
In "Mission: Impossible – Fallout," which currently has a 98 percent rating on review aggregator Rotten Tomatoes, Cruise's IMF agent Ethan Hunt is caught in multiple chases (including one in a helicopter), free-climbs a cliff (again), does a HALO jump (high altitude; low open) out of a plane at 25,000 feet, and he runs. A lot.
And yes, at 56 years old, and after 22 years of "Mission: Impossible" movies, Tom Cruise still takes danger in his hands. "Tom always does his own stunts and never has a double," a person close to the film told TheWrap.
Watching Cruise's Ethan Hunt hanging from and climbing a rope attached to a helicopter thousands of feet in the air, it might be hard to believe that it's actually the actor pulling himself up of his own accord… but it's him all right.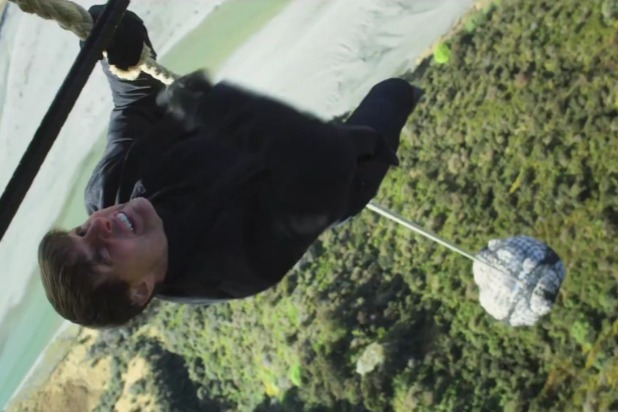 During an exhilarating chase in which Hunt rides a motorcycle through the streets of Paris and then against traffic around the Arc de Triomphe, that's actually Cruise on the bike, and with no helmet mind you.
And, of course, what would a Tom Cruise film be without running ("Tropic Thunder," maybe?). Cruise, as always, does all of his own running in "Mission: Impossible – Fallout," and, boy, is there a lot of it.
The amount of running in the film is a stunt unto itself and director Christopher McQuarrie shows off Cruise doing it all himself, with long shots, and in other action sequences, with clever uses of the camera.