"Vanya and Sonia and Masha and Spike," Christopher Durang's send-up of all things Chekhov, captured the Tony Award for Best Play on Sunday, while drag queens beat out English school kids as "Kinky Boots" was crowned Best Musical over "Matilda."
Tony honors for Best Revival of a Musical went to "Pippin," which boldly re-imagined Stephen Schwartz's musical as a circus, complete with acrobats and jugglers.
"Kinky Boots" captured a leading six Tony awards, with "Pippin" and its four statues coming in second in terms of total haul.
Also read: Tony Awards: The Complete Lists of Winners
Five decades after it first debuted, Edward Albee's lacerating "Who's Afraid of Virginia Woolf" showed it had lost none of its sting, winning the Best Revival of a Play for the Steppenwolf Theatre Company's acclaimed update of the domestic drama. The show was critically adored, but failed to ignite the box office, but that didn't keep Tony voters from embracing the show, as they lavished the production with three awards, including statues for directing and leading actor.
"Matilda" garnered stronger reviews from critics than "Kinky Boots" and three Tonys, but was shut out of the major awards. "Kinky Boots" owes much of its success to an energetic campaign by co-creators Cyndi Lauper (left) and Harvey Fierstein.
"Kinky Boots" takes its plot from a relatively obscure 2005 film of the same name. It centers on a factory owner who saves his struggling shoe-manufacturing business by transforming it into a maker of fetish footwear for cross-dressers.
Durang's farce centers on an eccentric family that gathers together at the countryside and the mayhem that ensues when one of the siblings — a successful movie star — breezes into town with dim-witted boyfriend. The show faced stiff competition from "Lucky Guy," a love letter to tabloid journalism that marked one of the late Nora Ephron's last completed works.
In a personal speech, Durang noted that it had been a long road to the Tonys from his first completed play in second grade and honored his late mother.
"My mother died when I was thirty and I feel she wants to thank you tonight as well," Durang said.
Also read: 7 Biggest Tony Award Snubs: From Bette Midler to Jessica Chastain
Lauper won the Tony Award for Best Original Score for composing the music to "Kinky Boots," and the pop star thanked Broadway for welcoming her into the theatrical community, admitting she'd been practicing her speech in the shower.
Her victory came at the expense of "Matilda: The Musical" and the Australian comic and composer Tim Minchin, its main rival for the night's big prizes.
When it came to directing honors, a pair of revivals upended newer works.
Also read: John Malkovich Helps Save Life of Man Bleeding Outside Toronto Theatre
Diane Pallus won the Best Direction of a Musical statue for injecting a big top backdrop into "Pippin" over the directors of "Matilda: The Musical," "Kinky Boots" and the revival of "The Mystery of Edwin Drood."
Accepting her award, Pallus thanks her parents for giving her "the encouragement to do what you love in your life."
Pam MacKinnon won the Best Director of a Play for her acclaimed revival of "Who's Afraid of Virginia Woolf" over the heavily favored George C. Wolfe ("Lucky Guy") and Nicholas Martin ("Vanya and Sonia and Masha and Spike").
"Vegas got this one wrong," MacKinnon said.
In a tremendous upset, Tracy Letts (above right) beat out the heavily favored Tom Hanks ("Lucky Guy") to win the Best Performance by a Leading Actor in a Play for his work as a combative and fiery college professor in "Who's Afraid of Virginia Woolf." Yet Letts had a message for Hanks and his fellow nominees.
"You are not my competition," Letts said. "You are my peers and I'm proud to be in your company."
Letts previously won a Tony Award and a Pulitzer for writing "August: Osage County."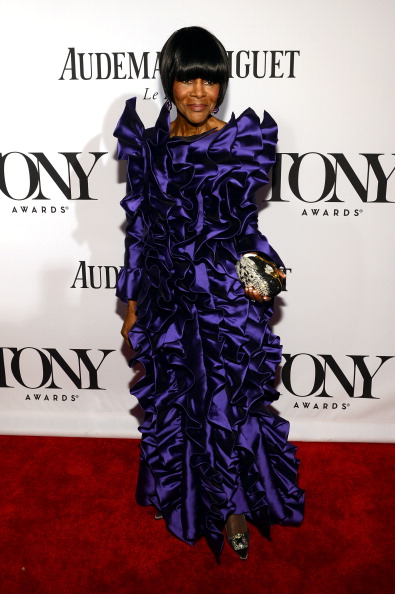 Cicely Tyson (left) scored the Tony Award for Best Performance by a Leading Actress in a Play on Sunday for her powerful performance as an elderly woman returning to her childhood home in "The Trip to Bountiful."
"I'm the sole surviving member of my immediate family and I've asked over and over again why?" Tyson said.
The acclaimed actress said she thought she understood the secret to her endurance, noting that she never thought she would return to the stage after a 30 year hiatus, but that she had always hoped to have one more great role. Tyson said she finally found it in the Horton Foote play.
Drag was good for Billy Porter who won the Tony award for Best Performance by a Leading Actor in a Musical for his work in "Kinky Boots."
Gender reversals also aided Patina Miller, who nabbed the Best Performance by a Leading Actress in a Musical for playing Leading Player in "Pippin." The role had originally been conceived for a man, winning a Tony for Ben Vereen in 1973.
In supporting categories, Courtney B. Vance captured Best Featured Actor in a Play for his work as a compassionate editor in "Lucky Guy," while Judith Light won her second Best Featured Actress in a Play award in as many years for her performance as a tart-tongued dinner guest.
Light became the first back-to-back Tony winning actor since Stephen Spinella won Best Featured Actor in a Play and Best Actor in a Play in 1993 and 1994 for his work as Prior Walter in the two parts of "Angels in America."
Gabriel Ebert represented the biggest win for "Matilda: The Musical," snagging the Best Featured Actor in a Musical prize for playing the crass Mr. Wormword, while Andrea Martin continued a strong night for "Pippin" winning the Tony Award for Best Featured Actress in a Musical for playing an exiled royal.
Martin previously received a Tony Award in 1993 for her Broadway debut in the musical "My Favorite Year."
Neil Patrick Harris kicked off his fourth stint as host of the Tony Awards with a jab at a Broadway star that wasn't.
"I wouldn't be here if someone hadn't passed on hosting, so special thanks to Shia LaBeouf for this opportunity," Harris quipped.
LaBeouf abruptly quit the recent Broadway revival of "Orphans" in February after feuding with co-star Alec Baldwin. He was replaced by Ben Foster.
During the opening for this year's Tonys, which marks Harris' fourth stint hosting the Broadway awards show, the "How I Met Your Mother" star played ringmaster to an elaborate production number than mixed in the casts of nominated shows like "Annie" and "Pippin," as well as the former boxer Mike Tyson.
It wasn't all singing, dancing and LaBeouf bashing. Harris also took aim at Hollywood in general, sending up the film version of "Les Miserables" and its director Tom Hooper's unusual camera work.
"On Broadway we don't need extreme close-ups to prove we're singing live," he joked.